Best off-net providers for regional areas
Telstra-only areas will pay more
Still several options available
Dodo, TPG and Internode have off-net options
Scenario: you see an ad for an excellent sandwich. The turkey is luscious. The mustard is fancy. The tomato is juicy. With glass fangs forming on your mandibles, you fumble for the phone and breathlessly call the number on the ad. But alas, you're told that the sandwich is not available in your area. However, a sandwich with stringier turkey, plain old bright yellow mustard and a chunk of carrot is available in your area, at twice the price.
Click here to check out our best bundle deals - or scroll to the bottom of the page for specific plans!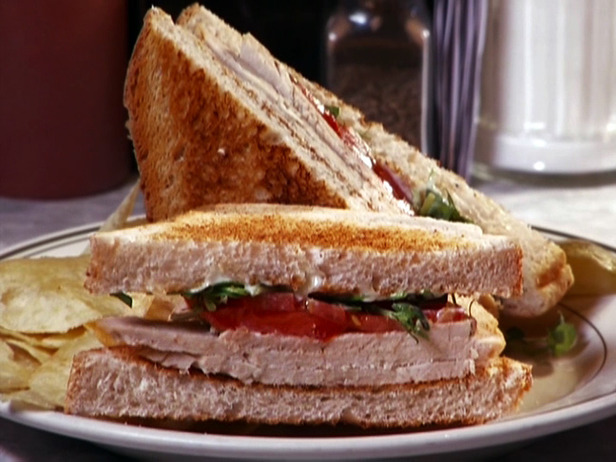 Delicious broadband. Photo courtesy Food Network

That's how the industry right now works for getting a broadband connection. It's not fair. It's not equal. Anyone outside of a metro area, especially, will find themselves being turned away again and again for deals that people not that far away can get, no problem. Why?
Telstra's role
Telstra is often lamented as a monopoly, but that's not quite true. First of all, Telstra has to be understood as two separate entities under one banner. There's BigPond, Telstra Home Phone and Telstra Mobile. These are retail providers of services. Then there's Telstra Wholesale, the owner and operator of the big copper wire telephone network on which most broadband providers partially transmit their connection to you. The copper wire network is insanely huge and complicated (and due for replacement, but that's another issue). In each area, each home is connected to a pillar in the street; the pillar is connected to a local exchange; each exchange connects to a state-based 'head-end', and then each head-end is linked back to…well, that gets more difficult. All roads eventually lead to NSW or WA, from where international cables connect Australia to the rest of the world.
Those links between states and countries are not a monopoly owned by Telstra. In fact, Telstra Wholesale only has a monopoly on the connection between the home and the pillar, and the pillar and the exchange (this is known as "The Last Mile"). After the exchange, companies like Internode, TPG and Optus operate their own connections back to NSW and WA, and then have their own connections to the rest of the world. So Telstra doesn't have a monopoly there. And at about 15% of exchange areas around Australia, Optus has their own Last Mile leading into people's homes.
So Telstra Wholesale does mostly own a monopoly on the very last part of your connection. Beyond that, they have plenty of low cost competition. Each competitor will set up a DSLAM at the exchange, which is a big piece of networking equipment that your individual copper line will get routed to.
Economic reality
(These figures are estimations, used to prove a point. The figures are not accurate, but the way in which these variables work is accurate).

There's about 2000 active exchanges in Australia. Each one is designed to provide about 20,000 residences with telephone service. Telephone service is possible on a copper line up to about 200 km.
ADSL and ADSL2+ allows for a digital, broadband internet connection over a copper phone line – but is only capable up to about 4.5km distance.
At many urban exchanges, there's easily 20,000 residences within 4.5km, so the copper loop will be able to get an ADSL connection to just about everyone.
In many regional exchanges, there may not be 20,000 residences for 200km or more. So in these areas, only a small portion of potential customers will be able to get an ADSL connection.
The cost to put a DSLAM into an exchange is pretty high. Apart from the cost of equipment and maintenance, there's also the issue of wiring it up to your own network that spans the rest of the country (usually via big fibre optic links).
If a company like TPG is looking at your area, and it's going to cost $500,000 to put in a DSLAM, but there's only going to a 2000 potential customers to fight over, they probably won't be able to afford to do it. This reality is why out of 2000 exchanges, even big competitors like TPG and Internode only serve 400: of course, these will be the 400 most densely populated exchanges.
Everywhere else, Telstra Wholesale will offer these companies to rent a full connection from them, because Telstra maintains a DSLAM at just about every exchange (as part of their service obligation). This is actually very expensive. To compare:
To rent a 'last mile' connection over Telstra Wholesale's network, an ISP pays about $25 - $30 per month. This is the 'line rental' that gets passed on to the customer, and this is why line rental is usually around this price.

To rent a full connection of of Telstra costs $45 per Megabit-per-second (Mbps). This is wildly more expensive.
Because Telstra Wholesale's price is so high, competitors will offer re-sold Telstra plans that are significantly higher than plans that are offered on their own networks. These are normally known as Off-Net plans.
Why is Telstra's wholesale price so high?
Telstra's wholesale price is high because unlike their competition, they can't 'cherry pick' the exchanges that will offer a return on investment. They have to service every area, regardless of whether it will be profitable or not. They also have to offer a uniform price. So that higher price represents the mediated price between profitable and non-profitable areas.
This also relates to why BigPond pricing is higher than most. BigPond has to charge the same price, regardless of whether you're in metro Sydney or the Back of Beyond. So BigPond's prices are rationalized to a higher price than everyone else.
Essentially, you will find that most Off-Net plans are about the same price as normal BigPond plans. But service providers can compete on other things; like how much data you get for the same money, or on contract length and other goodies.
Comparing Off-Net plans with BigPond plans
BigPond – 200GB Elite Broadband / $101.90 per month including line rental. Free connection and free modem. 24 month contract only.

TPG – TPG will only offer Off-Net plans to customers who have an active phone line, with line rental being paid directly to Telstra (or another provider). They do not offer line rental in these areas, so they don't offer bundles.
TPG Off-Net 200GB - $59.99/month / 6 month contract / $59.00 connection fee / 100GB peak (day) and 100GB off-peak (night) / No modem included (BYO)
A decent plan, but with Telstra line rental will take you just over $90. Still cheaper than Telstra, but if you don't have a modem, will be quite pricey to get set up. 6 month contract is good.
Internode – Internode will offer full bundles on their off-net plans (which they call 'Reach' plans), and offer the option of no contract.
Internode 60GB Reach Bundle - $79.90/month / 1 month contract / $129 Connection fee / No modem included (BYO)
A very good plan. For $20 more, you get 200GB, but the 60GB is great value for the light users. You also get to take advantage of Internode's top rated, Australia based support and service. Internode is priced as a premium in metro areas (compared to the competition), but in off-net areas, they're quite competitive.
Dodo – Dodo doesn't have a very large network of their own, so there isn't much 'net' for them to 'off' from. But in metro areas, they often wholesale a much cheaper connection from Optus or even TPG. In regional areas, like everyone else, they go Telstra Wholesale. But their prices are the same whether you bundle or not.
Dodo Unlimited (Regional) - $59.90 per month, Unlimited data / Choice of 0, 12 or 24 month contract) Free modem and connection on 24 month contract

Line rental from $29.90 with Dodo, or $31.95 with Telstra
Pretty much your best option, if you're a heavy user. At around a total bundled price of $90, you're paying the same as everywhere else, but with Unlimited data.
What about Optus?
Optus hasn't offered off-net for a while, and probably won't be again any time soon. With the NBN due to replace Telstra's copper network in the next ten years, they'll probably wait for that to serve fixed-line broadband outside their own network.
Call us on 1300 106 571 to see what plans are available to you today!