Steve Jobs lost mouse found after 30 years
Steve Jobs Lisa mouse
Unearthed after 30 years
See footage here
Steve Jobs' Lisa computer mouse, pictured below, has been retrieved after 30 years of being buried in a time capsule. The time capsule was created as part of the 1983 International Design Conference in Aspen, Colorado.

Steve Jobs spoke at the conference 30 years ago, forecasting technologies such as the iPad, the App store and wireless networking. Once the conference had concluded attendees contributed items to a time capsule ranging from Rubick's Cubes to a sex pack of beer.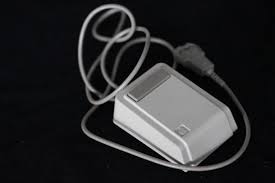 Jobs contributed the Lisa mouse which he had used to navigate his presentation during the conference. The Lisa computer never achieved traction commercially but it was the forerunner to the first Apple Macintosh computer released in 1984.

Initially the time capsule was to be unearthed in the year 2000 but due to a change in land ownership, excavation was not permitted until only last year. The time capsule was filled with such a large volume of items it has taken literally months to uncover the sought after Steve Jobs mouse.

A video of the excavation was filmed by the reality television show "Diggers". For a look into the time capsule see the footage here.