Finding a broadband provider proves frustrating
Finding a broadband provider is the most frustrating part of the process
Confusing technical terms is also an issue for consumers
Compare Broadband can help
Finding a provider is the most frustrating part of buying a broadband plan, according to consumers.

Over a third (34%) of the 716 respondents to a poll on Compare Broadband said 'finding a provider in my area' is the number one cause for frustration when trying to find a plan.

Confusing technical terms, like ADSL2+ and WiFi, were a major obstacle to a good customer experience for 24% of the respondents, closely followed by hidden costs, with 24% of people citing this as their main concern.

But broadband customers are on the whole a patient lot, with just 11% feeling frustration over the time it takes to set up a new service.

Compare Broadband spokesperson, Sarah McDonald, said: "In some places, Australians are spoiled for choice when it comes to picking a broadband provider. In areas of high competition, there is a good range of choice for all types of consumer, from cheap unlimited plans with Dodo to phone and broadband packages with Optus.

"But there are so many areas where there are no ports left, or there are limited providers offering plans, or the customer is so far away from the exchange, ADSL is not an option at all.

"Trying to find a provider in any of these scenarios can be a very frustrating experience. We hear stories every day of how difficult it can be just to sign up to an internet plan."

The problems sometimes lie with the telecommunications infrastructure in an area, with ISPs unable to connect some customers who are connected to a pair gain system, such as a RIM or CMUX. These make ADSL possible, but limit customers to a range of Telstra Wholesale products.

Even when consumers can find a provider in their area, they may find the plan they want is more expensive because of a lack of network providers, or not available at all. These issues will be eliminated by the universal pricing and technology offered by the NBN, but until then, many consumers will continue to face frustrations in finding a broadband plan.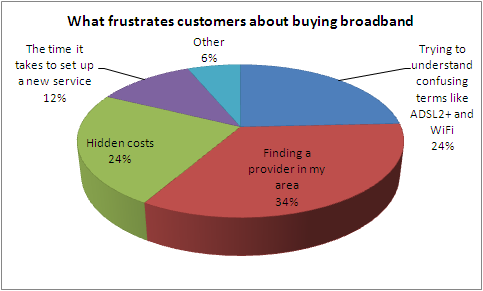 How do I find out what's available in my area?

• Call an ISP who offers a plan suited to your needs or call Compare Broadband on 1300 106 571
• The ISP will use your phone number or address to find out if ADSL2+ is available in your area
• This initial check will determine if you are a) connected to an exchange serviced by the ISP, and b) within a 4.5km distance for ADSL2+ to work. Once you sign up and pay the set-up fee, the provider will perform line checks to test the quality and compatibility of the line. If the initial check shows ADSL2+ is not available, don't give up immediately. Depending on the reason, you may be able to apply to Telstra for a Fixed Line Transposition, although this is becoming increasingly rare
• Compare Broadband can assist in explaining what some line errors mean, and can help find suitable alternatives, like mobile broadband.