NBN access for Indigenous communities
Offering cultural and economic support
But will it be enough?
The NBN promises to connect Australians - when it comes to our Indigenous communities, this may be long overdue.

Obviously, the benefit of a national and (almost-)all-inclusive broadband network that delivers high speed internet connections at reasonable prices to everyday Australians cannot be underestimated. However, often the focus of the benefits of the NBN, whichever political party it's delivered by, tend to be on the kind of internet experience we already recognise within cities: faster speeds at which to download our music, watch our movies, and do our online shopping.

From a more professional standpoint, the focus of the NBN's benefits in many outlets continues to be with regard to business, and how the Australian small business owner can expand and utilise all of the possibilities of the online world. From politicians, the focus may switch to a broad concept of "education and health", and how the NBN will improve schools and hospitals.

However, there is one key community in Australia for whom the NBN is of particular importance, and their voices should be highlighted and respected.
Australia's Indigenous communities have lagged for a long time behind the rest of the country in getting online, particularly in the more remote areas, like the Northern Territory, where a good broadband connection may be difficult to find even in metropolitan regions. A study in 2007 found that in some remote Indigenous communities, internet access wasn't even the main problem - only 6% of people had a computer! The same study found that only 10% of Indigenous communities had access to the internet, and while 58% of residents had used a computer, a third of those had never been online. The numbers have not improved greatly since then.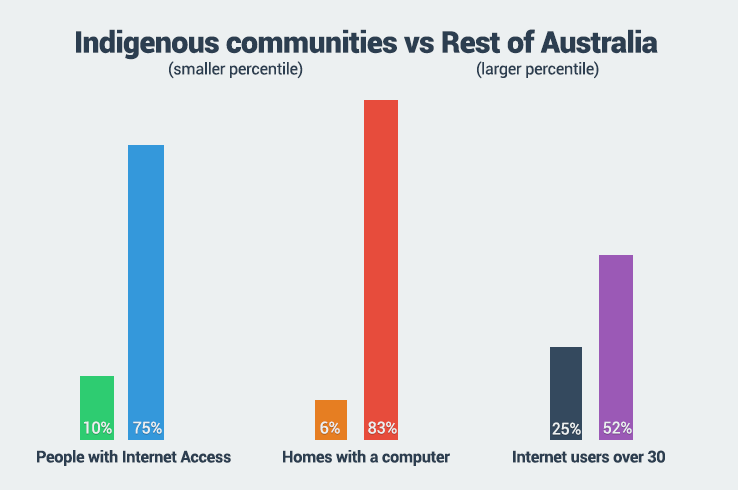 The potential that the NBN brings to Indigenous communities can go a long way towards "closing the gap" between Indigenous Australians and the rest of the Australian communities. The NBN will offer Indigenous Australians the means to "get closer" to the cities and opportunities afforded to other parts of Australia, while working to preserve Indigenous culture and history.

The National Congress of Australia's First Peoples has highlighted among many other new possibilities enabled by the NBN:


the ability to reunite individuals with their communities by using Skype and other video streaming technology to allow those living far away to "observe, learn, and participate in the traditional and modern ceremonies of their country";

a new chance to save, preserve, and rediscover the Aboriginal and Torres Strait Islander languages which have been threatened and destroyed over the last few decades. Internet access in remote communities will allow Indigenous people to increase the number of language speakers through the transmission, teaching, and sharing of native languages;

provide an important method of connecting detainees in prison and juvenile detention to their homes and their cultural traditions, thus preventing future offenses and a sense of isolation and separation from communities once the detainees are released or while they're incarcerated;

the chance to open new markets for arts and performance;

the support for those in remote communities seeking jobs, particularly in areas where mobile phone coverage is bad, too - not only will there be access to job search websites like SEEK, but TAFE South Australia Regional offers group training sessions and resources as well as an e-tutor for learning support, all conducted online;

the option to "commute online", whether for business from home (instead of the hundreds of kilometres trek to, for example, Perth or Kalgoorlie), or for tele-conferences in courtrooms, allowing people to attend court appearances without leaving the community, which is a major issue for many Indigenous people for cultural, religious, and personal reasons. This will also allow consultations with specialist doctors.
This range of possibilities has been highlighted recently by a new Twitter account that has drawn the attention of a great deal of people within the media and industry. @damarda.pekpek5b is a Grade 5 class in Wadeye, in the Northern Territory. With new access to the internet, along with an Electronic Whiteboard, the class and their teacher have been tweeting "OUR school OUR world" out to the larger Australian and international communities.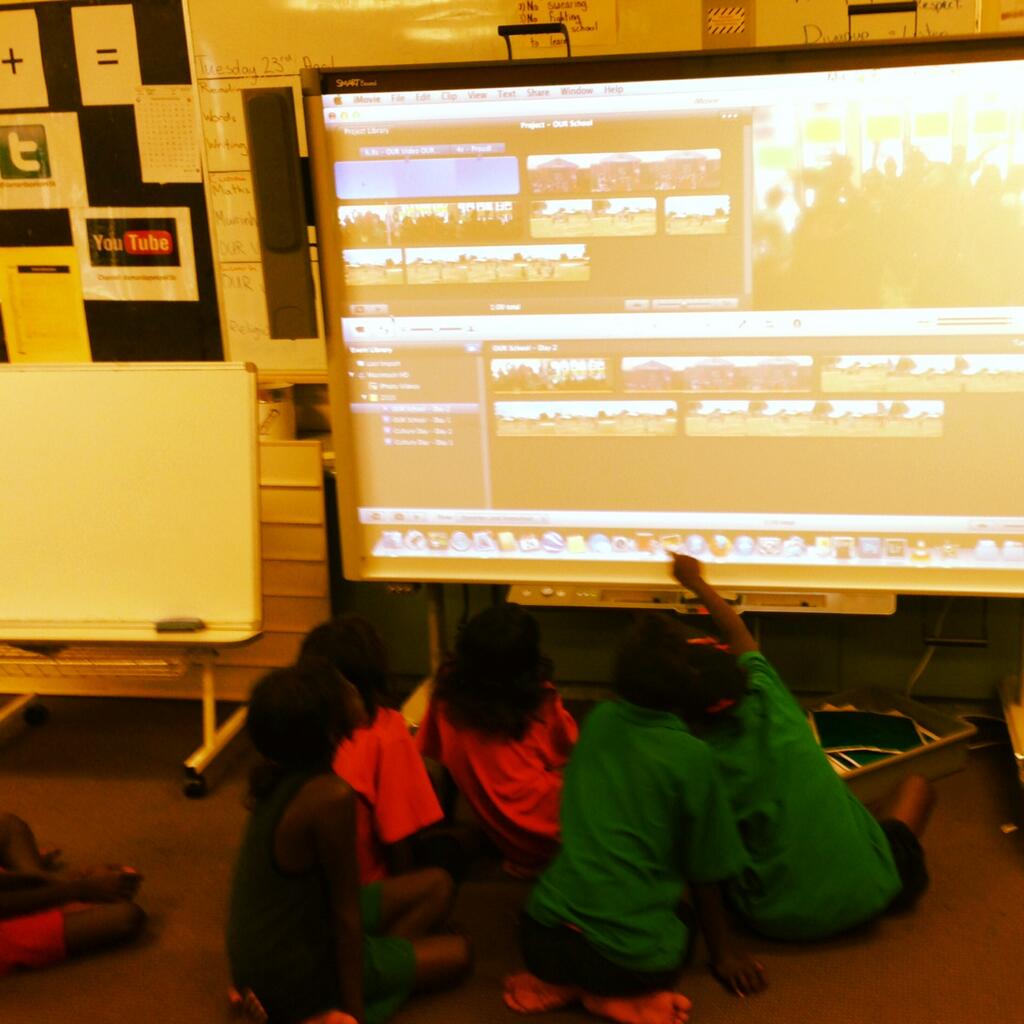 Picture courtesy of damardapekpek5b on Twitter.

They've been uploading photos along with videos on YouTube in an effort to both highlight the differences between remote communities and metropolitan Australia, and to normalise and familiarise what may seem to many Australians like a very distant reality. In between stories of cultural difference is a tweet that says just "Parent teacher conferences tonight", with the kind of pained tone we can imagine children all over Australian aping. They're also happy to answer questions from the public, announcing that they have too many beloved teams "to have a favourite in the AFL. Our team in NT is the Wadeye Magic."

Already, @damarda.pekpek5b has 500 followers on Twitter. The relevance and novelty of the class is undeniably a huge contributor to this (within its context) massive amount of followers is in itself a problem - ultimately, it would be a mark of the success of internet within such Indigenous communities if twitter accounts like the Grade 5s at OLSHTCS (Our Lady of the Sacred Heart Thamarrurr Catholic School) were a dime a dozen.

In the past, the National Congress has stressed its concern that emerging technologies are being applied in ways that are "not inclusive of all communities, in particular those which are disadvantaged by poverty and remoteness". However, NBN Co's focus on rural and remote Australia will hopefully go some way to addressing these concerns, as the company is already prioritising the rollout of the NBN to those most keenly feeling the absence of connection now.

Unfortunately, many remote communities are so isolated that connection to the NBN via fibre broadband may be impossible. While this small 7 per cent figure may not seem like a great deal in the scheme of things, it's particularly important when we consider just how much of the Indigenous community can be found within that 7 per cent.

NBN Co has said that for these homes, farms, and Indigenous communities, they will roll out fixed-wireless and satellite services expected to be completed by 2015 - well in advance of the fibre network for the rest of the country. However, for many remote communities, satellite connections will simply not be a good enough solution. Satellites can provide download speeds of up to 12 Mbps, which is an acceptable if not anywhere near first class speed that does excel many ADSL2+ connections available today, upload speeds will stay at 1 Mbps. This will make real-time video streaming of content all but impossible, and highlight once again the National Congress's concerns that the new focus on fast internet in Australia is not inclusive of the remote Indigenous communities who may just need it most.

The NBN and their fixed-wireless and satellite connections may be a start, but they are nowhere near to a solution of the growing divide between Indigenous communities and mainstream Australia.
Looking to find the best NBN plans in your area? Call iPrimus for the first six months on your new NBN plan half price on 1300 137 794.