International mobile broadband at one fixed price
Avoid bill shock, Telstra charges Perth woman $148,000 for global roaming!
Network includes Hong Kong, USA, Ireland, the UK and Australia
We've all heard the nightmare stories. The worst must be from Perth mother Nella Panetta who was charged $148,000 by Telstra for four days' worth of Facebook and Skype with her children whilst overseas. Staying connected is important, and when overseas, many Australians switch on global roaming. But the risks are huge; you'll only know how much you'll be charged once the bill arrives. Choosing Globalgig will allow you to control how much you will pay for internet whilst overseas.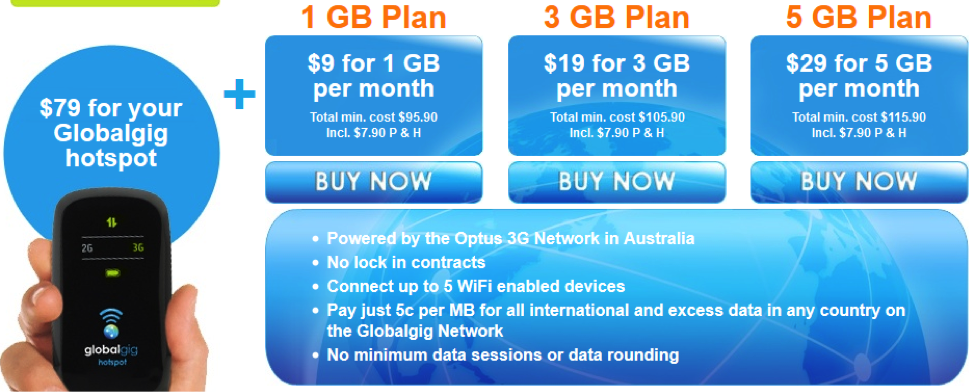 Telstra charges $15.36 per Megabyte for global roaming in Hong Kong. Globalgig charge $9 per Gigabyte. The difference is huge. For simple and reasonable deals, contact Globalgig on 1300 016 167.
What is Mobile Broadband?
Mobile broadband is simply wireless internet access whilst you're out and about. It is convenient, portable and doesn't require a fixed line. Use internet at home, at a café, on a train…it doesn't really matter. It works anywhere you can get mobile reception.
What is Global Roaming?
Global roaming refers to the extension of telecommunications service in a location that is different from the home location where the service was registered. Essentially your home provider will borrow network access from its international partners and charge customers a hefty usage fee.
Global roaming may be easy. It doesn't require changing devices, sim cards or using a different phone number. But the cost can be enormous!
Why are Australians flocking towards Globalgig?
Globalgig offers the same simplicity, but at the same normal, local price you're used to even when you're overseas. All you have to do is purchase a Globalgig mobile wireless modem and sign up to one of their affordable plans. You'll pay the same standard rate whilst in Australia as well as whilst you're using internet overseas!
For instance, if you only plan on checking emails and looking up travel itineraries, a 1GB per month plan will be suffice. All you'll pay is $9 for the month. You'll be able to use internet in Australia (e.g. whilst waiting at the airport) and when you arrive at your destination, simple turn on your wireless modem again and internet will be available. Easy, no additional fiddling around.
Most importantly, no uncertainty!
Don't be caught out like One Direction, they copped a 14,000 pound bill after their first tour. Thankfully the world famous boy band could afford it.
Make free calls via VoIP!
Unlike Telstra, Optus, Vodafone etc, Globalgig is not a complete telecommunications provider. WiFi hotspot does not allow you to make normal calls whilst overseas, like global roaming does.
However, what you can do is download a VoIP application to your mobile phone, such as Viber and Skype. Once connected to the internet via your Globalgig modem, you will be able to make calls through Viber or Skype over the internet. Most calls are free, and if you have good internet, your calls quality will be amazing!
Voice over Internet Protocol (VoIP) is easy. Once installed onto your phone, making free VoIP calls will be as easy and seem exactly the same as making normal costly calls.
What does 1GB cover?
1GB is more that you'd imagine, at least:
500 emails; or
500 internet searches; or
50 photo uploads; or
4 hours of VoIP calling.
It's a lot of data, particularly if you're not using it to download movies and TV shows. Several YouTube videos should be fine, but there's no need to be ultra-conservative with your internet usage.
If you do go over, you're not going to be charged a hefty fine and your speed is not going to drop significantly. You'll simply be billed according to Globalgig's Flexi Plan – 5c per Megabyte (this is a totally reasonable rate considering Telstra's standard global roaming rate in Hong Kong is $15.36).
Where is Globalgig available?
At the moment Globalgig's network consists of US, Australia, England, Scotland, Wales, Ireland and Hong Kong. The network is expanding, so stay tuned.
If you're travelling to a country that is not connected with Globalgig, obviously your service will not work. However, as your Globalgig hotspot is not locked to a network, you're able to use a local GSM mobile data SIM in Globalgig's mobile wireless modem. It'll save you from buying a new one.
24/7 customer service!!
It just gets better and better. No matter where in the world you are, no matter what time it is, Globalgig will have a customer support officer available to be of assistance. The company have offices in Australia and the UK.
Globalgig seems too good to be true, how do they do it?!
It's not too good to be true. Globalgig have simply put together a strong network of international partners and charge customers a very slight and very reasonable premium for simplicity and peace of mind. It's not too good to be true, we're just used to paying huge exploitive fees to Australian telcos.
Globalgig is a great value, safe and reliable alternative. Purchase a Globalgig modem and have internet access no matter where you are.