Internet Explorer 7 about to cost you money, say Kogan
IE7 fails to support popular protocols
Kogan offers links to alternatives before charging
Feedback mostly positive
Popular online retailer Kogan have been identified in the past as the enemy in the War on Retail (or Savior from High Prices, depending on your perspective). A recent announcement on their blog might gain them a further designation – as a warrior against outdated browser choices.
Click here to check out our best Home Wi-Fi plans - save money with online shopping!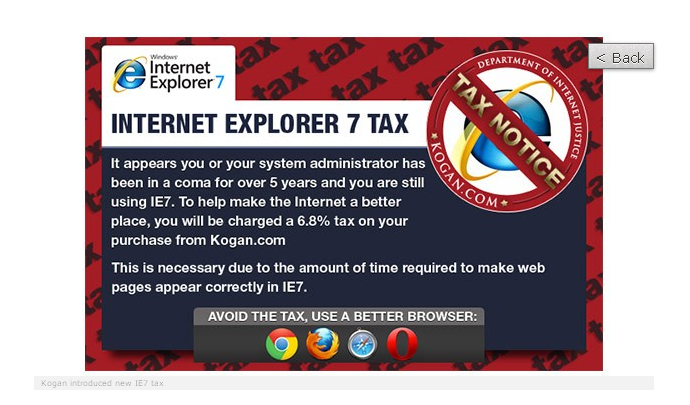 From June 13, Kogan has been charging a 6.8% surcharge on any purchase made when browsing the site using Internet Explorer 7. Kogan has justified the surcharge by citing the increased man-hours it takes to make their site compatible with the ancient browser, which is incompatible with many popular protocols that are built natively into alternatives like Firefox, Chrome, Safari and Opera.
From their blog: "…anyone buying from the site who uses IE7 will be lumped with a 6.8% surcharge - that's 0.1% for each month IE7 has been on the market". The post was made with plenty of smiley faces to offset possible anger, but so far the reaction has been overwhelmingly positive.
"Kogan you ROCK hahaha this is the best thing ever" said Facebook user 'Chris". Other Facebook commentators, like 'Ross', were more emphatic: "if anyone is still using Internet Explorer (let alone IE7) they should be taxed more than double this. Well done Kogan".
The main concern around IE7 is its lack of support for Cascading Style Sheets (CSS) version 2.1, which provided a significant security and aesthetic upgrade for the popular formatting language.
Still others have denounced the move as arrogant, suggesting that at best all Kogan need to do is not support the browser at all. But a move like that could, arguably, freeze out those who would least likely understand the reasoning behind the surcharge.
Kogan has designed a warning for IE7 users about the surcharge, with links to quickly upgrade to an alternative, tax free browser.