How to properly compare the first round of NBN based pricing
Telstra, Optus, iPrimus and Exetel
Naked broadband available
Free installations and modems available
The National Broadband Network is probably always going to be a political hot-button issue, at least until the full transition has completed (which may be 10 years or more away). Right now, in these early stages of actually signing customers on to the network, the pricing war is underway, and the figures change from week to week. Meanwhile. Leadership crises, news stories about contractors and other distractions get in the way of actually making sense of what's out there.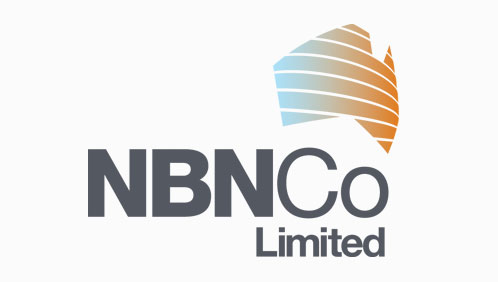 The situation is not being helped by the ISPs, sadly. In the early days of ADSL competitiveness, the plan structures were highly, highly complicated – referring to different speeds, different data plans, with bundling, without bundling, with phone calls, Under contract, no contract…A big mess. These days, the plans have been simplified a great deal, especially with providers like Club Telco (1300 138 155) and Eftel (1300 106 571). But even then, thanks to complicated deals amongst the different service providers, the amount of plans and options is more daunting than helpful.
The early days of NBN pricing will be the same, it seems. Exetel has attempted to offer simple, straightforward plans, but thanks to the tricky deal between Telstra, NBNco and Opticomm (the three groups currently providing some actual fibre connections that will make up the NBN), there're plenty of different options.
The purpose of our website is to offer a somewhat curated view of the market for broadband services. We have to cover everything, in due time, but we focus on the plans that offer the best value, according to a few simple factors:
Price – obviously.
Contract length - any service can be good or bad, depending on many factors. A short contract helps to keep the service provider honest, because they're then forced to make sure the customer is having a good experience – or they'll leave. It costs as much as 9 times to get a new customer, as it does to retain an existing customer.
Value – When looking at prices, you have to consider all of the other variables. How much data does it come with? Is it split into peak and off peak allowances? Are there free services that would otherwise cost a lot of money by themselves? And if so, are they services that customers are actually likely to use, or do they just bulk up the plan?
With these and other factors in mind, let's look at the plans available from Telstra, Optus, iPrimus and Exetel. We're going to focus on Broadband only, with no bundled services and no discounts for associated mobiles, Pay TV or other services/ We're going to list a small selection of plans that we think would be more popular.
click here to download a hi-res copy of this chart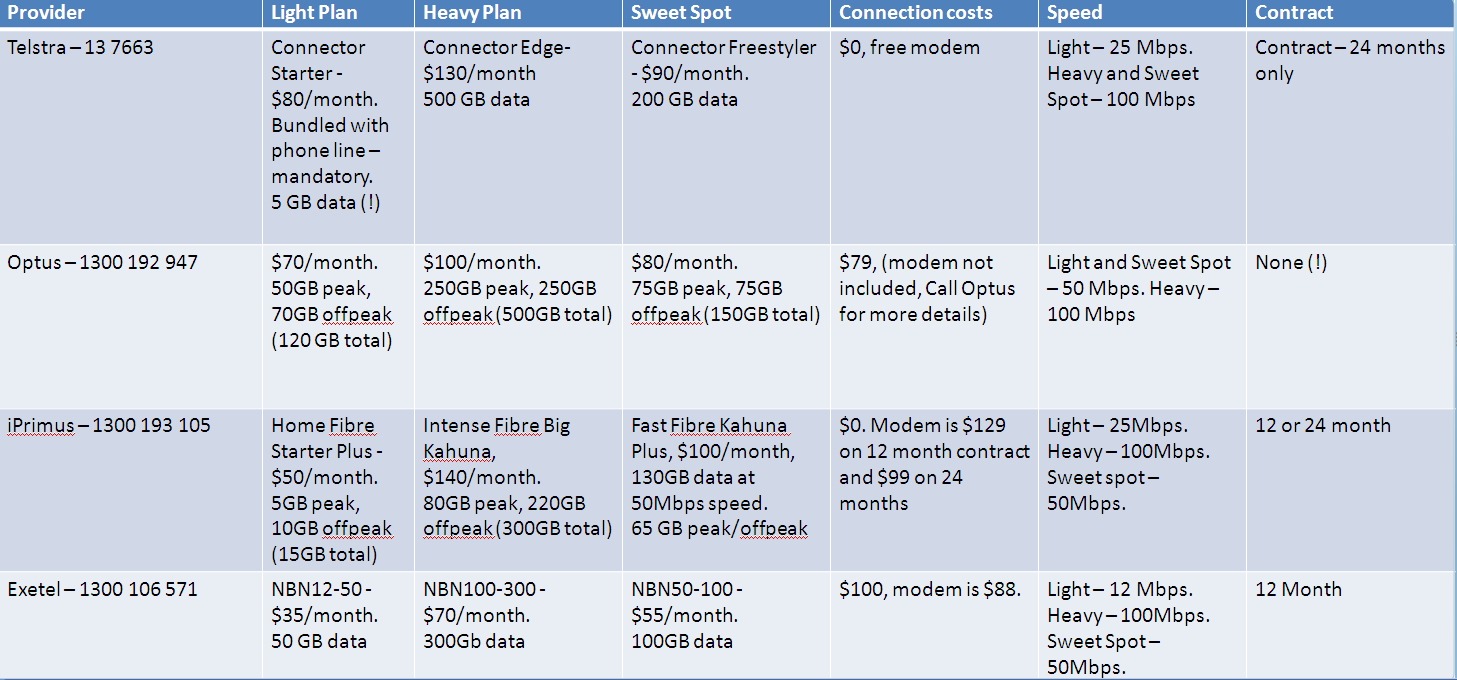 At this stage, it's really a competition right now between Optus and Exetel. Telstra's plans are far more expensive, and require bundling with a copper telephone line, which doesn't make much sense. iPrimus's plans seem priced to appeal to nobody in particular, especially with the odd splits for peak and off peak usage. Both Optus and Exetel have embraced the idea of a future where the internet is a high speed utility service that is so simply priced and marketed that it will be connected along with gas and water when you move into a new place – and where landlines are an afterthought and everyone uses mobiles.
But of course, these plans are only available at some locations in Armidale and Kiama Downs (NSW), Civic (ACT), Brunswick (VIC), Willunga (SA) and Scottsdale, Midway Point and Smithton (TAS). A handful of new housing estates around the nation have also been connected, and a further 600,000+ homes should be connected by Feb 2012. Best to call your preferred provider for an availability check.
NBN-based connections are not yet widely available. For those who want to take advantage of great value plans with short or no contracts, we recommend:
TPG's Unlimited $60 ADSL2+ Bundle (6 month contract) – Call 1300 106 571;
Club Telco has an unlimited phone and internet connection for $70/$90 (depending on location) with no contract- Call 1300 138 155;
Internode has a 200GB Easy Bundle for $80 with no contract, call on 1300 106 571.