MyNetFone announces NBN plans and pricing
MyNetFone announces great new NBN plans for Naked DSL
Prices ranging from $39.95 to $99.95
Data boost packs available if you run over your quota
Everyone's favourite Naked Broadband provider, MyNetFone, have announced today their plans and pricing for the NBN.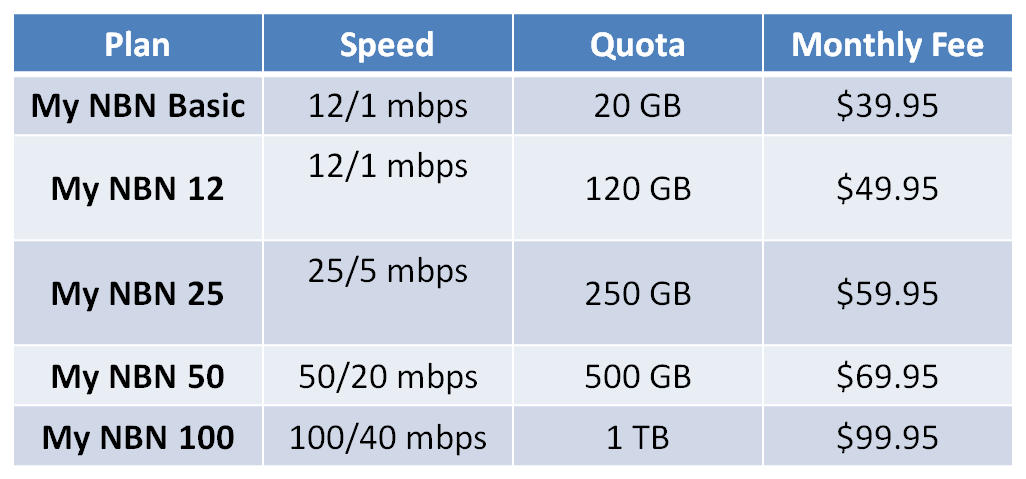 MyNetFone have maintained reasonably budget prices for the first announcement of their NBN plans, with a little more room to manoeuvre for the light user.

Click here for MyNetFone ADSL plans, or call 1300 768 081.

While most Internet Service Providers (ISPs) have started their plans at 50GB, albeit Telstra starting at 5GB but for a massive $80 per month, MyNetFone have chosen to offer a 20GB plan for only $39.95 per month. Club Telco are the only similar provider, offering 10GB for $35 per month.

Making the transition simple, MyNetFone have created an Introductory Offer for customers who sign up to MyNetFone NBN between May and December 2012. The plan allows customers to:
Port their old number to a VoIP MyNetFone service for free. Usually this is a $30 set-up, and calls over a VoIP line are considerably cheaper than the standard landline services.
Free set up on a 24 month contract.
Free WiFi modem – four ports, wireless access, and a phone line!

Particularly interesting in MyNetFone's wave of NBN plans is their data pack option.

The company are offering data boosts ranging from 100GB to 1TB both for customers who want to top up their internet after running out during a month with lots of downloads, and for customers who want to modify their current plan.



For example, let's say you're a heavy user sure that you would use more than 500GB a month for $69.95 per month. However, you might feel the 1TB plan for $99.95 per month is overkill – you're well aware of how much you use, and you only need another 100GB or so.

You could ask MyNetFone to add every month the 100GB Data Boost, bringing your monthly fee up to $84.95, adding flexibility to the plan and catering to your personal needs.

The data boosts as an irregular monthly add-on could also be very useful for customers who usually only use a certain amount per month, but might have unexpectedly "heavy months" where they want to download a lot. Saving customers from the annoyance of having to put up with slow internet for the rest of the month is a great thing to do, and speaks to MyNetFone's fame for good customer service.

MyNetFone's NBN plans continue to do what MyNetFone already does well: good data limits at great speeds, bundled in with an easy to use and inexpensive VoIP service, along with friendly and helpful customer service. Their freebies are just a plus!
NBN plans are not yet widely available. However, you can see if you're in the area for MyNetFone's great Naked DSL plans today – including a free modem and free set-up on the twelve month contract! Call MyNetFone on 1300 768 081.

Or if you just want lots of data without the price of phone line rental pushing it up too high, call us about TPG's great bundle deals today on 1300 106 571.