How to connect your tablet to the internet while out and about
Which broadband plan will save you money on a tablet
No contract 3G plans and WiFi plans
Whether you are hoping for an iPad Mini in your Christmas stocking or you snagged an ultra cheap Aldi Bauhn Android tablet recently, you're probably looking for an easy way to connect your tablet to an internet connection while out and about.

There are three ways to buy a broadband plan for your tablet and a fourth, slightly sneaky way.

1. Buy a 3G broadband plan with tablet included
2. Buy a 3G tablet and a 3G broadband plan separately
3. Buy a WiFi only tablet and a 3G broadband plan with a pocket WiFi modem

And finally:

4. Buy a WiFi only tablet and instead of buying a 3G broadband plan, use the data you get with your smartphone plan and tether the phone to the tablet.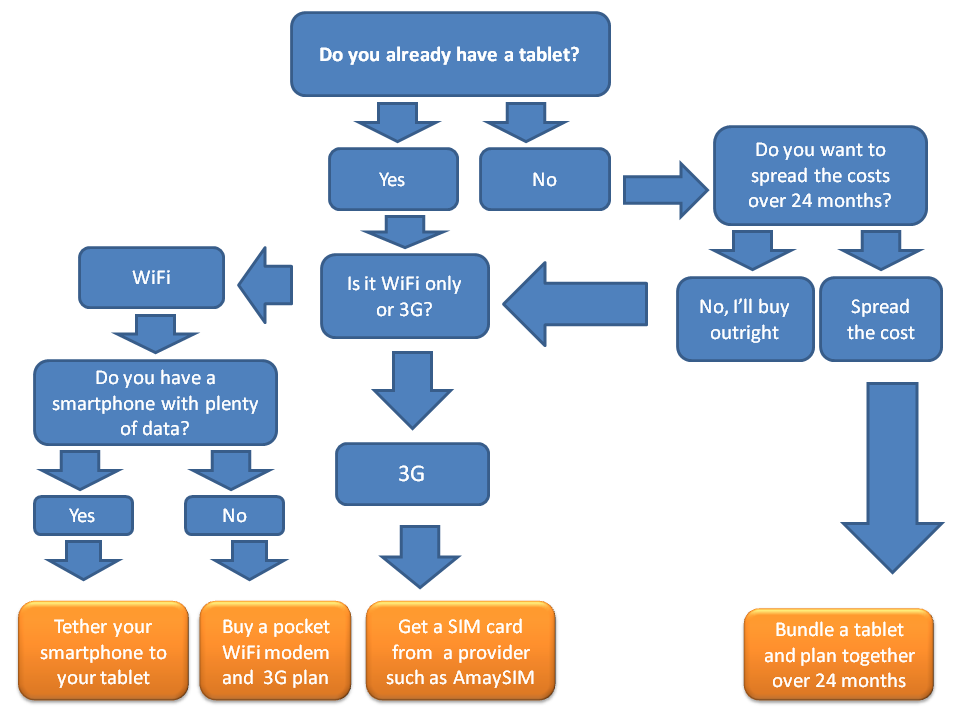 Bundling a tablet and plan together

Buying a mobile phone with a plan is a popular way to spread the cost of a handset over a year or two and some mobile broadband providers are offering a similar deal for tablets.

Bundling represents great value provided you are happy to lock yourself into a long contract.

For example, Vodafone offers Apple's 64GB iPad 2 plus a 6GB of 3G data a month for $50 a month, over a 2 year contract. The iPad 2 is available in black or white and if you sign up online, there is no upfront cost for the device.

If you bought the 64GB iPad 2 3G outright it would cost $899, and if you bought a month-to-month plan on top of this, you would get 4GB for $29 a month.

Effectively, this means you are getting an iPad 2 for just $504 instead of the $899 price you would pay if you walked into an Apple store.

Buying a tablet and 3G plan separately

If you don't want an iPad 2 or you don't like commitment, it's better to buy your tablet outright and add a 3G data plan later. If you decide to take this route, make sure your tablet is 3G compatible as some tablets are sold as WiFi only.

Amaysim offers a couple of simple solutions: a prepaid 1GB plan, for $9.90 a month suited to light users who just want to check their email while out and about, or a 10GB prepaid plan for $99, which lasts for one year.

The 10GB plan is ideal for both light and heavy users, as light users can spread their use over a year and not worry about constantly topping up their account, while heavy users can buy more data as often as needed, without worrying about going over their limit and getting charged for excess use.

Call Amaysim on 1300 302 942 for more information on these plans.

WiFi only tablet plus a 3G pocket WiFi plan

Typically, a WiFi only tablet is cheaper to buy than a tablet with WiFi and 3G capabilities. For example, Apple's iPad 2 is $539 for the WiFi only 16GB model and $679 for the WiFi plus 3G model.

If you wanted to save $140 and still access your emails on the train, you need to buy a 3G broadband plan plus a 3G WiFi modem, also known as pocket WiFi (this is Vodafone's name for the technology).

Optus, for example, offers 5GB for $29.95 a month over a 12-month contract, which includes a USB modem. Add $3 a month to this plan, and Optus will upgrade you to their WiFi modem, which is perfect for connecting WiFi devices such as a tablet to the internet.

Another advantage of buying a 3G WiFi modem is it can connect multiple devices at the same time, saving you the effort and cost of buying a separate plan for each device you or your family own. Typically, battery powered 3G WiFi modems can connect up to 5 devices at a time, so you can also access the internet on a smartphone or Nintendo DS, for example. Great for long car journeys.

Call Optus on 1300 768 194 for more information on these plans.

If you already have a 3G plan with a USB modem, simply ask your current provider if you can upgrade to a WiFi modem.

Tethering a smartphone to an iPad

If you already have a smartphone with data, you may have already wondered why you have to buy another plan for your tablet.

Fortunately, tethering is an option from most smartphones.

Some mobile phone networks block tethering because it can use up a lot of data and put customers at risk of going over their monthly data quota. Exceeding your limit can be very costly and it's important to be aware of how much data you are using when you tether and how much it could potentially cost in your next bill.

Having said that, there are plans with plenty of data available, such as Amaysim's $39.90 Unlimited plan, with 4GB of data a month, or Dodo's prepaid Unlimited plan, with 5GB of data, for $39.90 a month.