What If The NBN Is Not An Option For Me?
Should I Try Home Wireless Broadband Or Mobile Broadband?
What Is The Differrence Between 4G And 5G?

NBN may be a reliable connection to some, but it's not sunshine and rainbows all the time. It also has its fair share of users complaining about slow connection speeds and poor service in their areas. Fortunately, there are quite a number of alternatives here in Australia if NBN is simply not cutting it.
These NBN alternatives can be categorised into two main groups: Home Wireless and Mobile Broadbands. Knowing the difference between the two and how each of them compares to NBN can help you decide which can be the better choice for you.
In this guide, you will find:
Home Wireless vs. Mobile Broadband: Which is better?
Home Wireless and Mobile Broadband are both powered by mobile networks. They are designed as an alternative to traditional internet connections such as NBN, ADSL, or Cable. But between the two, there are also a number of differences that stand out.
First, let's go with Home Wireless broadband. While it is the main choice for customers who are looking to have an internet connection installed at home or in the office, it does not allow much flexibility for the user because the modem requires a power source.
Since the modem is not meant to be pocketed, it goes without saying that it's not portable. But if you don't mind lugging around a chunky piece of hardware as you move, there's nothing wrong with taking the modem with you and plugging it into a socket for an instant connection.
With Home Wireless and Mobile Broadband, customers are given a lot of options when it comes to plans. You can choose according to your budget, allotted speed, and the maximum data allowed per month. Home Wireless plans typically come with more data. However, download speeds are generally slower* compared to Mobile Broadband. *Speeds are dependent on where you are.
In terms of hardware, the modem used for Home Wireless broadband also comes with more features such as multiple Ethernet ports. This is ideal for connecting devices that require a physical connection to the device.
Mobile Broadband, on the other hand, is the on-the-go version of the Home Wireless broadband. It is also powered by 4G mobile networks and is offered with various data plans. Customers usually get the same data allowances as a phone plan, which could translate to paying as much as a Home Wireless plan but for a lower data cap.
The advantage, however, is that Mobile Broadband has faster download speeds generally than Home Wireless plans (speeds vary depending on where you are). It runs on a 4G network that can go up to 100 Mbps, although, of course, it still depends on your service provider and coverage.
Between the two, Mobile Broadband is the better choice for people who move around a lot because it does not require a constant power source. You can also opt to avail of a portable hotspot or a SIM that you can use on a spare smartphone or tablet.
If you are looking to apply for a wireless broadband plan, you can choose from a list of telcos offering the service. You can check out our comprehensive guide on wireless broadband plans to know more about your options.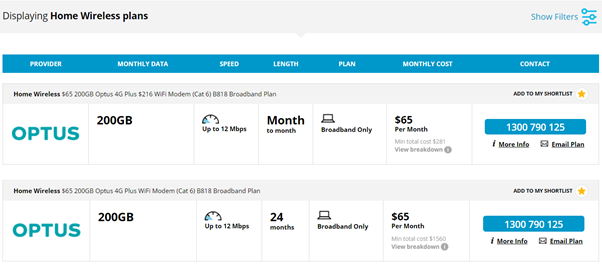 But if you think a faster and more portable connection suits you better, then you might want to read up on the list of telcos that offer unlimited Mobile Broadband plans.
4G vs 5G: What's the difference?
While 4G broadband is the more popular option among customers, 5G broadband is also fast becoming a favourite among consumers these days. It is designed with the same technology as the 4G broadband, but with faster and more efficient performance.
The only downside is that 5G is not yet widely available in Australia. There are two telcos offering the service — Telstra and Optus — but they are only available in select areas at the moment.
Although frankly speaking, it may not be long before the rest of the country gets access to 5G internet. There may have been concerns with regards to the safety of the technology for public use. But with the entry of new products from Telstra and Optus, it's only a matter of time for 5G broadband to proliferate nationwide.
If you are lucky enough to live in an area where 5G broadband is available, however, you might want to check out the unlimited data plans offered by these two.
Telstra currently offers 5G Mobile Broadband plans for as low as $15 per billing period for a maximum of 5GB of data up to $75 for 200GB. Optus, on the other hand, has 5G home broadband plans that cost around $70 a month for a 24-month contract.
Top NBN Alternatives
Regional Alternatives to NBN
Of course, your options are still very much dependent on what's available in your area. NBN has not completed its rollout in Australia, much less so for other telecommunications companies. So even if you want to opt out of your NBN plan, it won't be easy if you don't have many options.
Among the better-known alternatives to NBN are OptiComm, Lightning Broadband, and Spirit because these three networks service a significant number of areas across various states in Australia.
The OptiComm network includes brands such as iiNet and Exetel, which are commonly used in housing estates.
In other cities, Lightning Broadband is available with speeds of 25Mbp up to 100Mbps. Plans typically include unlimited data with prices starting at $75/month.
Spirit, meanwhile, specialises in high-speed internet for apartment complexes rather than detached housings. It offers plans with unlimited data and speeds of 50/50Mbps for around $55/month for new subscribers. Customers also have the option to upgrade their speeds to 200/200Mbps for $65/month.
Western Australia
If you reside in Western Australia, particularly in the Perth area, you may have heard of these two networks: Red Broadband and Pentanet.
Red Broadband is a wireless internet service provider that serves Perth and some of its surrounding areas. They have plans that start for as low as $40 for 20GB of data up to around $110 for 1000GB. If you are located in a regional area where Red Broadband is also available, you may have to pay an additional $10.
Pentanet is another top choice among Perth residents. This network offers plans for as low as $59/month. You can choose among the data allowances they offer — 100GB, 250GB, or unlimited — with speeds reaching 120-20Mbps.
South Australia
Residents of Adelaide also have their fair share of service providers other than NBN. Rural-dwellers in South Australia, however, may find the rates a bit higher than NBN. But if it's not an issue for you, you may want to enquire about these brands:
NuSkope has its own wireless network, meaning its services are completely independent. It's readily-available in Adelaide and its immediate surroundings, with prices starting at less than $40 for 40GB of data. If you need more, you can also opt for a 1000GB plan for $140.
Kern Wi-Fi is another network that's mainly centred in Adelaide. Their plans are a bit more affordable at $30/month for 10GB of data on 12/2 speeds, while 1000GB on 25/5 speeds will set you back by $120/month.
Also available is Uniti with 150GB of internet falling under $50 while 1500GB is offered for less than $150 and speeds reaching 25/10Mbps.
Queensland
In Queensland, a popular alternative to NBN is Open Cloud Broadband, which offers speeds of up to 200/100Mbps. The network has unlimited data plans as well as plans with a 500GB data cap from $69 to $179/month.
New South Wales
In New South Wales, newcomer OpalNet provides its services with speeds ranging from 50/50Mbps to 1000/1000. All plans from the network include unlimited data starting from $80 a month. For 12-month contracts, connection fees are waived, while monthly contracts require a setup fee of at least $200.
Also available is W3 Networks, which is known for its 'AirFiber' plans. Like OpalNet, all plans are offered with unlimited data and similar speeds. But their prices differ, with W3 having offering plans for $69.95 with 12.5/12.5Mbps speeds while 50/50MBbps speeds are available for $100. W3 also does not charge installation fees for 12-month contracts and is known for its speedy setup process.
Victoria
Those living in Victoria enjoy more reliable alternatives than most states in Australia. Aside from OpalNet and Uniti, residents also have the option to go with Life Wireless, Rocket Wireless, or RocTel.
Life Wireless is currently available in Glenn Waverley with unlimited data plans priced at $49. Standard speeds are 5/5Mbps, but they can be boosted to 25/25Mbps for an extra charge.
Rocket Wireless is a relatively smaller company compared to the others on the list and it mainly offers internet connection for apartment buildings. Plans are available for $59/month, including unlimited data and speeds of 25/5Mbps.
RocTel, meanwhile, is the more expensive choice with plans starting at $85. But its main selling point is the 100/100 speeds that are offered with unlimited data. And if money is not an issue, customers also have the option to avail of gigabit speeds starting at $135/month.
To switch or not to switch?
With the growing number of internet connection options as NBN alternatives, it's easy for customers to make the big switch, especially if there are several types available in your area.
But what is really the best option when it comes to broadband plans? Is home Wi-Fi the better choice over a Mobile Broadband plan? Should you ditch your NBN now and go for a more reliable 4G plan from a different service provider? Or should you just stick it out a little longer and wait until 5G launches in more areas?
There is no one perfect answer to this. Because ultimately, it all boils down to your personal preference. Service providers may claim they have the best service and the fastest internet connection for customers. Some of them might say their plans give the most value for your money.
While speed does play a huge role in every customer's decision process, there are many other factors to consider before picking a plan or service provider. Before you make a choice, you might also want to think about these considerations:
Budget
Aside from speed, costs are also an important consideration when choosing an internet service provider. Once you've identified your main options, list down the data plans that they offer so you can see which ones you can afford.
It's understandable if you have a limit to how much you are willing to spend on your connection so make sure you study your options well. Rates typically range from $40 up to $140 depending on the speed, data cap, and your location. Knowing each network's rate could make it easier for you to decide.
Data cap
Another factor is your preferred data cap. Several networks have unlimited data plans while others impose a data cap according to the tier you choose. If you consume a lot of data on a regular basis, especially for work or if there's plenty of people using the internet in your residence, an unlimited data plan might be the better choice.
Installation fee
Installation fees are also something you might want to consider. Some companies offer zero installation fees but only for subscribers who are availing of longer contracts. If a 12 or 18-month contract is more practical for you, then this is a definite plus. But if you are only looking to apply for a month-to-month subscription, be prepared to shell out $100-$200 for the setup fee.
Reliability
The main reason you could be thinking of dropping NBN is because of poor connection or unreliability, which is valid. However, in doing so, you also have to make sure that you are switching to a network that performs better. Try asking your friends, relatives, or neighbours if they can recommend other networks that are available and perform well in your area.
Customer service
Customer service is also an important factor. Network providers are bound to experience outages at some point and it's definitely helpful if their customer support is easy to reach. A company that's difficult to connect with or has poor customer service may not be easy to transact with, so that's something you should be on the lookout for.
The best way to go about this is by making comparisons between telcos and the plans they offer. You can read our article for a list of home broadband deals or read up on Mobile Broadband plans for easy guidance on your top options.