Random unexplained glitch
Gray or frozen Apple TV app
AirPlay problems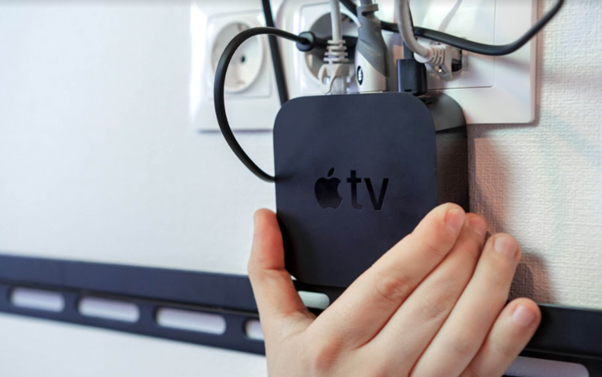 Getting an Apple TV is another efficient way to bring your home streaming and gaming experience to another level. But only if it's working properly — running smoothly and connecting to your home Wi-Fi without a hitch.
But since it is just like any other electronic device, it is also very much possible for you to encounter problems with your Apple TV device. Even on days when you scheduled a movie marathon session or you cleared your evening for some ruthless gaming with your friends online.
Surely, some of the most common Apple TV fixes can be easily fixed and we're here to tell you how you can do it fuss-free.
In this guide, you will find:
Apple TV Issues
Here are some of the issues you may come across and the best way to address them.
Random unexplained glitch
If your Apple TV suddenly starts malfunctioning for some reason that you haven't been able to identify, the first thing you should do is try restarting the device. A quick reboot that only takes a couple of minutes is like first-aid to tech problems. It's also great in fixing slow performance.
You can do this by simply pressing the Menu and Home buttons on the remote simultaneously for a few seconds until the light on the TV starts blinking fast. Then, go to Settings, click System, and select Restart. Afterward, unplug the device's power cord and wait for a few seconds more.
Gray or frozen Apple TV app
Does your Apple TV app get frozen or become greyed-out sometimes? Force closing the app is the best way to remedy this. Just double-tap the Home button, select the app and swipe up. Do note, however, that may need to repeat this to close other applications that are running on the device. This fix works exceptionally well when you notice your Netflix and Hulu apps lagging.
Apple TV Wi-Fi woes
Another reason your Apple TV may be acting up is because of poor connectivity with your home Wi-Fi network or because the device is located too far away from the router. If it's the mere placement that is making it difficult for your Apple TV to receive signal, you might want to consider getting a Wi-Fi extender for your TV.
However, if it's Wi-Fi connectivity problems like being unable to join a network, failure to find a network, inability to access the internet through your device, or frequent disconnection and buffering, you'd have to go to Settings, click Network, and check if an IP address is displayed.
If no IP address is showing up, try turning your router off and restarting your Apple TV. Be sure to wait for a few minutes before turning it back on. To restart your Apple TV, just go to Settings, select System, and click Restart.
AirPlay problems
AirPlay is a special function that allows you to stream your shows and movies on any of your other Apple devices (iPhone, iPad, or MacBook) or through your TV. But if you happen to be having trouble using AirPlay, check that both devices are connected to the same network and that your iPhone is not on cellular.
Video and audio problems
From time to time, video or audio problems may also occur. But before restarting the stream, try waiting for a few more seconds as it could be a problem with the video content itself. If the issue is persistent, try to see if your HDMI cable is connected on both ends or use another cable if you have one.
You can also check your Apple TV resolution by going to Settings, clicking Audio and Video, and selecting Resolution.
If the problem is mostly with the audio and a quick restart does not fix it, make sure to check all connections, including the HDMI cable, optical cable, as well as the audio receiver and soundbar.
Apple TV remote issues
When operating an Apple TV device, the box and the remote control work hand-in-hand. Needless to say, you also have to ensure that the remote is in great working condition. If you encounter problems with your remote, watching through the Apple TV may not be possible. To prevent this from happening, you might want to consider downloading the iPhone Remote App.
However, having the app doesn't mean you have to completely neglect the physical remote once it starts malfunctioning. The problem could be as simple as a pairing issue or insufficient battery. Always make sure that the remote is charged for at least 30 minutes. You can then pair it with the Apple TV by putting the remote close to the device and holding the Volume Up and Menu buttons for a few seconds.
After pairing the remote with the Apple TV, remove the device from power, wait for a few seconds, and plug it back in.
If you are having issues with the remote's sensitivity, you can adjust this in the Settings. Click Remotes and Devices, select Touch Surface Tracking, then Pick a slower speed.
Quick and persistent light flashes
If you notice that the Apple TV light is flashing rapidly, it's a sign that something might be wrong with your device. If the rapid blinking has been going on for more than three minutes, restoring your Apple TV is in order. However, make sure to unplug the device first and wait for at least one minute and allow the device to reset as this might be enough to fix the problem without the need for a restoration.
Black bars and display issues
The presence of black bars on your screen could mean that you need to adjust your TV settings, especially if it's not set to 16 x 9 aspect ratio. Try going through your TV's display settings to see if this fixes the problem.
These are just a few of the most common Apple TV issues that users encounter and there could be a lot of others that did not make it to the list. But whatever the problem may be, keep in mind that troubleshooting is still highly recommended than replacing or junking your device.