ADSL2+ Off-Net 200GB iiNet broadband plan + line rental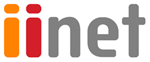 Broadband type
ADSL2+
Data amount per month
200 GB Slowed to 256kpbs after data limit
Total monthly cost
$79.99

*

Modem Cost:
$59.95

*

Modem Delivery Fee:
$10.00
Contract length
Month to month
Cost per 1MB of included data
$0.04
Costs First Year
$1029.83
Minimum total cost

$79.99
We're proud to be a national leader in customer service with a commitment to delivering great value, fast internet with options to suit every family's needs. With our Off-net ADSL2+ broadband plans offering speeds as fast as your line will go at an affordable price, there's no time like today to switch providers.
Plan Features:
200GB of anytime data
Month to Month contract
Home Phone Line Rental inlcuded
10 email addresses, 1GB webspace
Complimentary email protection against virus & spam threats
No excess quota usage charges. We simply shape all excess use
24/7 customer service - Support when you need it most
Home Phone Options:
$10 International Call Pack - Includes all your calls to landlines in the UK, France, China, Japan, Germany, Netherlands, South Africa, Malaysia, Hong Kong, New Zealand, South Korea, Sweden, Canada, Singapore, Indonesia, Switzerland, USA, Ireland, Italy and Taiwan.
$20 Local, National & Mobile Call Pack - Includes all your calls to standard Australian landlines and mobiles.
TV Options:
$5 Fetch TV Bundle - Includes set top box, Easy watch apps, 30 movies in month and premium channels
$6.00 Channel Packs - Your choice of a Kids, Vibe, Variety and/or Knowledge pack.
$14.95 Sports Pack - Get beIN SPORTS on Fetch. Be it the English Championship, League 1 & League 2, the Italian Series A, German Bundesliga, Capital One Cup, Scottish Football, UEFA Europa League, England Internationals, African Cup of Nations Qualifiers, RBS Six Nations, European Champions Cup or the European Challenge Cup, beIN SPORTS has it covered.
World TV Packages starting from $9.95 - Enjoy your favourite news, dramas, music, movies, food, lifestyle and spiritual shows in your language with no satellite dish required.