Optus Debuts new plans
Optus has revealed their new plans
Unlimited options for ADSL2+, Cable and NBN
Month by month options
Last week Optus debuted their new plans for ADSL2+, Cable and NBN. These new plans are a major overhaul of their previous offerings including a newly added Unlimited plan (a big increase over the previous 500Gb that Optus offered) as well as updated prices that are more competitive with other providers.
Gone are the seniors plans and other data options that made choosing a plan confusing. Optus have consolidated all their options into 3 simple plans. Starting with 30Gb for $65 for those that don't download too much and don't need a home phone; this is the entry level Naked plan. Then next step would be the 200Gb plan for $90 a month, a better option for families or high level users who do a lot of downloading. The next step up from 200Gb would be the unlimited plan offering completely unlimited downloads all through the month. Optus are offering this for $110 a month for internet only, a big increase over the largest plan (500Gb) that Optus previously had.
It's worth noting at this point that Optus have actually removed their "Peak and Off-Peak" times for their plans. This means if you choose the 200Gbs plan, you actually get 200Gbs to use when you want, no more downloading overnight in order to conserve your download limit.

Sounds pretty good but what else is new? Optus have included month by month options for all their plans at the cost of a higher price per month. It's a good move for Optus to switch from only offering 12 or 24 month contracts with more and more users looking for "contractless" internet plans these days.

Another new addition the Optus family is the inclusion of NBN plans that are consistent with the ADSL2+ and Cable offerings. The data amounts of the NBN plans mimic those mentioned before. That's right, you can get unlimited NBN from Optus for only $110. Pretty decent huh?

Another step in the right direction for Optus is the bonus free upgrade that customers get to use twice a year effectively allowing them to either double or go unlimited for a month.
For more information on the Optus plans give them a call on 1300 137 897
How to configure your old Telstra or Optus modem to use with another Internet provider
Most modems easily reconfigurable
Popular manufacturers include belkin, Netgear and Netcomm
Telstra, Optus and iiNet all deliver branded modems
Mobile phones have a market model that most people can wrap their heads around. In exchange for 24 months of guaranteed service, mobile providers will furnish you with the latest handset for free (or for a few dollars a month). The long contract offsets the price of a device that would otherwise cost you hundreds of dollars to buy upfront.

With ADSL2+ broadband services, the relationship between hardware and contract length is less clear. Many providers still want to commit you to a 2 year contract, in exchange for a modem that would cost you about $100 retail. And for many people who have had a broadband connection in the past (or are coming from another provider), the equation is even more unappealing – you already have a modem, why commit to another 2 years for a piece of hardware that duplicates something you already own?
Not everyone gets that a modem/router is an unglamorous, functional piece of hardware. It's more akin to a toaster than a mobile phone, in that a good one should last years and upgrading will offer little benefit unless standards have changed or your old one goes on the fritz. A modem/router is something that sits in a corner near the phone line, blinking away and only getting a look-in once in a while for a reset, or for when the cat needs a hot spot to lie down.
With that in mind, many service providers now offer short contracts with no modem included, to attract people who want more flexibility, or are on short term leases, and who otherwise have the hardware already. It's similar to the market for SIM only mobile plans (for people who don't need a handset) or even items like the Mac Mini, a cheap Apple PC that is just a brick, with no screen, mouse or keyboard, ready for people who already have that stuff and just want to switch to a Mac.
Modem? Modem/Router? Wi-Fi?
To clarify: the modem is the device that plugs into your phone line, takes in the electrical signal, and turns it into something your computer can then understand. "Modem" is a word made up of MOdulator and DEModulator. 'Modulation' is the act of turning raw data into transferrable digital bits and pieces; so the modem MOdulates the data you send, and DEModulates the data you receive.
A router is a device that takes that connection from the modem, and acts a multi-adaptor for many connections.
Wi-Fi is a short-range wireless technology that allows devices within 50 metres or so to connect to your modem, share the internet connection, and also share other resources (like printers and hard drives).
So, a Wi-Fi modem/router is an all-in-one device that gets your connection, and then routes it wirelessly around your house. It's what most people are looking for when they want 'Wireless ADSL2+' or 'Wireless Broadband'. It's easy to confuse with Mobile Broadband, which is a modem that connects wirelessly all the way to a mobile tower, receiving its internet feed from there.
What do you mean by 'reconfigure'?
Many modems are not built to meet the needs of a particular service provider. They're made and sold as common pieces of equipment for anyone to buy from a JB Hi-Fi or Harvey Norman. So when Telstra gives you a modem with your contract, it comes pre-configured with details relevant to the Telstra connection – but you can easily go into the settings of your modem and change some of those settings to work with your new service provider. Even if you see Telstra or Optus branding all over the page, you can ignore all of that and cut straight through to the stuff that matters.
Note – these are for basic settings. Many re-badged modems have had advanced port forwarding settings locked out, which requires a good deal of technical knowledge to overcome. This is for simple reconfigurations allowing for basic connections.

Note 2 - Many technical support teams are trained to deal with some modems that they don't offer, so it's always a good idea to check with technical support as well, if this guide doesn't help you.
Telstra modems
For the last 5 or 6 years, Telstra has used modems manufactured by 2Wire and Technicolor. The 2Wire ones are very common, and most technical support teams are experienced in reconfiguring them.
2Wire 2701HGV-W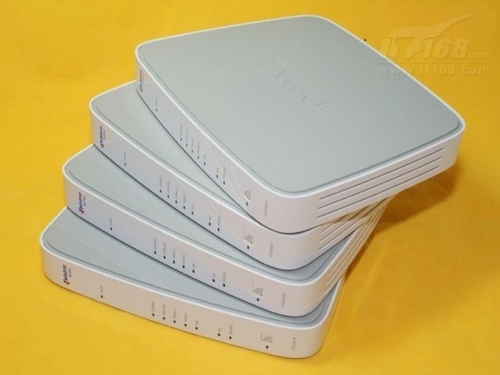 The 'Telstra Home Network Gateway' is not available for retail sale. Telstra was the only firm in Australia that sold them, offered for free on their old bundle plans from 2007. They are manufactured by 2Wire, which is now owned by British electronics firm Pace. Sidenote – Pace also make many models of set-top-unit for Foxtel.

1. Open your browser (Firefox, Internet Explorer, Safari or Chrome).
2. In the address bar, type in http://gateway.2wire.net
3. You will see this screen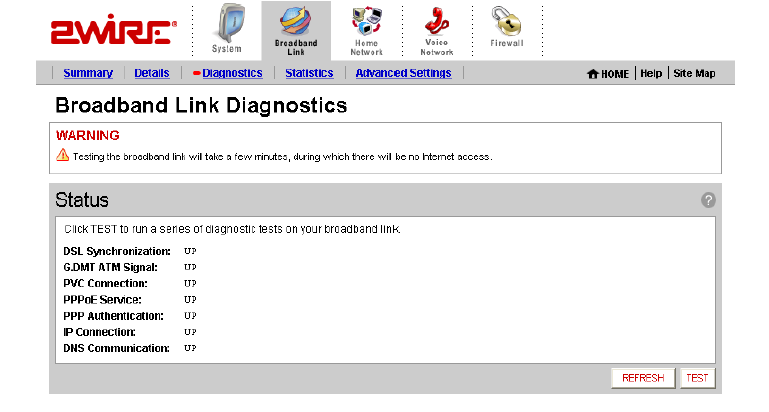 4. Click on 'Broadband Link' on the top menu
5. Select 'Advanced Settings in the Broadband Link sub-menu
6. Under 'Broadband Network', select 'PPPoE' in the Connection type drop down menu (this will usually already be the type selected)
7. In the username and password field will be your old Telstra email address and password. Change these to the relevant details with your new service provider, and then click 'Save' down the bottom.
8. Wait for the modem to re-authenticate. Takes 2 minutes. If you want to make double sure it will work, turn the modem on and off again, or unplug it and plug it back in.
Technicolour 587NV3
This has been sold through Telstra for a year or so, and it's an exceptional piece of kit. It supports all Wi-Fi speed profiles, multicasting, IPV6 and gigabit Ethernet. All of that is gravy for people who know how to use it; otherwise, just be happy you have a modem that will be top-of-the-line for the next 5 years or more.
Technicolor used to be Thomson, a French 150 year old multi-national. They changed their name recently to better crack the US market, where their 'Technicolor' film technology was their only product with household recognition in the US. They also now own RCA, one of the very oldest electronics firms (you know those red-white-yellow cables for your TV? Those are called RCA cables).
1. Open your browser (Firefox, Internet Explorer, Safari or Chrome).
2. In the address bar, type in 192.168.1.254 or http://dsldevice.lan
3. You will see this screen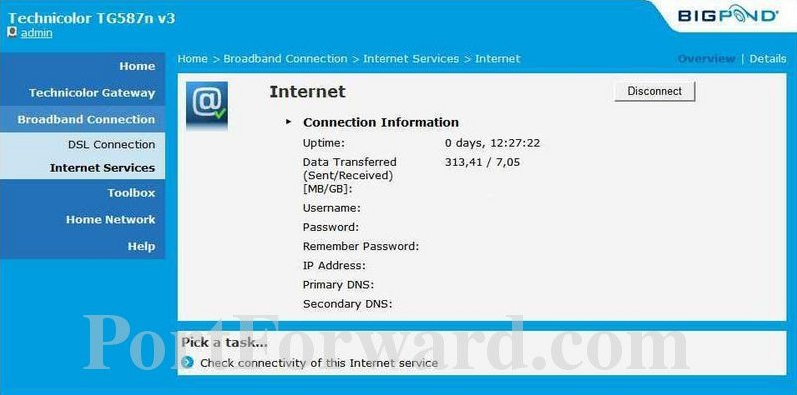 4. Click on Broadband Connection
5. Click on Internet services
6. Click on Internet
7. Click on details
8. In the username and password field will be your old Telstra email address and password. Change these to the relevant details with your new service provider, and then click 'Save' down the bottom.
9. Wait for the modem to re-authenticate. Takes 2 minutes. If you want to make double sure it will work, turn the modem on and off again, or unplug it and plug it back in.
Optus modems
Netgear DG834GU v5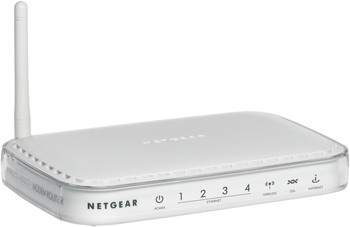 Optus has been using this Netgear Wi-Fi modem/router for a while now, which it offers free on almost all plans. As such, it's not the most fantastic modem – but it will do the job.
Unusually for Optus, they've actually locked this down more than Telstra have with their modems. It can be unlocked, but takes a little work.
Netgear itself is a big US network equipment firm, with most of its stuff made all over the place. Or in other words, China. Netgear modems, like Netcomm modems, have a 'standard kit' quality to them.
Connect via an ethernet cable.
- Browse to http://10.1.1.1/CA_HiddenPage.htm (case sensitive)
- Disable the Configuration Assistant & clock Apply.
- Once the modem has restarted, browse to http://10.1.1.1 and log in.
- Click Basic Settings.
- Enter your username & password for your new service provider and click Apply. This is normally the full email address.

Default login details for the modem are:
- Username; admin
- Password; password
iiNet Modems

iiNet developed the BoB line of modems to be more than just a router. The first one was a rebranded Belkin, and they have just about every feature you can shake a stick at, including advanced VoIP configurations. They're also quite gorgeous to look at.
But a lot of people don't use 99% of the features in the BoB, and just need a Wi-Fi modem. Luckily, iiNet are pretty good at allowing the modem to be used with other ISPs, with no drastic steps to overcome.
Belkin's own N-300 modem is the retail, non-branded equivalent of the first BoB, and adheres to the same commands.
iiNet developed the Bob Lite themselves, including the hardware. Same goes for the Bob 2.
For all three of these units, the log-in page is the same.
- Browse to 10.1.1.1
- If you're asked for a username and password, the default for both is 'admin'
- In all three modems, there should be an 'ISP settings' page. As per above, click there, enter the appropriate details from your service provider, save and reset. And BoB's your uncle! (haw haw)
As you can see, the principles are the same. With a few exceptions, most modem/routers that have been provided for free with your ISP in the past can be reconfigured for use with a new service provider. All you need on hand are the username and password details for your new ISP, and the browser address your modem can be reached at. Worst case scenario, the manufacturer can be reached by phone for these details.

Click here for Optus broadband deals! Or call 1300 106 571
Click here for Telstra broadband deals! Or call 1300 106 571
Optus debuts new website
Optus unveils new site design
It's definitely looking good but what has actually changed?
Is it all just a new coat of paint?
Back in June this year Compare Broadband reviewed Optus' rebranding campaign. The campaign drastically changed the feel and look of Optus, creating a warmer and friendlier face for the company. Optus ditched it's old logo with classic lettering for a new fun logo that incorporated a hand lettered "Yes" in a speech bubble. The new logo was accompanied by "Ollie", an anthropomorphic speech bubble, who made a "Declarations of Yes": a pledge to improve Optus' services, from network capabilities, mobile phone plan structures to the way customers feel about the Optus brand.
Five months after revealing their new logo and rolling out the new brand, Optus have now also revamped their website. The website engages with current contemporary web design aesthetics. White space is expertly used to present the web information in a clear and easy to read manner, whilst graphics are kept clean and minimal.
The new webpage makes expert use of the Optus colour palate; the Optus teal green comes in strong to frame important sections, headings and icons; while the Optus yellow is used a bare minimum to accent certain areas of the page. Colour is used in a flat, bold manner, again right on trend with what is happening in the field of web design.
The redesign has been long overdue. The design has taken Optus' old website, which was outdated and filled with an overwhelming amount of information, and stripped in down in way that is clear, concise and aesthetically pleasing. With this new web design strategy Optus is definitely proving that they are still relevant in the market and that they have a keen attention to how they present important information to their customers and the public.
The dramatic change really captures the new mood Optus is in. Earlier this year Optus found that over 50 per cent of their customers in the last year had experienced some form of bill shock. Optus addressed this by completely restructuring the way they delivered their products, especially their mobile phone plans. As a result Optus revealed plans that removed excess usage charges and instead moved customers temporarily up to the next tiered plan on offer.
In regards to bill shock, Optus CEO, Kevin Russell, was quoted recently saying "Data breakage and voice breakage is a shocker. The idea that your kids can do something and you end up with a $500 bill is crap. I think it's a bit immoral". It was refreshing to hear a Chief Executive be emphatic to the hardships customers often find themselves in, but to also acknowledge the role telecommunications companies play in these situations.
To help customers feel good about the Optus brand again, they have altered their plans to better suit customer's needs and created a new visual identity. In an interview early this month, Mr Russell declared the old Optus animals "dead" and described their image as having "grown up a bit".
The new face of Optus: New branding and new plans
Optus reveals a fun new look
New mobile phone plans to be introduced
Attempts to reduce unexpected bill shock and hidden costs
Optus kicked off this week by revealing a complete restructuring in their branding and logo. The change aims to revamp the brand and reflect Optus' new mood and strategy to improve service and customer satisfaction. After reflecting on their current performance ratings Optus aims to develop stronger customer loyalty.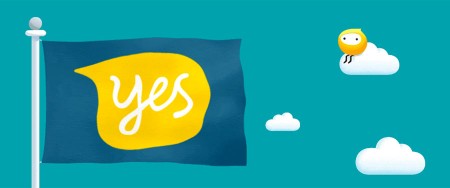 If you visit Optus' website a simple click on the new logo will take you to Optus' declaration to customers; a pledge of assurance; "A Declaration of Yes" as they have put it. Optus say that the word 'yes' is "a little word that we don't hear enough of these days" and they go on to declare that they will be improving their network and service, changing their mobile phone plan structures and ultimately striving to make customers feel good about the Optus brand.

The new can-do attitude and general positivity is reflected in the new design and graphics. The logo is now bright, fun and bubbly. And bubbly is meant quite literally here. The letterforms are informal and bubble-like in structure and the iconic 'yes' mantra is expressed in a speech bubble. This differs greatly from Optus' old logo which was formal, structured and quite cold. Optus have also done away with their use of animals in branding and have instead adopted a new friendly character name 'Ollie' who will be the new face of Optus' branding. Ollie is in the shape of a speech bubble and is warm and inviting and integrates nicely with Optus' new optimistic aesthetic.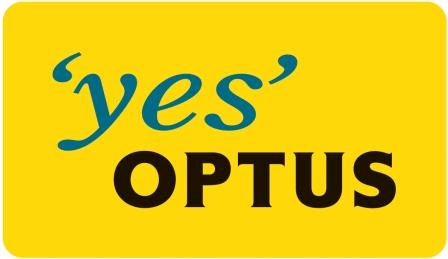 The vivid change is just the beginning for Optus. Within the coming six to eight weeks the branding and logo will be splashed across Optus stores and advertising. More importantly however, Optus has dramatically restructured their mobile phone plans. Currently Optus mobile plans are structured with "included value" figures. For example on the $71 iPhone 5 plan you get $650 worth of "included value" to use on phone calls, MMS, 1300 numbers and the like. Optus plans to remove this and replace with included minutes so customers have a clearer sense of their usage, and more importantly how much usage they have left.

Optus also plans to remove expensive over quota data charges. Currently if a customer goes over the data usage included in their plan they are charged 25 cents per MB. An excess of 1GB costs the customer a whopping $250. Optus plans to remove this and instead temporarily move the customer up to the next tier plan by charging an extra $10 to the customers plan. The upgrade would be automatic and the customer could choose to permanently upgrade if they find they are constantly exceeding their plan's usage.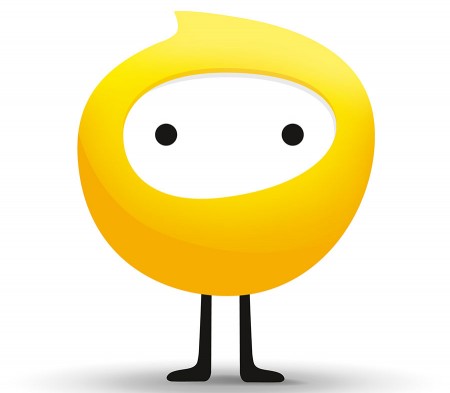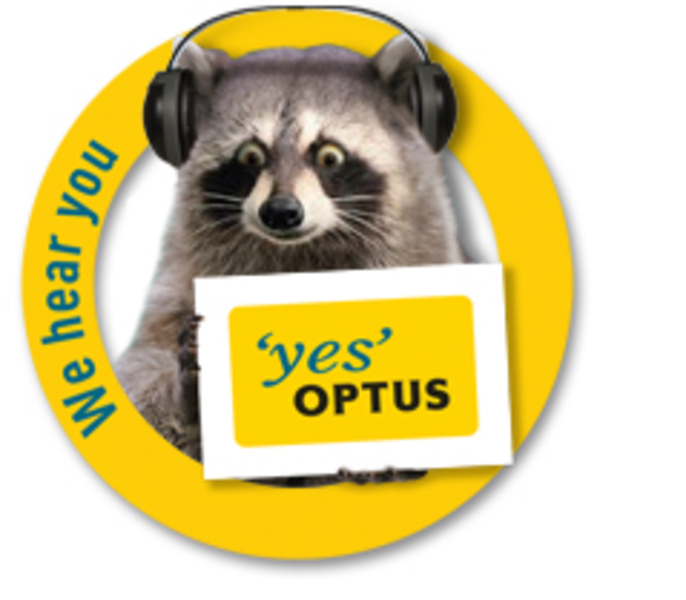 The dramatic restructuring aims to tackle customers experiencing unexpected bill shock. According to Optus managing director of customer division, Vicky Brady, 50 per cent of Optus customers in the last year had experienced an unexpected shock when they opened their bill. Changing the plans and how usage is calculated and billed aims to remove hidden costs and keep customers informed.

The new plans are to be called "My Plans" and they will be available next week from 1 July. It will be interesting to see impact that the rebranding and plan restructuring has on customer opinion and satisfaction. Particularly, it will be interesting to see if Optus succeeds in their aim to be seen as honest and fair. The features of the new mobile phone plans are unique and other telcos may follow if the initiative is successful.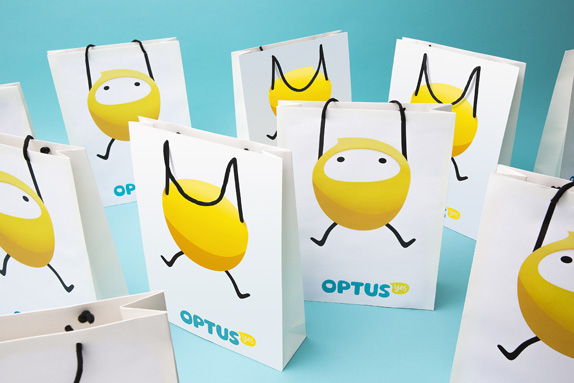 For 50GB of ADSL2+ broadband for $55 per month with Optus call 1300 137 897
Optus offers broadband services via Cable, ADSL or wireless technology. The type of broadband service available will depend on where you live. When it comes to exceeding download limits on cable and ADSL, this broadband provider prefers to limit speed rather than charge excess download fees. This differs for mobile wireless broadband, where a plan is suspended once the monthly quota is reached. You will need a professional installation for a Cable modem and a technician will come to your home, perform the installation and provide you with a demo. Optus counts both uploads and downloads in monthly quotas.
Ask the expert
Enter your contact details and one of our friendly staff will get back to you soon