How to configure your old Telstra or Optus modem to use with another Internet provider
Most modems easily reconfigurable
Popular manufacturers include belkin, Netgear and Netcomm
Telstra, Optus and iiNet all deliver branded modems
Mobile phones have a market model that most people can wrap their heads around. In exchange for 24 months of guaranteed service, mobile providers will furnish you with the latest handset for free (or for a few dollars a month). The long contract offsets the price of a device that would otherwise cost you hundreds of dollars to buy upfront.

With ADSL2+ broadband services, the relationship between hardware and contract length is less clear. Many providers still want to commit you to a 2 year contract, in exchange for a modem that would cost you about $100 retail. And for many people who have had a broadband connection in the past (or are coming from another provider), the equation is even more unappealing – you already have a modem, why commit to another 2 years for a piece of hardware that duplicates something you already own?
Not everyone gets that a modem/router is an unglamorous, functional piece of hardware. It's more akin to a toaster than a mobile phone, in that a good one should last years and upgrading will offer little benefit unless standards have changed or your old one goes on the fritz. A modem/router is something that sits in a corner near the phone line, blinking away and only getting a look-in once in a while for a reset, or for when the cat needs a hot spot to lie down.
With that in mind, many service providers now offer short contracts with no modem included, to attract people who want more flexibility, or are on short term leases, and who otherwise have the hardware already. It's similar to the market for SIM only mobile plans (for people who don't need a handset) or even items like the Mac Mini, a cheap Apple PC that is just a brick, with no screen, mouse or keyboard, ready for people who already have that stuff and just want to switch to a Mac.
Modem? Modem/Router? Wi-Fi?
To clarify: the modem is the device that plugs into your phone line, takes in the electrical signal, and turns it into something your computer can then understand. "Modem" is a word made up of MOdulator and DEModulator. 'Modulation' is the act of turning raw data into transferrable digital bits and pieces; so the modem MOdulates the data you send, and DEModulates the data you receive.
A router is a device that takes that connection from the modem, and acts a multi-adaptor for many connections.
Wi-Fi is a short-range wireless technology that allows devices within 50 metres or so to connect to your modem, share the internet connection, and also share other resources (like printers and hard drives).
So, a Wi-Fi modem/router is an all-in-one device that gets your connection, and then routes it wirelessly around your house. It's what most people are looking for when they want 'Wireless ADSL2+' or 'Wireless Broadband'. It's easy to confuse with Mobile Broadband, which is a modem that connects wirelessly all the way to a mobile tower, receiving its internet feed from there.
What do you mean by 'reconfigure'?
Many modems are not built to meet the needs of a particular service provider. They're made and sold as common pieces of equipment for anyone to buy from a JB Hi-Fi or Harvey Norman. So when Telstra home internet gives you a modem with your contract, it comes pre-configured with details relevant to the Telstra connection – but you can easily go into the settings of your modem and change some of those settings to work with your new service provider. Even if you see Telstra or Optus branding all over the page, you can ignore all of that and cut straight through to the stuff that matters.
Note – these are for basic settings. Many re-badged modems have had advanced port forwarding settings locked out, which requires a good deal of technical knowledge to overcome. This is for simple reconfigurations allowing for basic connections.

Note 2 - Many technical support teams are trained to deal with some modems that they don't offer, so it's always a good idea to check with technical support as well, if this guide doesn't help you.
Telstra modems
For the last 5 or 6 years, Telstra has used modems manufactured by 2Wire and Technicolor. The 2Wire ones are very common, and most technical support teams are experienced in reconfiguring them.
2Wire 2701HGV-W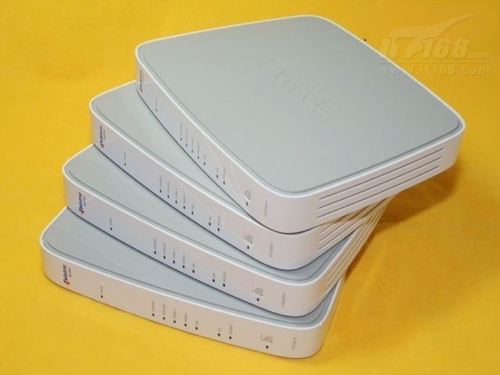 The 'Telstra Home Network Gateway' is not available for retail sale. Telstra was the only firm in Australia that sold them, offered for free on their old bundle plans from 2007. They are manufactured by 2Wire, which is now owned by British electronics firm Pace. Sidenote – Pace also make many models of set-top-unit for Foxtel internet.

1. Open your browser (Firefox, Internet Explorer, Safari or Chrome).
2. In the address bar, type in http://gateway.2wire.net
3. You will see this screen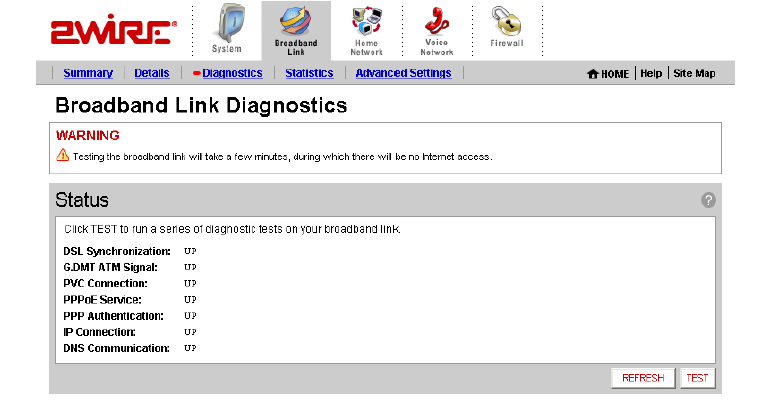 4. Click on 'Broadband Link' on the top menu
5. Select 'Advanced Settings in the Broadband Link sub-menu
6. Under 'Broadband Network', select 'PPPoE' in the Connection type drop down menu (this will usually already be the type selected)
7. In the username and password field will be your old Telstra email address and password. Change these to the relevant details with your new service provider, and then click 'Save' down the bottom.
8. Wait for the modem to re-authenticate. Takes 2 minutes. If you want to make double sure it will work, turn the modem on and off again, or unplug it and plug it back in.
Technicolour 587NV3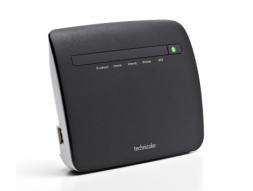 This has been sold through Telstra for a year or so, and it's an exceptional piece of kit. It supports all Wi-Fi speed profiles, multicasting, IPV6 and gigabit Ethernet. All of that is gravy for people who know how to use it; otherwise, just be happy you have a modem that will be top-of-the-line for the next 5 years or more.
Technicolor used to be Thomson, a French 150 year old multi-national. They changed their name recently to better crack the US market, where their 'Technicolor' film technology was their only product with household recognition in the US. They also now own RCA, one of the very oldest electronics firms (you know those red-white-yellow cables for your TV? Those are called RCA cables).
1. Open your browser (Firefox, Internet Explorer, Safari or Chrome).
2. In the address bar, type in 192.168.1.254 or http://dsldevice.lan
3. You will see this screen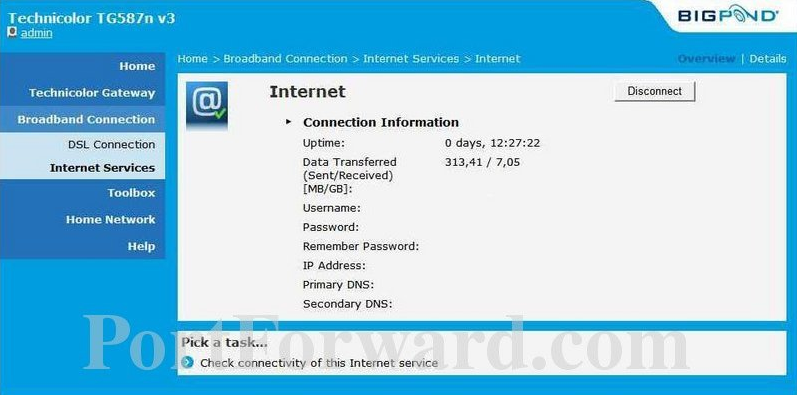 4. Click on Broadband Connection
5. Click on Internet services
6. Click on Internet
7. Click on details
8. In the username and password field will be your old Telstra email address and password. Change these to the relevant details with your new service provider, and then click 'Save' down the bottom.
9. Wait for the modem to re-authenticate. Takes 2 minutes. If you want to make double sure it will work, turn the modem on and off again, or unplug it and plug it back in.
Optus modems
Netgear DG834GU v5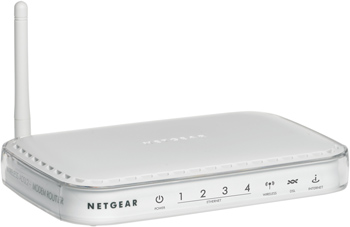 Optus internet plans have been using this Netgear Wi-Fi modem/router for a while now, which it offers free on almost all plans. As such, it's not the most fantastic modem – but it will do the job.
Unusually for Optus, they've actually locked this down more than Telstra have with their modems. It can be unlocked, but takes a little work.
Netgear itself is a big US network equipment firm, with most of its stuff made all over the place. Or in other words, China. Netgear modems, like Netcomm modems, have a 'standard kit' quality to them.
Connect via an ethernet cable.
- Browse to http://10.1.1.1/CA_HiddenPage.htm (case sensitive)
- Disable the Configuration Assistant & clock Apply.
- Once the modem has restarted, browse to http://10.1.1.1 and log in.
- Click Basic Settings.
- Enter your username & password for your new service provider and click Apply. This is normally the full email address.

Default login details for the modem are:
- Username; admin
- Password; password
iiNet Modems

iiNet developed the BoB line of modems to be more than just a router. The first one was a rebranded Belkin, and they have just about every feature you can shake a stick at, including advanced VoIP configurations. They're also quite gorgeous to look at.
But a lot of people don't use 99% of the features in the BoB, and just need a Wi-Fi modem. Luckily, iiNet are pretty good at allowing the modem to be used with other ISPs, with no drastic steps to overcome.
Belkin's own N-300 modem is the retail, non-branded equivalent of the first BoB, and adheres to the same commands.
iiNet developed the Bob Lite themselves, including the hardware. Same goes for the Bob 2.
For all three of these units, the log-in page is the same.
- Browse to 10.1.1.1
- If you're asked for a username and password, the default for both is 'admin'
- In all three modems, there should be an 'ISP settings' page. As per above, click there, enter the appropriate details from your service provider, save and reset. And BoB's your uncle! (haw haw)
As you can see, the principles are the same. With a few exceptions, most modem/routers that have been provided for free with your ISP in the past can be reconfigured for use with a new service provider. All you need on hand are the username and password details for your new ISP, and the browser address your modem can be reached at. Worst case scenario, the manufacturer can be reached by phone for these details.

Click here for Optus broadband deals! Or call 1300 106 571
Click here for Telstra broadband deals! Or call 1300 106 571
Telstra NBN Pricing Plans Explained
Telstra provides its users with a wide variety of NBN bundles to pick from
Telstra's bundles start off at $90 per month which will give you 500GB of data
You can simply pick from two of their user friendly NBN-only options instead – the Medium or Large plan

We all know Telstra - it is Australia's largest telecommunications and media company which builds and operates telecommunications networks and markets voice, mobile, internet access, pay television and other entertainment products and services. One of the sectors encompassed in Telstra is of course, Telstra NBN. With multiple plan tiers available, all of which can be purchased as broadband-only connections or in a bundle with home phone and Foxtel packages, Telstra has an internet solution for people from all walks of life. In this article, we will have a look at the various Telstra NBN pricing for their various plans, in order to help you understand which plan may suit your needs the best.
For starters, we know that Telstra provides its users with a wide variety of NBN bundles to pick from, all based on varying data allowance, preferences and individual needs. Telstra's 3 NBN bundled plans in their most basic forms all come with maximum download speeds of 25Mbps, with speed boosts available to speed things up even more. Below are the upgrades which you can purchase to add onto your basic bundle.
● An additional $20 per month added to your plan will bring your connection up to their 'Very Fast' 50Mbps download speed.
● An additional $30 per month will get you connected to their Superfast 100Mbps internet which is the maximum speeds possible at this current moment.
Telstra's bundles start off at $90 per month which will give you 500GB of data on their Medium bundle. An increase in price to $120 will get you 1000GB of data. Finally, forking out $140 a month will get you a whopping 1500GB of data, which in other words, is pretty much unlimited data to most folks. As per the various download speed tiers mentioned above, 50Mbps speeds will cost you a minimum of $110 per month instead, and so on.
If all this is a little too much for your brain to handle, the fantastic news is that you can simply pick from two of their user friendly NBN-only options instead – the Medium or Large plan. These plans are priced at $80 a month for 500GB of data and $95 for 1000GB respectively. Both of these plans come with a 2 year lock in contract, but if doesn't suit you, you may wish to opt for a month to month contract, though this will cause costs to differ slightly from what is mentioned above. Whatever the case, Telstra can work around your needs.
So, if you're contemplating signing up to a Telstra NBN plan, it would be advisable to make a decision on exactly what your data needs are, in order to pick the plan that is best suited to you. You should also keep in mind that are indeed some start-up costs associated with Telstra NBN, inclusive of a $240 fee that may apply should you need their technicians to come into your home for an installation. Additionally, if you live in a brand new building or development that is not already connected to the NBN, a $300 NBN Co New Development Charge will apply - though this will be the same case for any other ISP in a new building. We hope that this article has helped make you a little more aware of what Telstra has to offer. Should you wish to learn more, do not hesitate to contact us today!
To view all Telstra NBN plans available click here.
Image source: Shutterstock
ReelTime's attempt to trump Telstra BigPond's internet movie service has collapsed
ReelTime Media's struggles over the past couple years and has been voluntarily placed into the hands of administrators
It has lost close to $4.5 million just this year ending June 30
EzyDVD's CEO Jim Zavos resigned from the board of ReelTime yesterday in the wake of the continued struggles
ReelTime Media's struggles over the past couple years has finally come to an end and has been voluntarily placed into the hands of administrators. This notification comes after it recently suspended its shares on the Australian Market, the second time since it began trading at the start of 2006.
From its inception ReelTime's movie download gateway barely drew any revenue in its first year. It has lost close to $4.5 million just this year ending June 30, while only generating just below $20,000 in revenue.
The company had received initial backing from Sony, but it later suspended it shares later that year. With its dwindling cash reserves of just $8,000 in late 2006, founder John Karantzis breathed some further life into the operation by securing a line of credit with a US based equity management company to the value of $4 million.
With its continued struggles to generate any revenue after relisting on the stock exchange, the future seemed to be looking up when it drew a partnership agreement with the DVD retailer EzyDVD. The agreement which was finalised just last month had tabled EzyDVD to be an on seller of the content provided by ReelTime's portal.
EzyDVD's CEO Jim Zavos resigned from the board of ReelTime yesterday in the wake of the continued struggles of the company. Just a month after he joined. ReelTime had resigned to the fact that it's highly unlikely that the partnership with EzyDVD was to be mended.
Mr Karantzis had speculated after leaving the company in November last year that there was some disharmony around the future of the company stating "I guess there were two views. One was that (Jim) Zavos would come in and renegotiate the Hollywood agreements and basically once that was done the business would be viable.
"The second view that I cynically held was that Zavos would come in and gain the know; get copies of the agreement, work out how the technology and everything else was done and then abandon it and go start his own."
Anytime, the main competitor within the movie download space, is also having it troubles as it also struggles to remain afloat. The company is holding major debts to creditors to the value of more than $10 million. It seems that the smaller players within the internet movie download sector are in need of a major strategic adjustment to remain viable and competitive.
Why are TPG and Dodo so cheap, and Telstra so expensive?
What's the catch with cheap plans?
How can some providers provide so many free calls?
What is contention ratio?
When hunting around for a broadband connection, you might eventually find that prices fall into a handful of trenches – very cheap plans with tons of data, expensive plans with lots of services (some of which you may not need) and then BigPond, which is in a price universe all its own.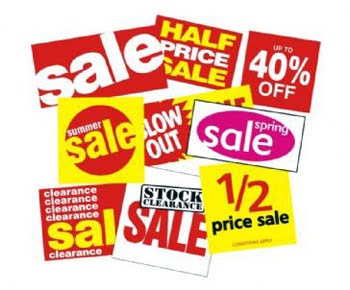 But why is there such a big price difference between the low and high end of the market? What's the value differentiator? We all like paying the cheapest price possible, but there's that aching 'too good to be true' sense you get when you see a massive gulf between two companies.
First, let's compare three popular plans.
TPG - $69.99 Unlimited Big Talk Bundle – Unlimited data, free landline to landline calls (local, STD and 13/1300 numbers), 100 free international minutes. Call 1300 106 571

Optus - $79 'yes' Fusion Plan – 120GB data, Unlimited landline calls, free calls to Optus network mobiles. Call 1300 137 897
BigPond - $115 T Bundle Connector Everyday – 200GB data, free local calls, free calls to Telstra mobiles, Telstra T-Box or T-Hub 2. Call 13 7663
It doesn't seem right, does it? The TPG plan contains, pound for pound, more value than either the Optus or BigPond plan – but the Optus plan is still reasonable in comparison, while the BigPond plan, to many eyes, seems outrageously expensive. What could Telstra broadband be offering to justify such a gap in price?
Differentiators
Each company that provides telecommunications has a pretty standard checklist of expenses that they have to pay for. In a very, very simplified form, this might be broken down as:
1. Wholesale access price to the infrastructure (ie. cables and networks) that deliver your connection)
2. Payroll for customer service, technical support and credit management
3. Payroll for engineering staff and back office
4. Advertising
An ISP can limit their exposure to these costs in the following ways:

1. Owning their own infrastructure, rather than leasing it off another firm
2. Outsourcing customer service and technical support to offshore middle-income economies like India and the Phillipines,
3. Allowing for automatic direct debit only, billing in advance instead of in arrears, so there's no chasing up customers for unpaid bills
4. Outsourcing engineering to contractors
5. Keeping advertising to a relative minimum

The three examples we've chosen are for companies who are 'majority wholesalers'. Telstra, Optus and TPG all own their own fibre-optic network, equipment at the exchange, and even their own undersea links. That makes a big difference – it means that for 99% of the connection (100% in Telstra's case), they own and operate the equipment ferrying your connection to the rest of the world, and don't have to lease a circuit on another company's network. For Optus and TPG, the only bit they have to lease is the copper line from the exchange to your home, which belongs to Telstra.
All three companies will engage in some offshoring, either in whole or in part, of their customer service and technical support teams.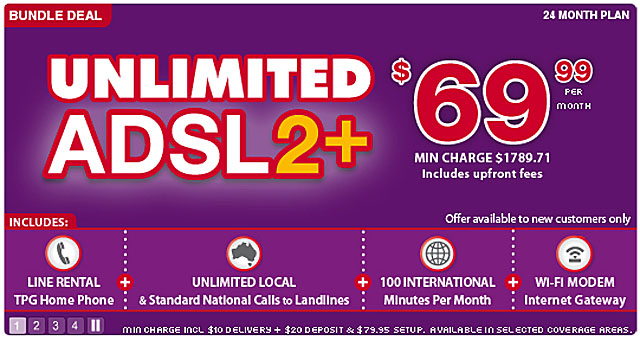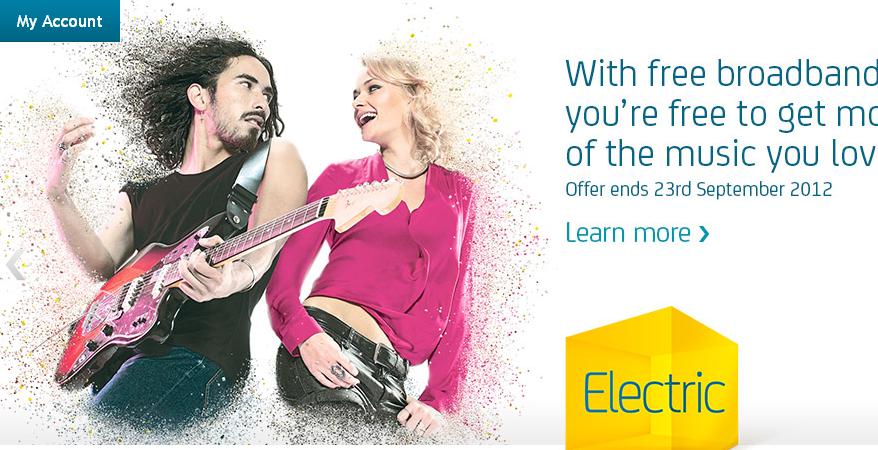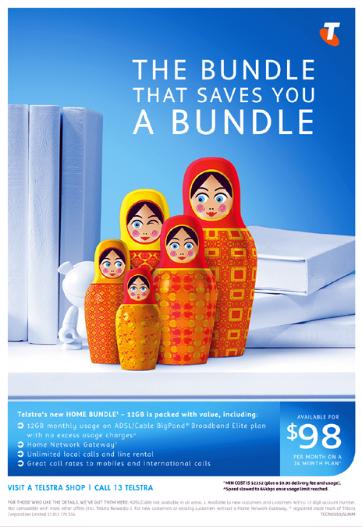 TPG has the cheapest and simplest advertising, with print, radio and TV ads that contain no actors, just a price and checklist of what's on offer. Telstra and Optus have comprehensive national campaigns across all media, as well as huge sponsorship agreements.
Telstra and Optus have the profile of being 'carrier-grade'. They both own huge mobile networks, satellite links and other hard infrastructure that dwarfs TPG. This contributes to their higher pricing, but their ability to control so much of the delivery should equalize prices as well. More significantly, Telstra and Optus have a deeper brand as older, bigger companies, and they also have a direct retail presence. TPG has no retail stores of its own.
TPG uses direct debit and upfront payments to limit their exposure to unpaid bills – connection fees have to be paid on the spot, and bills are debited automatically from a savings account or credit card. This allows them to operate without debt, to an extent. But it also means that people uncomfortable with this arrangement cannot enjoy their services- this precludes people who like to pay for their bills with cash, in a post office.
Finally, in the case of Telstra being significantly more expensive than both Optus and TPG, it's worth considering Telstra's status as the backbone of everyone's connection. Telstra provides service to the entire country, whereas TPG and Dodo 'cherry pick' the distribution areas with high populations. Telstra is the only company that can do this, as it owns the 'last mile' network that links every home in the country. The overheads and responsibilities on Telstra are very high, so their higher prices might be construed as their way to balance out the customers who are expensive to service, with those who are cheap to service (a form of cross subsidy). But Telstra would likely be unwilling to attribute their higher prices to that, instead relying on their still-strong brand as justification for higher prices.
Where do the free calls come from?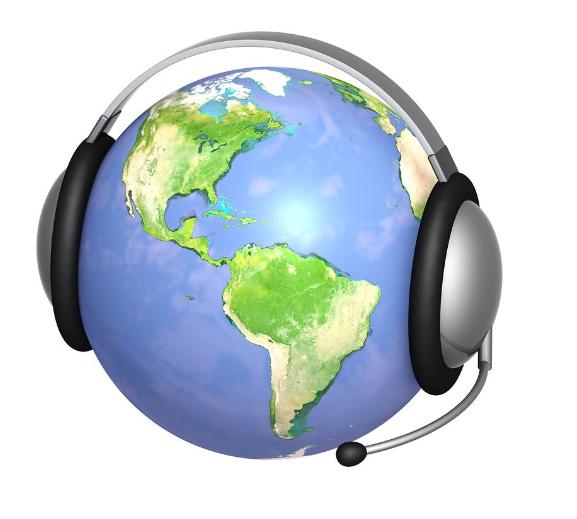 Phone calls are still actually quite expensive to make, at least the old fashioned way. Though it seems hard to imagine, when you make a standard voice call from Melbourne to Perth, there is an actual physical link right up to each handset. That's an analogue call.

The alternative is to have your voice sent analogue to the exchange, where your provider repackages it as digital data, sends it along the internet, and repackages it on the other end. This is Voice Over Internet Protocol (VoIP), no question about it. But unlike VoIP connections used in your home, it incorporates the public analogue telephone service to increase ease of use and audio fidelity.
Switching a landline call to an air call is still expensive though, which is why most free call packages don't include calls to mobiles. Optus and Telstra are able to do it mainly because they're the biggest mobile network providers as well, meaning that the fees charged to landline providers for mobile switching goes back into their pockets anyway.
What about other providers?
Dodo - $59.80 Unlimited data incl. line rental - Call 1300 136 793
Internode - $79.90 200GB plan incl. line rental - Call 1300 106 571
Dodo's plan is very cheap- but Dodo doesn't have their own wholesale network.
Internode's plan is comparatively expensive, and comes with less data, But Internode actually do own their own wholesale network – and as part of the iiNet, are part of their 2nd largest DSL network in Australia. So what gives?
Contention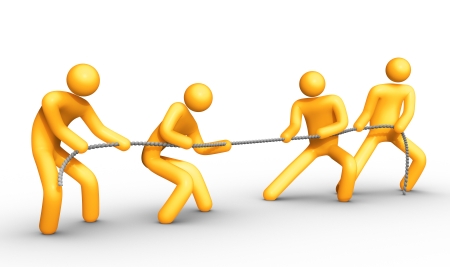 *DISCALIMER* - Boosting contention is a common method for keeping costs down and allowing for more connections, used by service providers all over the world. But no company releases official figures for how much, where and to what extent they use contention, so the following is purely conjecture.
Dodo is a majority retailer – they don't own their own network, and rely on Optus, Telstra and Eftel to provide the bulk of their connections – mostly Optus. And even though Optus Wholesale is quite affordable for smaller ISPs, Dodo's price is still remarkably cheap, given the factors involved. Dodo offshores its tech support and customer service, and despite some pervasive advertising, otherwise adheres to the usual cost-cutting measures for a smaller firm in a very competitive market.
The other way a small firm like Dodo can compete on price is by boosting what's known as Contention, or Contention Ratios. A really brutal but effective metaphor is a publican cutting his beer with water, but it's not as bad as all that.
Mobile and Cable broadband are highly contended methods of providing a broadband connection – both rely on customers connecting to a central point with limited capacity, and the more people who jump on, the less speed everyone gets. ADSL (broadband over copper telephone lines, which is the connection method we're comparing) is less contended – your line services just your home, all the way to the exchange. The exchange is very well fed by fibre optic networks with plenty of spare capacity, and besides – there's only a limited number of ports at each exchange. At a certain point, the capacity can't be 'shared' anymore.
Or can it? Smaller firms can over-contend an individual port, effectively cutting the speed of two customers in half. Kinda. The effect is more that if one customer is completely 'maxing out' their connection, the other customer sharing that port will find their speed suffering.Otherwise, two customers using their connection for lower-bandwidth activities (email, browsing) will find no difference in the quality of connection.
There's nothing wrong or underhanded with boosting contention ratios. It's a legitimate way to offer a connection to more people, in a situation with finite resources- and it is, of course, how a companies can keep their prices low in the face of limited resources. Very few people max out their connection speed for more than a few minutes at a time (like when downloading a file, or streaming hi-def video). It can mean internet 'traffic jams', when everyone's connection in a neighbourhood can get congested at busy times – like 6 pm, when everyone has gotten home from work and school and might be downloading movies to watch that evening.
Contention boosting will be less of a problem for fixed-line in the future, when all (or at least most) of the network is replaced with all fibre-optic lines, dramatically boosting the speed and capacity of networks. Or at least, contention might still be used as a cost-cutting measure, but with less noticeable effects thanks to the overall much higher speeds.
It is worth noting - companies that rely on other firms to provide more of their connection will be more likely to use contention. When deciding between two plans that look equal, it's fair to consider to what degree each company relies on another to provide the connection to the internet.

A boutique approach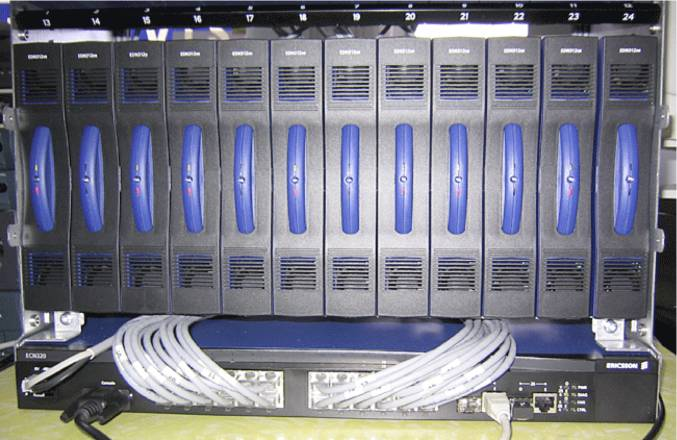 Internode is more expensive because frankly, they don't skimp on anything. Internode has always operated as something of a blue-chip, white-glove affair, a network for people who take their connections seriously. They've always boasted excellent technology, from the equipment they use to build their network, to the modems and routers they sell. All of their support, sales and service staff are based in Australia, well trained and able to help you with just about anything. Their senior management, right up to founder and former managing director Simon Hackett, regularly engage with their customer base on social media and discussion forums like Whirlpool.
Internode charges more to pay for this extra level of service, and keeps their data limits lower to avoid having to boost contention ratios, or taking other steps that might inadvertently lower the quality of their network.
Conclusion
It's worth doing your homework before signing up for a plan, but the main differentiators between providers can be more or less summarized like this:

Telstra, Optus – Carrier grade, you're paying as much for brand as you are for service.
TPG, Primus, Eftel – all wholesalers in their own right, lower prices might just be lower because their overheads are lower.

Internode, iiNet – huge wholesale network, but prices are higher to pay for onshore support and service

Dodo, Southern Cross, Spintel, etc – generally cheaper because they're wholesaling from Optus and otherwise using a variety of technological procedures to keep costs down.

As always, give us a call on 1300 106 571 and we can help narrow down the wide range of options to a few providers who suit your needs!
Telstra has a long and rich history in the Australian telecommunications industry. Telstra initially started as a government owned organisation and was founded by the Commonwealth in 1975. Back then, Telstra was the country's only telco and they were solely responsible for providing communications connections throughout the country.
Ask the expert
Enter your contact details and one of our friendly staff will get back to you soon , or you can call us now on 1300 763 813