Compare Internet Plans and Providers in TAS
Answer a few simple questions and we'll search hundreds of plans from some of Australia's leading internet providers including the NBN. Start by entering your postcode or suburb below.
Types of Internet connections in TAS
The Apple Isle is filled with a solid array of internet broadband options including NBN, ADSL2+, Cable, and Wireless Broadband - including the emerging internet technology 5G! The right internet connection for you is ultimately going to depend on your location. To find out more, enter your suburb or postcode into our search bar above and click "Compare Now" to compare the best internet deals in Tasmania!
Types of NBN connections in TAS
NBN in Tasmania is largely completed, though there are many areas still to be upgraded. The NBN Co have announced that their rollout will be completed nationwide by the end of 2020, so if you're no in an NBN active area, you soon will be. The NBN (or National Broadband Network) is an Australian government owned enterprise that is replacing our old copper line internet infrastructure with a typically more reliable fibre optic cable network. Once an area has been made NBN active, the old copper lines are cut off, and ADSL technology is no longer available in that area. To find out the broadband coverage and NBN status of your home, enter your address into our NBN map for Tasmania below. The map will also tell you what kind of NBN connection has been designated to your area, which might inform your selection of NBN plan.
While the NBN was designed and implemented with the intent of improving the country's broadband service, there are some NBN connection types that are definitely less effective than others. Unfortunately, customers don't get to choose what type of NBN connection their area is allocated. That said, if you are unhappy with your NBN connection, you can counter it by selecting an NBN plan with better data and a higher tier NBN speed. You can compare the best NBN providers for Tasmania here.
Some of the more commonly found NBN connections in Tasmania are Fibre to the Node (FFTN), Fibre to the Curb (FTTC), Fibre to the Premises (FTTP), Fixed Wireless Connection, and Hybrid Fiber-Coaxial Cable (HFC). There are four different Tasmanian NBN speeds available. You can choose the speed (along with the data and cost) that best suits you.
The four Queensland NBN speed tiers are;
- Basic evening speed: No minimum
- Standard evening speed: Minimum 15 Mbp
- Standard plus evening speed: Minimum 30 Mbps
- Premium evening speed: Minimum 60 Mbps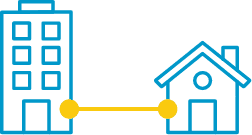 Fibre to the premises / home
When the NBN project initially commenced, the government at the time intended to roll out fibre optic cabling all the way up to your home or business property. This type of connection is call Fibre to the premises/home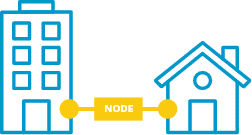 Fibre to the node
Mid-way through the NBN roll-out, a change in Government leadership saw some funding constraints which lead to a slightly different roll-out approach for the NBN. This approach involves an amalgamation of original copper systems and fibre optic systems. This is referred to as Fibre to the node (FTTN).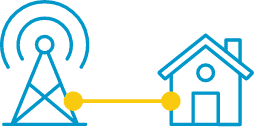 Fixed wireless connection
In some cases - particularly in remote locations - it would be impractical or too expensive to physically connect a property to the fibre-optic network. In such cases properties will be connected by a wireless network. This is referred to as a Fixed Wireless NBN connection.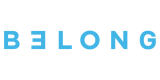 50 Mbps (Standard Plus Speed)





50 Mbps (Standard Plus Speed)

50 Mbps (Standard Plus Speed)
See Internet Plans in TAS by provider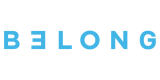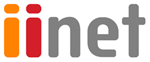 See internet plans offered in TAS
NBN plans
Compare NBN broadband plans and providers with Compare Broadband. Find the right NBN plan for your needs.
Bundle plans
Compare Home phone broadband plans bundles. Find the right home phone and NBN broadband bundle that suits your needs.
No contract plans
Don't get locked into a contract! Search flexible no contact internet plans & find one that best suits you. Compare no contract broadband plans in Australia.
Unlimited plans
Unlimited broadband plans compared for you from our panel of leading internet service providers. Find the right unlimited broadband plan for your needs today!
Broadband Plans by Suburb in Tasmania
FAQs
Which is the best internet provider in Tasmania?
Some of the best internet providers in Tasmania include Tangerine, Telstra, Aussie Broadband, iiNet and TPG. These providers offer both fixed-line connections and fixed-wireless plans. If your area is connected via satellite, iiNet has NBN satellite plans you can look into. You can find Telstra and SpinTel internet plans to be the most popular in Tasmania for mobile broadband plans.
How to choose the right internet plans in Tasmania?
To choose the right internet plan in your area, you need to consider your household size and the number of devices that need to connect. You also need to think about their usual internet activities. For instance, if only two to three people in your household need a constant internet connection, then an NBN plan in the Standard speed tier will already prove to be sufficient. On the other hand, more people who need to connect to the internet simultaneously need to have a plan in a faster speed tier. This is also true when it comes to your data allocation needs.
What are the best NBN plans Tasmania?
Some of the best plans in Tasmania include:
Most Popular: Belong Standard Plan Unlimited

For only $70 a month, you will already get to enjoy a typical evening speed of 50Mbps and unlimited data. This plan also includes a free modem, especially for new NBN customers.


Minimum Total Cost: Aussie Broadband 50/20 100GB – Build your own nbn™

With Aussie Broadband's plan in the Standard speed tier, you only need to pay $70 a month to enjoy a typical evening speed of 50Mbps and unlimited data. You can also customise your own plan where you get to mix and match speed and data options.
How to compare NBN providers in Tasmania?
Our friendly experts can help you! Call us up at Compare Broadband, and we can answer all the questions you have about the available internet plans in your area. If you're shopping around, you can find our comparison tool above quite helpful. All you need to do is to put in your postcode, and our database will show you the list of plans and connection types available in your area.