Check if you're eligible for the NBN FTTP upgrade
NBN Co. is now making more households eligible for faster internet access via the Fibre to the Premise (FTTP) upgrade. Enter your postcode or suburb below to check your eligibility.
Compare Broadband compares plans from the above providers and can connect you with our participating providers. Not all plans available from these providers are compared by Compare Broadband and depending on your location or service availability not all plans may be available to all customers.
In February 2023, NBN Co revealed plans to upgrade 10 million homes and businesses to Fibre to the Premises (FTTP) connections by 2025, a significant move for those facing slow Internet speeds.
The upgrades in eligible areas are nearly finished, with NBN aiming to transition most homes and businesses from the Fibre to the Curb (FTTC) network to full fibre via FTTP by the end of 2023.

100 Mbps Typical Evening Speed

100 Mbps Typical Evening Speed

100 Mbps Typical Evening Speed

200 Mbps Typical Evening Speed

240 Mbps Typical Evening Speed

100 Mbps Typical Evening Speed

210 Mbps Estimated Typical Evening Speed

100 Mbps Typical Evening Speed

600 Mbps Typical Evening Speed

243 Mbps Typical Evening Speed
for first 12 months, then $119 ongoing. Use code SUPERBF. Offer ends 10/12/2023
Min total cost $99
View breakdown
NBN FTTP upgrade
In this guide, you will find:
Upgrading from Fibre to the Node (FTTN) is crucial because it's one of the least efficient NBN technologies, plagued by speed problems due to copper usage between the node and your premises. To achieve NBN 100 speeds, a residence or business must be within 400 metres of the local exchange.
In contrast, Fibre to the Premises (FTTP) doesn't face these issues, allowing all FTTP homes and businesses to attain speeds just below a gigabit per second.
What is NBN FTTP?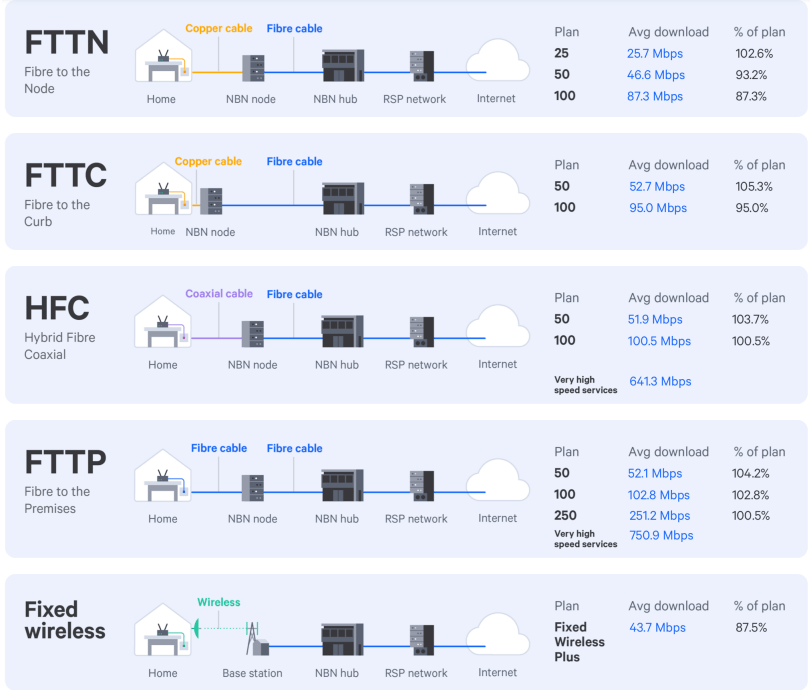 FTTP technology uses optical fibre cables for super-fast speeds up to 1Gbps. It's the fastest and most reliable connection, but it's expensive. Typically used in new areas or where the old copper network is weak, FTTP needs a special NBN device installed inside your home by an approved NBN installer. Unlike other types like FTTN, which mix fibre and copper, FTTP uses only fibre cables.
Mostly found in single houses, some newer apartments might have FTTP too. If an apartment's fibre cabling isn't up to NBN standards, it uses Fibre-to-the-Building (FTTB) instead.
For FTTP, you need equipment on both the external and internal walls, set up by an approved NBN installer. Standard installation is free, but check with your provider for possible extra fees. You also need an NBN-compatible router to share the connection inside your home.
Priority Assistance customers need a battery backup lasting about five hours during a power outage. If your phone doesn't need electricity, it'll work during a blackout, unless you have a battery backup.
Who is eligible for FTTP upgrade?
To check if your home is eligible for an upgrade, look up your address on our list provided. The primary recipients of this upgrade are households currently using FTTN. However, some FTTC customers may also qualify if they opt for a plan with wholesale speed tiers of 250/25Mbps or higher.
Your new plan must offer faster speeds than your current connection, and you must commit to staying with the provider for a full year.
Keep in mind a few conditions when requesting a free FTTP upgrade. If you downgrade your NBN plan or switch providers within the first 12 months of the upgrade, there might be a $200 fee. The same fee could apply if you move within a year of the upgrade. Additionally, in some cases, extra infrastructure may be necessary for installation, and you might bear the cost.
Once your area is upgraded to FTTP, you'll gain access to the fastest NBN plans available, including NBN 100, NBN 250, and NBN 1000. Explore the recommended plans and speed tiers listed below.
Popular NBN 100 Plans
Why should you upgrade to a FTTP connection?
FTTP is the fastest and most reliable connection, ensuring smooth online experiences with fewer interruptions. It boasts lower latency and higher upload/download speeds, allowing seamless high-definition streaming, gaming, and video conferencing without buffering or lag.
For businesses, it facilitates advanced activities like cloud computing and telemedicine, enhancing efficiency and effectiveness. Moreover, FTTP is less vulnerable to interference and natural disasters, providing a reliable Internet connection even during adverse conditions.
How fast are Fibre to the Premises NBN speeds?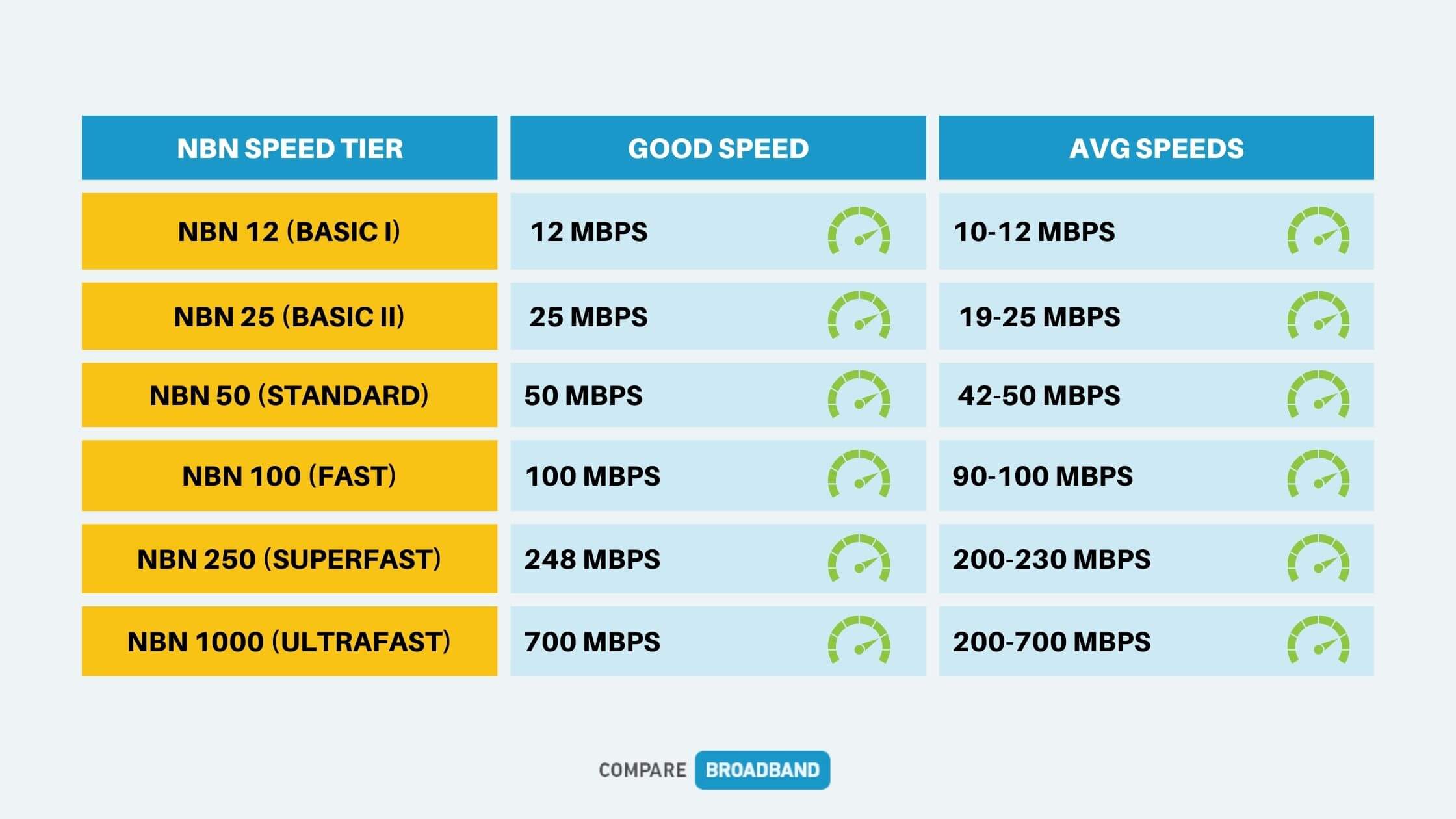 NBN FTTP connections offer six speed options with different usage scenarios. Note that achieving the maximum speeds listed may vary, and typical evening speeds during peak hours should be considered.
FTTP supports plans faster than NBN 100, like NBN 250 and NBN 1000. Actual speeds depend on your chosen plan, provider, and peak-hour congestion. Keep in mind that your NBN speed is shared among all users and devices in your household, so faster plans provide more capacity for multiple users to enjoy faster Internet.
How to upgrade to NBN FTTP
Here is how you can upgrade your connection to FTTP.
Step 1: Find out if your address is eligible for the free fibre upgrade
Before you begin, check if your address is eligible for the free NBN FTTP upgrade. To do this, check our list below or use our broadband comparison tool above. You can also call our hotline for faster enquiries.
Step 2: Choose a participating provider
Not all providers may participate in the free fibre upgrade program. Make sure the provider you choose is part of the free fibre upgrade program to take advantage of the offer. Call us at Compare Broadband to know the list of providers participating in the FTTP upgrade.
Step 3: Select an eligible plan and request the upgrade
Choose an eligible NBN plan that suits your needs. Not all plans may be eligible for the free upgrade, so best to contact Compare Broadband for more information. After selecting your plan, contact the provider and request a free fibre upgrade.
Step 4: Schedule a pre-appointment with NBN Co
After you've chosen your provider and plan, it will book a pre-appointment with NBN Co for you. This appointment will involve an NBN technician visiting your property to assess the necessary work for the FTTP upgrade. Your provider will also schedule a connection date, which is when NBN Co will install the necessary equipment for your new service.
Step 5: Connect your NBN connection box and compatible router
Once the NBN technician has completed the installation, you must connect your new NBN connection box and a compatible router. Your provider will usually provide detailed instructions on how to do this. Follow these instructions carefully. If you encounter any issues, contact your provider for assistance. After successfully connecting your equipment, your provider will finalise your connection.
Step 6: Cancel your old plan
Reach out to your old provider and let them know you've upgraded to a new service. Doing this is essential, as your old plan won't be cancelled automatically since it's delivered over a different technology type.
What about HFC upgrades?
If you have an HFC NBN connection, switching to FTTP is not an option. However, you can still upgrade to a faster speed tier. HFC connections can opt for an NBN 250 plan, and almost all HFC connections should support a gigabit plan.
Once the HFC in your area has been upgraded, no additional work is needed at your premises. You can simply order a faster plan and immediately switch to the higher speed tier.
NBN alternatives
Don't want to wait for the FTTP upgrade but want a faster connection? There are several NBN alternatives you can consider. One of the popular NBN alternatives is home wireless broadband, which is delivered through the same 4G and 5G networks used for mobile plans. You can expect similar network speeds to what you get on 4G or 5G in your area.
If you live in a 5G coverage area, you can try 5G home broadband. Many telecom providers offer the first month for free, allowing you to test and determine if it's the right choice. 5G home Internet plans come in three categories: 50Mbps, 100Mbps, and wireless plans with uncapped speeds.
Compare NBN plans with Compare Broadband
At Compare Broadband, we've reviewed hundreds of NBN plans from Australia's leading providers. We understand the process can be confusing and time-consuming, which is why we make it easy to compare NBN plans side by side so you can find the best NBN option for your needs.
Our broadband experts are also available to chat if you have any questions about the process or your current connection. With a 4.8-Star Rating on TrustPilot, we have established our authority in the broadband industry and are proud to be the go-to resource for broadband customers across Australia.
So if you're looking for the best NBN plans in Australia, call us at Compare Broadband and start comparing today – it's that simple!
List of suburbs eligible for NBN FTTP upgrade
As of June 2022, 160,000 people in NSW, Victoria, ACT, Queensland, Western Australia, Tasmania, Northern Territory and South Australia can start enquiring about NBN FTTP upgrades to their premises.
The following suburbs have recently been announced as eligible for an FTTP upgrade:


New South Wales
· Abercrombie - from October 2022
· Aberglasslyn - from March 2022
· Acacia Gardens - from June 2022
· Adamstown - from December 2022
· Adamstown Heights - from August 2024
· Airds - from December 2023
· Albion Park - from May 2022
· Albion Park Rail - from June 2022
· Albury - from May 2023
· Alexandria - from September 2022
· Allambie Heights - from February 2023
· Alstonville - from December 2022
· Ambarvale - from April 2022
· Angourie - from October 2022
· Anna Bay - from March 2023
· Annandale - from November 2022
· Appin - from May 2022
· Ashmont - from November 2023
· Austinmer - from December 2023
· Avalon Beach - from March 2025
· Avoca Beach - from July 2025
· Balgownie - from October 2022
· Bangalee - from March 2023
· Bankstown - from May 2022
· Banora Point - from December 2022
· Bar Beach - from June 2023
· Barnsley - from October 2023
· Barrack Heights - from December 2022
· Barrack Point - from December 2022
· Basin View - from June 2023
· Bass Hill - from October 2022
· Batehaven - from June 2023
· Batemans Bay - from April 2023
· Bathurst - from October 2022
· Beaconsfield - from October 2022
· Beaumont Hills - from March 2023
· Bella Vista - from January 2022
· Belmont - from September 2022
· Belmont North - from September 2022
· Beresfield - from July 2024
· Berkeley - from December 2022
· Berowra - from August 2024
· Berowra Heights - from August 2024
· Beverly Hills - from June 2022
· Bilgola Plateau - from March 2025
· Blackbutt - from June 2022
· Blackheath - from March 2025
· Blackwall - from December 2022
· Blairmount - from July 2022
· Blayney - from December 2025
· Blue Haven - from June 2023
· Bogangar - from November 2022
· Bolwarra Heights - from May 2023
· Bonnells Bay - from December 2023
· Booker Bay - from December 2022
· Booragul - from January 2023
· Bossley Park - from November 2022
· Bowral - from November 2023
· Bowraville - from December 2023
· Bradbury - from April 2022
· Brighton-Le-Sands - from October 2022
· Broadmeadow - from December 2023
· Brookvale - from February 2023
· Broulee - from March 2025
· Budgewoi - from August 2023
· Buff Point - from June 2023
· Bundanoon - from September 2025
· Bundeena - from July 2024
· Bungendore - from March 2025
· Byron Bay - from December 2022
· Cabarita Beach - from November 2022
· Calala - from April 2024
· Callala Bay - from December 2023
· Callala Beach - from December 2023
· Camden Park - from April 2022
· Camden South - from April 2022
· Cameron Park - from March 2022
· Campbelltown - from July 2022
· Camperdown - from September 2022
· Campsie - from June 2022
· Canley Vale - from March 2022
· Canterbury - from June 2022
· Canton Beach - from July 2022
· Cardiff - from December 2024
· Carnes Hill - from June 2022
· Casino - from May 2025
· Castle Hill - from December 2021
· Casuarina - from July 2022
· Casula - from May 2022
· Catalina - from June 2023
· Caves Beach - from November 2022
· Cessnock - from November 2025
· Charlestown - from October 2022
· Charmhaven - from November 2022
· Cherrybrook - from January 2022
· Chinderah - from April 2023
· Chipping Norton - from March 2022
· Clyde - from October 2022
· Coledale - from December 2023
· Collaroy - from November 2023
· Condell Park - from May 2022
· Cooks Hill - from June 2022
· Coolangatta - from July 2023
· Cooma - from November 2025
· Coonabarabran - from November 2025
· Cooranbong - from December 2023
· Cordeaux Heights - from November 2022
· Corlette - from May 2022
· Corowa - from December 2023
· Cowra - from July 2024
· Cringila - from December 2022
· Cronulla - from April 2023
· Crosslands - from October 2023
· Croydon Park - from May 2022
· Culburra Beach - from January 2023
· Currans Hill - from November 2022
· Dalmeny - from December 2023
· Darlinghurst - from March 2022
· Darlington - from September 2022
· Davistown - from September 2024
· Dee Why - from August 2023
· Denhams Beach - from October 2023
· Deniliquin - from June 2024
· Double Bay - from August 2022
· Dubbo - from December 2023
· Dundas Valley - from June 2022
· Earlwood - from June 2022
· East Albury - from May 2023
· East Ballina - from April 2023
· East Tamworth - from December 2024
· Eastwood - from June 2022
· Eden - from October 2025
· Edgeworth - from March 2022
· Eglinton - from October 2022
· Elderslie - from July 2022
· Eleebana - from May 2023
· Elermore Vale - from September 2023
· Enfield - from May 2022
· Enmore - from July 2022
· Epping - from November 2022
· Erina - from March 2022
· Ermington - from June 2022
· Erskineville - from July 2022
· Ettalong Beach - from September 2022
· Fairfield - from March 2022
· Fairy Meadow - from May 2022
· Farmborough Heights - from November 2023
· Figtree - from March 2023
· Fingal Bay - from December 2022
· Fingal Head - from June 2023
· Fletcher - from May 2022
· Flinders - from September 2022
· Forbes - from December 2025
· Forresters Beach - from December 2023
· Forster - from October 2022
· Gateshead - from October 2022
· Georges Hall - from October 2022
· Gerringong - from November 2022
· Gerroa - from November 2022
· Gilgandra - from September 2024
· Gladesville - from June 2023
· Glen Alpine - from May 2023
· Glen Innes - from December 2025
· Glendale - from December 2024
· Glenfield Park - from November 2023
· Glenhaven - from February 2022
· Glenmore Park - from September 2022
· Glenroy - from November 2023
· Glenwood - from June 2023
· Goonellabah - from February 2024
· Gorokan - from July 2022
· Goulburn - from December 2023
· Grafton - from July 2025
· Granville - from October 2022
· Green Point - from November 2022
· Green Valley - from March 2022
· Griffith - from June 2024
· Gulgong - from December 2025
· Gunnedah - from October 2025
· Gwynneville - from December 2022
· Halekulani - from August 2023
· Hamilton - from April 2022
· Hamilton South - from April 2022
· Hamlyn Terrace - from May 2023
· Hammondville - from April 2022
· Harrington - from November 2025
· Harrington Park - from May 2022
· Haywards Bay - from March 2023
· Helensburgh - from August 2023
· Hillsborough - from June 2023
· Hillvue - from April 2024
· Hinchinbrook - from October 2022
· Holmesville - from October 2023
· Holsworthy - from March 2022
· Homebush - from July 2022
· Homebush West - from July 2022
· Horningsea Park - from May 2022
· Hoxton Park - from June 2022
· Hunters Hill - from June 2023
· Hunterview - from March 2022
· Huntleys Cove - from June 2023
· Inverell - from March 2025
· Islington - from March 2023
· Jamisontown - from December 2022
· Jerrabomberra - from March 2023
· Jindabyne - from September 2024
· Kahibah - from October 2022
· Kanwal - from March 2023
· Kariong - from May 2024
· Katoomba - from December 2023
· Keiraville - from December 2022
· Kellyville - from June 2022
· Kellyville Ridge - from October 2022
· Kelso - from April 2022
· Kensington - from October 2022
· Killingworth - from October 2023
· Kincumber - from September 2024
· Kings Langley - from February 2023
· Kingscliff - from July 2022
· Kingsford - from October 2022
· Kingswood - from March 2022
· Kirrawee - from October 2022
· Kooringal - from December 2023
· Kotara - from September 2024
· Kurnell - from March 2022
· Kurri Kurri - from October 2025
· Lake Haven - from July 2022
· Lake Heights - from December 2022
· Lake Illawarra - from December 2022
· Lake Munmorah - from December 2023
· Lakelands - from June 2023
· Lambton - from December 2023
· Laurieton - from August 2025
· Lavender Bay - from September 2022
· Lavington - from November 2023
· Leichhardt - from October 2022
· Lennox Head - from June 2023
· Leura - from April 2025
· Lewisham - from October 2022
· Lisarow - from November 2023
· Lithgow - from September 2023
· Llanarth - from October 2022
· Long Beach - from April 2023
· Macksville - from December 2023
· Macquarie Hills - from December 2024
· Macquarie Park - from December 2023
· Maianbar - from July 2024
· Maitland - from March 2023
· Maloneys Beach - from April 2023
· Mannering Park - from December 2023
· Mardi - from June 2023
· Marmong Point - from January 2023
· Marrickville - from October 2022
· Maryland - from May 2022
· Maryville - from March 2023
· Mascot - from June 2022
· Medowie - from May 2023
· Menai - from June 2022
· Merewether - from December 2022
· Merewether Heights - from December 2022
· Merimbula - from February 2025
· Middleton Grange - from October 2022
· Milton - from May 2023
· Mitchell - from April 2023
· Mittagong - from September 2025
· Mollymook - from May 2023
· Mollymook Beach - from May 2023
· Montefiores - from August 2024
· Moree - from May 2025
· Moss Vale - from September 2024
· Mount Annan - from May 2022
· Mount Austin - from November 2023
· Mount Hutton - from March 2025
· Mount Kembla - from November 2022
· Mount Ousley - from October 2022
· Mount Pleasant - from October 2022
· Mount Warrigal - from December 2022
· Mudgee - from June 2023
· Murwillumbah - from March 2024
· Muswellbrook - from June 2023
· Nambucca Heads - from December 2023
· Narara - from November 2023
· Narellan - from May 2022
· Narellan Vale - from May 2022
· Narrabri - from December 2025
· Narrandera - from July 2025
· Narrawallee - from September 2024
· Nelson Bay - from May 2022
· New Lambton - from December 2023
· Newcastle - from November 2022
· Newcastle East - from November 2022
· Newcastle West - from April 2022
· Newtown - from July 2022
· Niagara Park - from November 2023
· Norah Head - from March 2023
· Noraville - from March 2023
· North Albury - from June 2023
· North Batemans Bay - from April 2023
· North Kellyville - from April 2023
· North Lambton - from December 2024
· North Manly - from February 2023
· North Nowra - from March 2023
· North Richmond - from December 2022
· North Sydney - from September 2022
· North Tamworth - from December 2024
· North Wollongong - from May 2022
· Norwest - from January 2022
· Nowra - from April 2023
· Oak Flats - from June 2022
· Ocean Shores - from February 2023
· Old Bar - from March 2023
· Old Erowal Bay - from March 2023
· Orange - from June 2022
· Ourimbah - from December 2023
· Oxley Vale - from December 2024
· Paddington - from August 2022
· Padstow - from May 2022
· Palm Beach - from March 2025
· Parkes - from June 2023
· Parklea - from April 2023
· Parramatta - from August 2022
· Pemulwuy - from June 2022
· Petersham - from October 2022
· Picton - from May 2023
· Pleasure Point - from March 2022
· Port Kembla - from December 2022
· Port Macquarie - from June 2023
· Pottsville - from October 2022
· Prairiewood - from November 2022
· Prestons - from May 2022
· Primbee - from December 2022
· Punchbowl - from May 2022
· Quakers Hill - from October 2022
· Raglan - from April 2022
· Raymond Terrace - from October 2022
· Rhodes - from December 2023
· Rosebery - from October 2022
· Rosemeadow - from April 2022
· Rouse Hill - from April 2023
· Rozelle - from June 2023
· Ruse - from April 2023
· Rutherford - from March 2022
· Ryde - from April 2022
· Salamander Bay - from May 2022
· San Remo - from June 2023
· Sanctuary Point - from March 2023
· Saratoga - from September 2024
· Scone - from November 2025
· Seven Hills - from December 2022
· Shell Cove - from April 2023
· Shellharbour - from September 2022
· Shoal Bay - from June 2022
· Shoalhaven Heads - from February 2025
· Shortland - from October 2024
· Singleton - from March 2022
· Singleton Heights - from March 2022
· Skennars Head - from June 2023
· Smeaton Grange - from May 2022
· Smithfield - from April 2022
· Soldiers Point - from May 2023
· South Albury - from May 2023
· South Bathurst - from April 2023
· South Golden Beach - from February 2023
· South Grafton - from July 2025
· South Nowra - from April 2023
· South Penrith - from August 2022
· South Tamworth - from April 2024
· South Turramurra - from June 2023
· South West Rocks - from December 2023
· Speers Point - from October 2023
· Spring Farm - from July 2022
· St Georges Basin - from June 2023
· St Helens Park - from April 2022
· St Peters - from December 2022
· Stanhope Gardens - from October 2022
· Stanmore - from November 2022
· Stockton - from December 2025
· Strathfield - from July 2022
· Suffolk Park - from February 2023
· Sunshine Bay - from October 2023
· Surf Beach - from October 2023
· Surfside - from April 2023
· Surry Hills - from November 2022
· Sussex Inlet - from May 2025
· Sutherland - from October 2022
· Swansea - from November 2022
· Tahmoor - from May 2023
· Telarah - from March 2023
· Terranora - from June 2023
· Terrigal - from March 2022
· The Hill - from June 2022
· The Junction - from April 2022
· The Ponds - from October 2022
· Thirlmere - from May 2023
· Thirroul - from September 2022
· Thornton - from March 2022
· Thurgoona - from November 2023
· Toukley - from July 2022
· Towradgi - from May 2022
· Tuggerah - from June 2023
· Tuggerawong - from June 2023
· Tullimbar - from May 2022
· Tumut - from February 2025
· Tuncurry - from October 2022
· Turramurra - from April 2022
· Tweed Heads - from June 2023
· Tweed Heads South - from December 2022
· Tweed Heads West - from June 2023
· Ulladulla - from May 2023
· Umina Beach - from September 2022
· Unanderra - from November 2022
· Valentine - from September 2022
· Villawood - from March 2022
· Vincentia - from June 2023
· Voyager Point - from March 2022
· Wadalba - from June 2023
· Wagga Wagga - from October 2023
· Waitara - from June 2023
· Wallabi Point - from March 2023
· Wallsend - from September 2023
· Wamberal - from December 2023
· Wangi Wangi - from November 2025
· Waratah - from June 2024
· Warilla - from December 2022
· Warners Bay - from June 2023
· Warrawong - from December 2022
· Watanobbi - from February 2023
· Wattle Grove - from March 2022
· Wauchope - from October 2023
· Wellington - from August 2024
· Wentworth Falls - from April 2025
· West Albury - from August 2023
· West Bathurst - from October 2022
· West Hoxton - from August 2022
· West Kempsey - from September 2025
· West Pennant Hills - from January 2022
· West Tamworth - from April 2024
· West Wallsend - from March 2023
· West Wyalong - from July 2025
· Wetherill Park - from April 2022
· White Rock - from April 2022
· Whitebridge - from August 2023
· Wickham - from April 2022
· Windale - from August 2023
· Windang - from December 2022
· Windradyne - from October 2022
· Wollongbar - from December 2022
· Wollongong - from May 2022
· Wollstonecraft - from January 2023
· Wombarra - from December 2023
· Woodbine - from July 2022
· Woodcroft - from October 2022
· Woolwich - from December 2023
· Woongarrah - from November 2022
· Woonona - from July 2022
· Woronora Heights - from May 2023
· Worrigee - from April 2023
· Woy Woy - from June 2022
· Wyee - from June 2023
· Wyoming - from November 2023
· Wyong - from February 2023
· Wyongah - from June 2024
· Yamba - from October 2022
· Yass - from July 2025
· Yattalunga - from September 2024
· Young - from May 2024
· Zetland - from October 2022
ACT
· Ainslie - from February 2025
· Banks - from June 2023
· Braddon - from July 2024
· Casey - from April 2023
· Charnwood - from October 2023
· Conder - from June 2023
· Dickson - from July 2024
· Dunlop - from December 2023
· Gordon - from June 2023
· Kingston - from March 2023
· Lyneham - from April 2024
· Macgregor - from October 2023
· Monash - from December 2023
· O'Connor - from July 2024
· Reid - from July 2024
· Turner - from July 2024
· Yarralumla - from October 2023
Victoria
· Adams Estate - from December 2023
· Aireys Inlet - from December 2024
· Albert Park - from June 2022
· Alexandra - from December 2023
· Alfredton - from June 2023
· Allansford - from November 2023
· Anglesea - from November 2022
· Apollo Bay - from October 2025
· Ararat - from March 2025
· Ascot - from October 2023
· Attwood - from January 2023
· Bairnsdale - from December 2023
· Ballan - from November 2023
· Balnarring - from March 2023
· Balnarring Beach - from March 2023
· Bandiana - from March 2023
· Baranduda - from March 2023
· Baromi - from June 2023
· Barwon Heads - from November 2022
· Bayswater - from March 2022
· Bayswater North - from March 2022
· Beaconsfield - from January 2023
· Beaconsfield Upper - from December 2022
· Beechworth - from August 2024
· Bell Park - from December 2022
· Bell Post Hill - from December 2023
· Belmont - from October 2022
· Benalla - from May 2025
· Bendigo - from June 2023
· Berwick - from May 2022
· Blind Bight - from November 2023
· Botanic Ridge - from August 2022
· Braybrook - from March 2022
· Bright - from April 2023
· Broadford - from December 2024
· Brookfield - from July 2022
· Bunyip - from December 2023
· Burnside - from June 2022
· Burnside Heights - from June 2023
· Cabarita - from September 2023
· Cairnlea - from June 2023
· Campbellfield - from October 2022
· Camperdown - from September 2025
· Cannons Creek - from November 2023
· Cape Paterson - from October 2024
· Cape Woolamai - from June 2023
· Capel Sound - from November 2022
· Caroline Springs - from May 2022
· Casterton - from September 2024
· Castlemaine - from December 2023
· Charlemont - from November 2022
· Chum Creek - from June 2022
· Churchill - from May 2023
· Clifton Springs - from December 2023
· Cobden - from September 2024
· Cobram - from May 2023
· Cohuna - from August 2025
· Colac - from March 2023
· Connewarre - from November 2022
· Corio - from June 2023
· Corryong - from September 2023
· Cowes - from December 2022
· Craigieburn - from September 2022
· Cranbourne - from December 2022
· Cranbourne East - from June 2022
· Cranbourne North - from March 2022
· Cranbourne West - from March 2022
· Crib Point - from November 2023
· Croydon - from March 2022
· Croydon South - from June 2022
· Dalyston - from May 2023
· Dandenong South - from May 2022
· Daylesford - from February 2025
· Deer Park - from April 2022
· Delacombe - from June 2023
· Delahey - from June 2023
· Derrimut - from May 2022
· Diamond Creek - from December 2023
· Dimboola - from March 2024
· Doreen - from January 2023
· Dromana - from March 2023
· Drouin - from November 2022
· Drumcondra - from June 2023
· Drysdale - from December 2023
· East Bairnsdale - from December 2023
· East Bendigo - from May 2024
· East Geelong - from December 2022
· Eastwood - from December 2023
· Echuca - from March 2023
· Edenhope - from May 2025
· Elmore - from June 2023
· Eltham - from March 2023
· Euroa - from September 2024
· Fairhaven - from December 2024
· Ferntree Gully - from March 2022
· Flora Hill - from August 2023
· Garfield - from December 2023
· Geelong - from July 2022
· Geelong West - from November 2022
· Gisborne - from December 2023
· Glen Waverley - from July 2022
· Golden Square - from December 2023
· Grantville - from December 2023
· Greensborough - from August 2022
· Greenvale - from August 2022
· Grovedale - from July 2022
· Hamilton - from October 2025
· Hamlyn Heights - from December 2022
· Hampton Park - from February 2022
· Harkness - from August 2022
· Hastings - from June 2023
· Healesville - from June 2022
· Heathcote Junction - from April 2023
· Herne Hill - from February 2023
· Heywood - from February 2025
· Highett - from December 2022
· Highton - from October 2022
· Hillside - from May 2022
· Hoppers Crossing - from June 2022
· Horsham - from December 2023
· Hughesdale - from June 2022
· Hurstbridge - from September 2024
· Indented Head - from October 2024
· Inverloch - from March 2023
· Ironbark - from March 2024
· Jan Juc - from April 2024
· Kalimna - from December 2022
· Kangaroo Flat - from December 2023
· Keilor - from April 2022
· Keilor Lodge - from April 2022
· Kennington - from April 2023
· Kerang - from June 2024
· Keysborough - from November 2022
· Kialla - from June 2023
· Kilmore - from December 2022
· Kilsyth South - from June 2022
· Koo Wee Rup - from November 2023
· Korumburra - from September 2024
· Kyabram - from December 2023
· Kyneton - from December 2023
· Lake Gardens - from June 2023
· Lake Wendouree - from June 2023
· Lakes Entrance - from December 2022
· Lang Lang - from February 2023
· Lara - from February 2023
· Launching Place - from March 2023
· Leneva - from November 2023
· Leongatha - from October 2023
· Leopold - from August 2022
· Loch Sport - from December 2025
· Long Gully - from March 2024
· Lorne - from May 2025
· Lovely Banks - from May 2023
· Lucknow - from December 2023
· Lynbrook - from February 2022
· Lyndhurst - from February 2022
· Lysterfield - from June 2022
· Macedon - from December 2023
· Maffra - from July 2024
· Mallacoota - from May 2024
· Manifold Heights - from February 2023
· Mansfield - from December 2023
· Maribyrnong - from June 2022
· Marshall - from October 2022
· McCrae - from May 2023
· Meadow Heights - from September 2022
· Merbein - from September 2023
· Mernda - from July 2022
· Merricks Beach - from March 2023
· Middle Park - from June 2022
· Mildura - from August 2023
· Mirboo North - from April 2023
· Moe - from June 2023
· Monbulk - from August 2024
· Moolap - from August 2022
· Moorooduc - from June 2023
· Mornington - from November 2022
· Morwell - from November 2023
· Mount Macedon - from December 2023
· Mount Martha - from November 2022
· Mount Waverley - from July 2022
· Myrtleford - from September 2023
· Nagambie - from June 2023
· Narre Warren - from March 2022
· Narre Warren North - from May 2022
· Narre Warren South - from June 2022
· Newcomb - from December 2023
· Newhaven - from August 2024
· Newport - from June 2023
· Newtown - from November 2022
· Nhill - from February 2025
· Norlane - from June 2023
· North Bendigo - from June 2024
· North Geelong - from December 2022
· North Melbourne - from March 2023
· North Shore - from June 2023
· North Wonthaggi - from May 2023
· Numurkah - from May 2023
· Oakleigh - from June 2022
· Ocean Grove - from December 2022
· Officer - from October 2022
· Ouyen - from November 2024
· Pakenham - from May 2022
· Paynesville - from September 2025
· Pearcedale - from May 2023
· Pioneer Bay - from December 2023
· Point Lonsdale - from January 2023
· Port Fairy - from June 2025
· Port Melbourne - from May 2022
· Portarlington - from October 2024
· Portland - from November 2024
· Portsea - from November 2025
· Quarry Hill - from February 2025
· Queenscliff - from October 2023
· Ravenhall - from June 2022
· Red Cliffs - from May 2024
· Redan - from October 2023
· Research - from March 2023
· Reservoir - from September 2022
· Rhyll - from March 2023
· Riddells Creek - from December 2023
· Rippleside - from June 2023
· Rochester - from December 2023
· Rockbank - from April 2024
· Romsey - from August 2025
· Rosebud - from November 2022
· Rowville - from March 2022
· Roxburgh Park - from September 2022
· Rye - from September 2025
· Safety Beach - from September 2022
· Sale - from December 2023
· San Remo - from August 2024
· Sebastopol - from October 2023
· Seville - from January 2023
· Seville East - from March 2023
· Seymour - from June 2023
· Silverleaves - from March 2023
· Smiths Beach - from September 2024
· Somers - from July 2024
· Somerville - from May 2023
· Sorrento - from August 2025
· South Dudley - from May 2023
· South Geelong - from November 2022
· South Melbourne - from April 2022
· South Morang - from May 2023
· Southbank - from May 2022
· Spring Gully - from February 2025
· St Albans - from March 2022
· St Albans Park - from February 2023
· St Arnaud - from May 2024
· St Kilda - from April 2022
· St Leonards - from October 2024
· Stawell - from August 2024
· Stratford - from July 2024
· Strathdale - from April 2023
· Strathfieldsaye - from November 2023
· Sunbury - from June 2023
· Sunderland Bay - from September 2024
· Sunset Strip - from September 2024
· Sunshine - from March 2022
· Sunshine North - from March 2022
· Sunshine West - from April 2022
· Surf Beach - from September 2024
· Swan Hill - from December 2024
· Sydenham - from June 2022
· Tarneit - from June 2022
· Tatura - from May 2023
· Taylors Hill - from May 2022
· Taylors Lakes - from April 2022
· Thomastown - from September 2022
· Tooradin - from November 2023
· Tootgarook - from January 2023
· Torquay - from September 2022
· Trafalgar - from August 2024
· Traralgon - from May 2023
· Traralgon East - from May 2023
· Tyabb - from June 2023
· Venus Bay - from December 2025
· Wallan - from April 2023
· Wandana Heights - from May 2023
· Wandong - from April 2023
· Wangaratta - from October 2023
· Wantirna - from July 2022
· Warburton - from July 2025
· Warneet - from November 2023
· Warragul - from June 2023
· Warrnambool - from November 2023
· Waurn Ponds - from October 2022
· Wendouree - from March 2023
· Werribee - from June 2022
· West Wodonga - from December 2023
· White Hills - from May 2024
· Whittington - from October 2023
· Whittlesea - from June 2023
· Williamstown - from June 2023
· Williamstown North - from June 2023
· Wimbledon Heights - from December 2022
· Wodonga - from December 2022
· Wonthaggi - from May 2023
· Woodend - from December 2023
· Woori Yallock - from March 2023
· Wy Yung - from December 2023
· Yarra Glen - from April 2023
· Yarra Junction - from August 2025
· Yarragon - from October 2023
· Yarram - from September 2025
· Yarrawonga - from June 2023
Que
ensland
· Acacia Ridge - from June 2022
· Agnes Water - from May 2024
· Airlie Beach - from April 2023
· Albany Creek - from May 2022
· Alexandra Headland - from July 2022
· Allenstown - from September 2022
· Andergrove - from March 2023
· Annandale - from May 2023
· Arana Hills - from May 2022
· Aroona - from February 2023
· Arundel - from September 2022
· Ashmore - from September 2022
· Atherton - from April 2025
· Avenell Heights - from June 2024
· Avoca - from August 2023
· Ayr - from September 2025
· Bahrs Scrub - from April 2023
· Banksia Beach - from February 2023
· Bargara - from October 2022
· Barlows Hill - from October 2023
· Battery Hill - from October 2023
· Bayview Heights - from March 2023
· Beachmere - from October 2022
· Beaconsfield - from March 2023
· Beaudesert - from July 2022
· Beerwah - from February 2023
· Bellara - from February 2023
· Bellbowrie - from October 2022
· Bellmere - from June 2022
· Belvedere - from June 2023
· Benowa - from December 2023
· Bentley Park - from September 2022
· Berrinba - from June 2022
· Berserker - from April 2023
· Bethania - from October 2022
· Bilinga - from December 2023
· Biloela - from May 2023
· Birtinya - from April 2023
· Black River - from December 2023
· Blacks Beach - from June 2023
· Blackwater - from November 2024
· Bli Bli - from December 2022
· Bohle Plains - from December 2022
· Bokarina - from May 2022
· Bongaree - from February 2023
· Bonogin - from January 2023
· Bowen - from March 2025
· Bowen Hills - from June 2022
· Boyne Island - from August 2024
· Bracken Ridge - from May 2022
· Brassall - from July 2022
· Bray Park - from January 2023
· Brendale - from December 2022
· Bridgeman Downs - from October 2022
· Brinsmead - from April 2023
· Browns Plains - from June 2022
· Bucasia - from October 2022
· Buccan - from September 2022
· Buddina - from December 2023
· Buderim - from July 2022
· Bulimba - from June 2022
· Bundaberg Central - from June 2023
· Bundaberg East - from June 2023
· Bundaberg North - from July 2024
· Bundaberg South - from December 2023
· Bundaberg West - from October 2024
· Bundall - from June 2022
· Bungalow - from June 2022
· Bunya - from May 2022
· Burdell - from June 2022
· Burleigh Heads - from June 2022
· Burleigh Waters - from March 2022
· Burpengary - from September 2022
· Burpengary East - from December 2022
· Burrum Heads - from December 2022
· Bushland Beach - from July 2022
· Caboolture - from September 2022
· Caboolture South - from September 2022
· Caloundra - from February 2023
· Caloundra West - from February 2023
· Camira - from April 2023
· Cannon Hill - from April 2023
· Cannon Valley - from December 2022
· Cannonvale - from December 2022
· Capalaba - from July 2022
· Carindale - from May 2022
· Carrara - from December 2023
· Carseldine - from May 2022
· Cashmere - from March 2023
· Castaways Beach - from June 2023
· Chinchilla - from April 2025
· Clermont - from February 2025
· Clifton Beach - from June 2023
· Clinton - from November 2022
· Collingwood Park - from November 2022
· Condon - from November 2022
· Cooee Bay - from December 2023
· Coolum Beach - from February 2023
· Coomera - from December 2022
· Cooroibah - from June 2023
· Cooroy - from March 2025
· Cooya Beach - from February 2023
· Cornubia - from September 2022
· Craiglie - from April 2023
· Crestmead - from June 2022
· Currimundi - from February 2023
· Currumbin Waters - from October 2022
· Dalby - from May 2025
· Darling Heights - from April 2023
· Darra - from June 2022
· Deception Bay - from July 2022
· Deeragun - from June 2022
· Depot Hill - from September 2022
· Dicky Beach - from March 2023
· Diddillibah - from April 2023
· Dolphin Heads - from October 2023
· Doolandella - from June 2022
· Douglas - from August 2022
· Drayton - from April 2023
· Drewvale - from June 2022
· Dundowran Beach - from February 2023
· Durack - from April 2023
· Dysart - from March 2025
· Eagleby - from June 2022
· Earlville - from June 2022
· Eatons Hill - from November 2022
· Edens Landing - from June 2022
· Edmonton - from September 2022
· Eight Mile Plains - from June 2022
· Eimeo - from June 2023
· Emerald - from November 2024
· Everton Hills - from May 2022
· Everton Park - from April 2022
· Ferny Grove - from May 2022
· Ferny Hills - from May 2022
· Fig Tree Pocket - from September 2022
· Flagstone - from December 2023
· Flinders View - from June 2022
· Forest Lake - from June 2022
· Fortitude Valley - from June 2022
· Frenchville - from April 2023
· Freshwater - from June 2023
· Gatton - from May 2023
· Gaven - from September 2022
· Gilston - from March 2022
· Gladstone Central - from November 2023
· Glass House Mountains - from October 2023
· Gleneagle - from December 2023
· Glenella - from January 2023
· Glenvale - from February 2023
· Golden Beach - from September 2022
· Goondi Bend - from June 2023
· Goondiwindi - from April 2023
· Gordonvale - from December 2023
· Gracemere - from December 2023
· Grange - from June 2022
· Greenbank - from June 2023
· Griffin - from June 2022
· Gympie - from December 2022
· Harristown - from February 2023
· Hay Point - from September 2022
· Heathwood - from July 2022
· Helensvale - from April 2022
· Heritage Park - from June 2022
· Highfields - from December 2023
· Highland Park - from March 2022
· Holloways Beach - from June 2023
· Holmview - from June 2022
· Idalia - from June 2022
· Inala - from June 2022
· Ingham - from July 2025