Wide range of plans to choose from
Optus Fusion bundles include free calls to mobiles
Optus Timeless Mobile plan comes with free fixed-line broadband
Optus was Australia's first competitive provider for telecommunications. It emerged in the early 90's as a mostly Australian competitor to Telstra, the private company that emerged out of Telecom Australia.
Click here to check out Optus plans, or call 1300 137 897!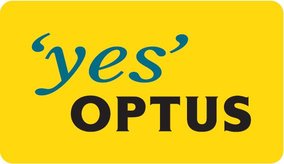 Actually, Optus began as part of the Federal Government's telecoms operations. It was once AUSSAT, the satellite arm of Telecom. Its assets were sold to a consortium consisting of US and UK interests, and later on to SingTel, a Singapore based telecoms company.
When Optus first rolled out, it attempted to compete with Telstra on a roughly 1:1 basis.
That meant rolling out its own infrastructure. But instead of using copper, Optus' main sell was that it would use a Fibre-Optic backed network, capable of carrying both Pay TV and Telephone, and later, broadband internet services. Telstra responded with its own rollout.
At some point, Optus ran out of steam and settled on a handful of areas to limit their network. Right now, that's about 350 exchange areas in Australia, out of about 2000. But those 350 cover most densely populated areas.
In these areas, Optus will try to sell you Cable Broadband. If Cable is unavailable (the main reason being that you live in a block of flats that haven't been connected), then Optus can sell you ADSL using Telstra's lines. But outside of those 350 exchanges, Optus won't resell you ADSL via a Telstra connection (like some other providers do), and will only be able to offer Mobile Broadband.
Optus' Cable Broadband service is very good, and attracts a higher price. But to remain consistent, their prices for ADSL are priced the same, and thus are above the rest of the market. To counter this, Optus provides a more comprehensive phone service than most other providers, who are focusing on consumers who don't use their phone line. Let's break down the value of a couple of Optus plans, to see if they're worth the price tag.

Optus Naked Broadband (Cable or ADSL, depending on availability. Where both are available, Cable is provided by default)
Price - $60/month for 120GB, $80/month for 500GB
24 Month Contract
$79 Connection Fee
Wi-Fi Modem - $60
Discount - $10/month if you have an Optus post-paid mobile.
Competition – MyNetFone Naked Broadband - Call 1300 106 571
Optus allows for Naked Broadband where Telstra doesn't, appealing to people not using a landline. Though there are plans that offer more data for the same money, no-one else has access to Cable broadband. Optus' Cable is usually fixed at 20Mbps, which is still vastly quicker than most ADSL connections. In a few areas, Optus is offering 100Mbps as part of a system wide upgrade, but it's hard to come across.
Verdict – That long contract is a bit harsh. If you're stuck with ADSL, try elsewhere. If you can get Cable, go for it.
Mobile portion
Unlimited standard calls and text to Australian mobiles and landlines
$0 mobiles include HTC One X and Samsung Galaxy S2
24 month contract
Free Broadband
50 GB data
ADSL or Cable, whichever is available
Free connection and Free Wi-Fi modem
Competition – Amaysim Unlimited Mobile (1300 302 942) + TPG Bundle
Credit to Optus- they're trying something different with this one. Recognizing that few people in their target market need a landline, this kinda-but-isn't bundle focuses on putting a great new smartphone in someone's hand, and then offering a no-commitment, free to use naked broadband service that's not tied into the 24 month contract.
Verdict – It's different, but there's a few hidden traps there. If you want a little more than 50GB, there's no option to just upgrade a little – instead you have to go from $0 a month to $60, their cheapest price for a broadband service. And that $89 plan isn't so crash hot, when you compare it to plans from Dodo and Amaysim, which are half the price and come with more freebies. BUT…those plans don't come with a new phone, and the phones offered on this plan are amongst the best.
Ultimately, you need to have very specific needs for this to work out for you, so be careful before jumping in.
500GB data (250 peak and 250 off peak)
Free local, national and mobile calls
24 month contract
Free connection and free Wi-Fi modem
Competition – TPG $69.99 SuperChat bundle
Optus' Big Bad Everything Plan. $109 is steep, but it includes those free calls to mobiles. Calls to mobiles are usually the biggest contributor to 'bill shock', the phenomenon of receiving a bill that exceeds expectations because of some caveat or loophole.
Verdict – If you don't want to have to monitor who is doing what and on which device, then this is the plan for you. You can be pretty sure your bill won't exceed this amount, which provides peace of mind. Of course, there are exceptions (like international calls) which can still provide some surprises, but you can organize to have these barred.
TPG's $69.99 Superchat Bundle is $40 cheaper, and has all the same conditions except for a $100 connection fee and no free calls to mobiles. But it also comes with 100 free international minutes. Hard choices! Ultimately, it's worth doing the sums to see which plan works better for you.
Conclusion
Like Telstra, Optus has the pricing and complex bundling nonsense you'd expect from a top-tier provider. But it is far more generous and innovative when it comes to plans, and is doing a good job of staying competitive with the leaner, quicker providers. They're worth your time, but it's also worth making sure they have something that properly matches your needs.