Complaints to TIO about internet providers fall by 45%
Vodafone complaints still relatively high but falling
Customer service still a problem but complaint handling improves
Complaints to the ombudsman about Internet Service Providers (ISPs) have fallen dramatically over the last year, according to the latest figures.

The Telecommunications Industry Ombudsman (TIO), which is the last resort for customers who cannot resolve a problem with their ISP, recorded 16,704 complaints relating to internet plans over the last three months of 2011.

This is a 45% fall from the October to December quarter in 2010, when complaints hit 29,097.
The biggest drop related to complaint handling, with a 62% fall in complaints reaching the ombudsman, suggesting internet providers are getting better at resolving issues before they escalate.

The smallest drop was in complaints relating to faults, with a 33% fall across all providers.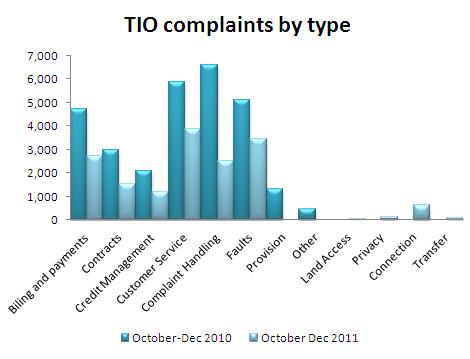 Complaints against individual ISPs also fell. Complaints from Club Telco customers fell 72%, complaints against Eftel were down 65% and complaints relating to iiNet fell 62%.

The TIO does not provide a complaints per customer figure, so comparisons between providers are difficult.

Some insights can be gained from the size of the companies. For example, Telstra is the most complained about internet provider but it is also the biggest.

However, Vodafone is the third-most complained about ISP, which is disproportionate to its size. Although TPG and iiNet both have more customers, neither have as many complaints.

Vodafone has had many well-publicised problems over the last year, with customers complaining of dropped calls and slow 3G speeds. The telco is improving its network and this appears to be paying off, as complaints to the TIO dropped 41% over the last three months of 2011, compared to the same period in 2010.