Find the right wireless internet connection for you - WiFi or mobile wireless?
Mobile wireless - great for the light user who values portability
WiFi - hardware to add to your ADSL connection to create a wireless network
Making sure your internet connection is wireless is high on the list of concerns for many broadband customers these days. However, wireless internet is in itself confusing terminology, as it could be referring to two things. Before shopping for a plan or calling an Internet Service Provider (ISP), it's important to be sure you know what you want.

So – do you want:


Mobile wireless broadband? Or, a
WiFi internet connection?

"What's the difference?"

Well, mobile broadband comes in the form of a dongle – a USB stick that you plug into your computer, laptop, or tablet as its own kind of mini-modem. You can take it with you anywhere, and access the internet on public transport, in other buildings, or even on the other side of the country. Mobile broadband works off mobile phone towers, which means that you can use it anywhere. It also means that, just like with your mobile phone, in some areas your internet's 'reception' will be better than in others.

WiFi or wireless internet is really just a piece of hardware. It means that you get a WiFi enabled modem – the giveaway will be that it has antenna – for your ADSL connection. You keep your normal ADSL1 or ADSL2+ connection coming in through the fixed copper line into your house, and use your modem to create a wireless internet network that will spread through your house. It means that you can use your laptop, smartphone, tablet, and computer in any room of the house without having to hook it up to the modem. The WiFi zone generally goes all through your house and into your backyard. Sometimes your neighbours can access it too, which means that it's important you protect your broadband data.

There are advantages and disadvantages to each type of connection. Let's take a look at how each connection stacks up when it comes to the features we look at when choosing a plan.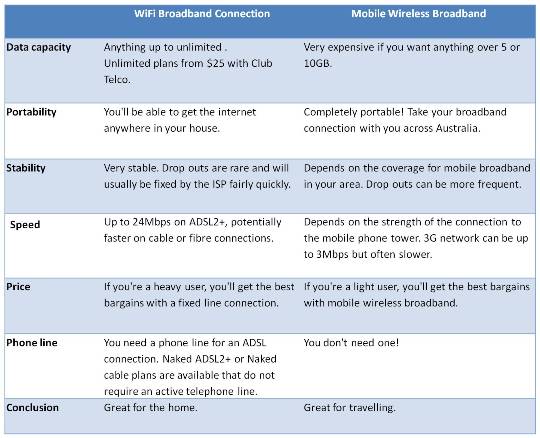 Still having difficulty deciding? Let's put it this way – for the home, you're better off getting an ADSL connection and adding a WiFi modem to create a wireless internet network. Generally a fixed line connection will cause you less heartache and headaches in terms of a fast, stable connection and it will also give you all the data usage you need at home.

If you value portability, whether because you use the internet a lot on public transport or because you travel a lot and need to be able to take your internet with you, try a mobile broadband connection. This will ensure that you have an easy way of connection to the internet no matter where you are.

Which plan should I get?

Mobile broadband is great for the light user. Here are our favourite mobile broadband plans:

Dodo offers a 2GB Mobile Broadband plan for $19.90/month. In this plan they include a free USB modem (dongle) and Pendo Pad. The plan is only available on a 24 month contract, and is ideal for someone preparing for a long period of travel or someone who's just bought a house where ADSL is not available. Call Dodo on 1300 136 793.

Amaysim offers a Prepaid 2.5GB Mobile Broadband plan for $19.90/month. The prepaid mobile broadband is a great way to save money, as with Amaysim there are no bills and no contracts; simply pay the $19.90 whenever you want to be able to use the mobile broadband that month. This is a great plan to have tucked away in your drawer for an emergency, or when moving house or going on a short trip, when you need mobile broadband for a limited amount of time. Call Amaysim on 1300 106 571.

Virgin offers a 10GB Mobile Broadband plan for $39.00/month. With a 0-month contract and no excess usage charges, this plan is actually a pretty good alternative for customers who only want or can only get mobile broadband, but still would still like to be able to download the odd song or movie. Call Virgin on 1300 106 571.

If you're a heavier user living in an area where you can connect to ADSL, we recommend an ADSL2+ connection with a Wi-Fi modem. Here are our favourite ADSL2+ broadband plans:

Club Telco currently offers Australia's cheapest Unlimited ADSL2+ Broadband plan, at $25.00/month. This is great for the user who already has a home phone with a provider that you want to keep it with, though Club Telco will also give you line rental for an additional $30/month. Club Telco are also notable for their 0-month contracts. Call Club Telco on 1300 138 155.

If you're set against a phone line, consider MyNetFone. MyNetFone provided Naked Broadband connections – where they turn off your phone line so you cannot make or receive calls. While with many ISPs a Naked Broadband plan will be more expensive than simply getting a bundle deal, MyNetFone currently offers a great deal: the 200GB Economy Naked Broadband plan for $49.95/month. For a limited time only, this plan comes with free set-up and a free modem. Call MyNetFone today on 1300 106 571.

TPG offers great bundles if you want to get your home phone through the same provider that you get your internet. Consider the 100GB Broadband and Home Phone Bundle for $49.99/month. You can call us for more information on TPG or to sign up today on 1300 106 571.

A word of advice about modems: some ISPs will offer you a free Wi-Fi modem when you sign up with them, but usually this will be on a long contract or for a higher monthly fee. A modem is not a cost that you should expect to be covered by the set-up fee that you pay your ISP to get an ADSL2+ connection at your house. However, if you feel like your ISP is charging too much for the modem they want to sell you, you can always get your own modem from an electronics store like JB Hi-Fi or Dick Smith, or even a department store like Big W. As long as it's ADSL2+ compatible, it should work fine with your ISP. Make sure to keep an eye out for that antenna that means your internet connection will be wireless!