What is a good speed?
How to read your speed test
How to get faster internet
Everyone wants fast broadband speeds but it can be very difficult to know what fast speed is if you don't understand the figures and terminology. What is fast and what is slow? What is a good speed and what is bad? What is a megabit per second? Can you choose your speed and who will give you the best?

This article will explain ADSL broadband speeds to you. ADSL is the most popular type of broadband in Australia due to it being widely available compared to other types like the NBN and Cable broadband, and more cost effective compared to Mobile broadband.
The speed of ADSL
ADSL can reach maximum speeds of up to 24mbps (mega bits per second). Megabits per second is a unit of measurement meaning the internet connection will take 1 second to download a megabit. Most people, however, will never achieve speeds of 24mbps. This is because the speed of ADSL is determined by the location of your house.

The closer your house is to your telephone exchange the higher your speed will be; and the further you are from your telephone the slower your speed will be. Most people do not live within meters of their telephone exchange thus most people will never achieve the fastest ADSL speed of 24mpbs.

What's a good speed?
Well, ADSL2 broadband, or ADSL2+ as it's sometimes called, is generally considered to be speeds between 8-24mbps. If you achieve speeds in this range you are in the faster range of ADSL. However, according to the latest "State of the Internet" report by Akamai the average speed of broadband in Australia is 4.8mbps. Thus, if you achieve more than 4.8mbps consider yourself lucky as many people around Australia are on slower speeds.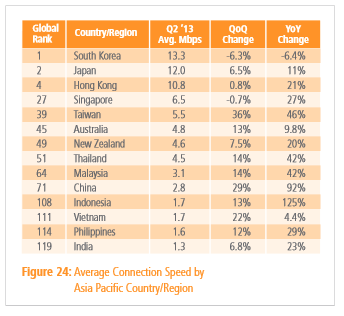 How to improve speeds
It is possible to get faster internet if choose a broadband plan that is not ADSL. Cable broadband and NBN broadband are faster alternatives to ADSL. This is because the technology allows for a consistent speed no matter where your house is located. You can be over 4kms from your exchange and still achieve the speed you are paying for.

What's the catch? Cable and NBN are not available to every home unlike ADSL which is widely available. To check availability of Cable or NBN contact the following providers: