Determining Your Device's Network Specifications
Mobile Network Operators in Australia
2G Discontinuation
For a mobile phone to be used for calls, messaging, and even internet browsing, it has to be connected to a specific network. This is the ongoing practice regardless of where you are in the world and the only difference is the networks available, as well as the bandwidth frequencies supported by the device.
To help you understand the basics of mobile network operators and frequencies in the Land Down Under, here's what you should know:
In this guide, you will find:
Determining Your Device's Network Specifications
Not every mobile phone can work with all types of networks. In Australia, a mobile phone bought overseas may not be able to connect to a local network despite the use of a SIM card. For the connection to be established here, your device's phone radio must match the specific bands for local networks.
If you're not sure where to begin, check your mobile device's specifications. It could be available in the Settings or the manufacturer's website, but make sure you are looking at information that is specific to your country.
In most cases, you will find information for 3G and 4G networks, especially since 5G has not fully launched globally. For 3G networks, the codes you should look for are UTMS or HSPDA, while 4G networks are typically labelled as FDD LTE.
3G networks are usually categorised by their frequencies, while 4G networks refer to the brand numbers. For Australian networks, for example, some 3G frequencies are 850MHz, 900MHz, and 2100MHz. On the other hand, the main 4G band numbers are B1, B3, B5, B7, and B28. If you are looking to connect to a local mobile network, your device should be able to support these frequencies and band numbers.
Local Network Frequencies in Australia
The following is a table of the most common frequencies used by the three local mobile networks in Australia.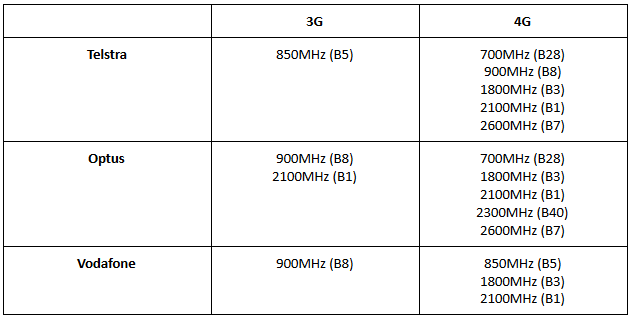 Disclaimer: Phone networks use multiple frequencies and not all of them are available in every location across Australia. There are some areas that use a completely different set of frequencies compared to the ones used in the cities.
Mobile Network Operators in Australia
Telstra, Optus, and Vodafone are the three major mobile network operators in Australia. Each of these companies has several other service providers that they operate and consider sub-brand such as Aussie Broadband and Belong for Telstra; Amaysim and Dodo for Optus; and iiNet and TPG for Vodafone.
The smaller telcos are known in the industry as mobile virtual network operators (MVNOs) or those that generally offer basic services for more affordable rates as compared to a direct subscription to the Big 3.
These local networks use the GSM standard, pretty much the same as other countries. For mobile users whose phones are CDMA-only (usually from the US or Japan), accessing local 3G networks won't be possible, so calls and text messages are not an option. 4G networks, however, may be accessible but they remain data-only.
2G Discontinuation
Australia no longer supports 2G technology, which means devices that can only be used for calls and texts or are not 'Wi-Fi-ready' may not work locally. Similarly, dual-SIM devices that use 2G on one of the slots may have some issues connecting to local networks.
If you want a seamless communication line that you can count on all the time, it is recommended to subscribe to any of the local mobile phone networks in the country. This is especially the case if you are looking to stay for an extended period or you need to make calls, send text messages, and access to a reliable data plan.
Choose from any of the available mobile broadband plans or call Compare Broadband at 1300 106 571 for expert assistance.
Frequently Asked Questions
Is it possible to switch from one carrier to another?
Yes, switching from one carrier to another is possible and easy to do in Australia. There won't be an issue with compatibility, especially if your phone is bought locally. However, make sure you are done with your existing long-term contract to avoid penalties.
Can I use the same mobile number?
Yes. If you are already subscribed to a local network and are using an active mobile number, you can switch to another network and keep using the same digits. Just remember to indicate your current mobile number when you sign up for a new plan or inform the salesperson that you intend to use the same number.
What is the cheapest mobile plan available?
Each MVNO has available mobile plans to offer according to your needs. You can check this guide for a quick comparison of various unlimited internet and mobile plans.
Contact Compare Broadband at 1300 106 571 if you have further questions about the mobile network operators in Australia.