Sort out plans and contracts for holidays
Mobile broadband great for travelling Australia
International roaming - how to use the internet overseas
Australians love a holiday – and, as is becoming increasingly clear, we love the internet. Surely these are two great tastes that will taste great together?

These days an internet connection may be as essential on your list of what to take on holiday as sunscreen. A quick and easy broadband connection is incredible useful, letting you check your emails, keep up to date with family and friends, research routes and holiday accommodation on the go, and show everyone on Facebook what a good time you're having.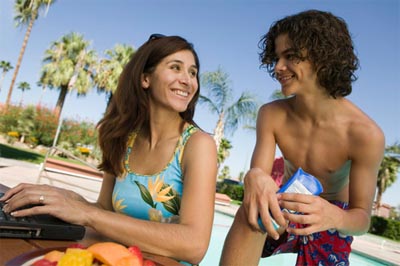 However, finding an internet connection to take with you when you go away can be a fiddly procedure. Relying on the free WiFi available in some hotels simply isn't enough when you could be controlling your own internet usage – and it will help you find that hotel when you're lost in the middle of the night driving to it. And yet finding your own internet connection in the first place can sometimes be ridiculously convoluted.

In this guide to using the internet while travelling, we'll break it down for you so that you can find exactly the right plan and option for you. We'll cover the basics and the not-so-basic, telling you what you can reasonably expect to get and where you can get it.

What to expect

When you're using the internet while travelling, obviously the first important factor the connection must have is portability. Having internet that only works in one place is no good – unless you're setting up a permanent holiday house that you'll be spending at least half the year in, setting up a fixed line connection isn't really worth your time or money. That means that what you'll be looking for is mobile broadband.

Click here for the best mobile wireless broadband plans.

Mobile broadband is very different from a fixed line ADSL2 connection. Rather than providing you with your internet connection that goes through a copper line to the telephone exchange, mobile broadband works via mobile phone towers, broadcasting a signal there and back. Therefore, internet service can sometimes be slow and unreliable with dropouts, and it can be affected by such factors as location, weather, time of day, however many other people are online at the same time as you, and even things like "are there any trees or tall buildings in the way".

Just as with your mobile phone, you may sometimes have really good reception in some areas and then find it's really bad in other areas, so too will your internet connection be similarly unpredictable (although it's safe to say that it will usually be better in metropolitan areas than in regional or rural areas). This is just something that you'll have to put up with in order to get the advantages of the portability of mobile broadband.

Other advantages are around the sheer simplicity of mobile broadband. Set-up fees will be low, if there are any at all (some providers will charge you for the USB dongle you need, depending upon what kind of plan you're going on). There is no real wait time to get connected – you can pick one up in a store and get online that very night or order one online or over the phone that can be at your house the next day.

What to choose

When you find an internet connection to use on holiday, there are two important questions to be sure of before you pick anything: how much internet do I need, and how long do I need it for?

Picking a plan is going to centre around these two questions, as you will have to decide how much data you want and how long you want to be on the plan.

If you only want the internet so that you can check your emails, do some surfing on Google maps, make hotel bookings, and check up on Facebook and other sites like that, you probably won't need more than 1-2GB (per month) at most. Steer clear of streaming sites like YouTube or any news sites that are video heavy.

If, on the other hand, you need the internet connection to be able to manage something heavier, like uploading photos or streaming Skype calls back home for work, you're going to want a broadband connection that can handle a bit more data. Try and save any big data usage for when you are at a place – whether that be hotel, cafe, or beach resort – that has a free WiFi service you can access, but as well as that look for plans that offer 6-12GB, depending upon just how much you'll be using it.

You'll also want to consider how long you want the contract to be. If you're only going away for three weeks, a one month contract is the way to go. If, however, you're going for longer – say a six month road trip around Australia – or if you're a frequent traveller, you might want to sign up to a longer plan. You're more likely to get free equipment and more data at more reasonable prices on a longer plan.

For short contracts with a reasonable amount of data and low prices, try Amaysim. Amaysim offers 1GB on a 0-month contract for just $9.90 per month, or 2.5GB on a 0-month contract for $19.90 per month. Amaysim can also give you "booster" data packages, if you find that you go over your set amount one month. Call them for more information or to get connected today on 1300 302 942.

For more data, try Virgin. Virgin can give you 4GB on a 1-month contract for $29.00 per month, or even 12GB on a 0-month contract for $39.00 per month. If you're willing to sign up on a 12 month contract, though, they'll be willing to give you free equipment. Call them for more information or to get connected today on 1300 106 571.

You could also try calling Optus, who have great mobile broadband plans, on 1300 137 897.

An alternative to mobile broadband – sort of

Do you have a smartphone that you use the internet with a lot? If you can access all of the things you need to access on your smartphone's data package, you might not want to bother getting a mobile broadband stick. However, if it's important that you're able to use another device, like a laptop or tablet, you could use tethering to access your smartphone's data on another device.

International travelling

If you're heading overseas, whether for work or a holiday, you might be wondering what your internet options are. Lots of people tend to use their phones, and this is something that most providers have allowed for, with international roaming. However, calls, SMS, and data charges are all much, much higher than with your standard plan back home, and you don't get a "capped" amount – you'll be paying for each individual use of them.

Data is the most expensive of the lot. The average cost is around $15 per MB, which is nearly 300 times the cost of 1 MB back home in Australia. Some providers are cheaper than others, with TPG and Vodafone offering $10.24 per MB, but that will still build up into a huge bill fairly fast – sending an email with two or three pictures in it could easily add up to a $30 or $40 charge.

On top of these charges that you incur deliberately, there's always the chance that your phone might use the internet 'on its own', maybe by checking for new emails or Twitter updates. This means that you come home to a very expensive bill without having opened your mobile web browser even once! Make sure to turn off data roaming, so that you can control when and where you use the internet.

Some providers offer data roaming packs, but these are still very expensive – from $20 to $40 for only 10-15MB, you'll be saving on the usual international roaming costs (which can easily reach around $100 for 10MB) but still paying a lot. Vodafone offers prepaid New Zealand Roaming Packs which are more reasonably priced, starting at $25 for 100MB.

A better idea than having to pay this much for internet on your phone is to wait until you get overseas and then pick up a local internet plan, whether it be a SIM card for your phone or a mobile broadband stick. You should be able to find a range of international providers to choose from in the airport you arrive in, so you don't even have to try to make your way to your holiday accommodation without the internet at hand to help!

You could also do some research before you go to help you find the best deal in whatever country you're visiting. Some Googling should provide easy answers, or you could try contacting someone who lives in the country – a friend or relative is probably a good idea – and asking them what they use, or what they'd recommend for someone in your situation. If you don't know anybody there, you could call ahead to a hotel or tour guide to ask if they can recommend a local SIM card. If you're really prepared, you could buy one in advance of your trip and have it waiting for you at your accommodations.
Want further help finding a connection suitable for you when you travel? Call us at Compare Broadband on 1300 106 571 and we'll be happy to help you find the right plan to suit you personally, or to answer any further questions you have about using the internet while travelling.