Average Speed 4.3 Mbps
More than 50% below 4 Mbps
NBN, 4G still too small to provide an impact
Not that 3 months is a period in which massive change can be expected, but the latest 'State of the Internet' report from Hawaii-based data security firm Akamai has shown that Australia continues to offer poor average data speeds - regardless of whether you're comparing to the region, similarly developed countries or otherwise.

Click here to check out Optus Cable- speeds from 30 – 100 Mbps! Or call 1300 137 897

Relying on mobile data? Amaysim's Unlimited Mobile Plan comes with 4GB of mobile data – and tethering is free! Never mind a separate dongle- use your iPhone as a mobile modem. Call 1300 302 942

Need fixed-line ADSL2+ but don't want to pay line rental? MyNetFone has the best value Naked DSL services – free modem included with 12 month contracts! Call 1300 421 046

Speeds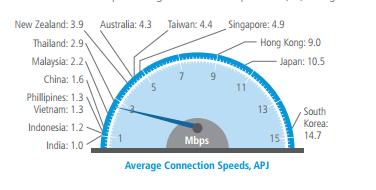 Australia's average speed is 4.3 Mbps, a 3% decline from the previous quarter in which Australia's average speed was 4.4 Mbps. This is despite the rollout of 4G networks and the implementation of the National Broadband Network in at least 20,000 households or so. But it's hard to hold up those achievements to the rapidly declining performance of 3G networks, which still underpin about 50% of all connections in Australia, thanks to the popularity of 'USB Dongle' mobile broadband connections. Australian users are also enthusiastic adopters of smartphones and tablets, and many users are unaware that getting a 3G SIM card in your new iPad is less efficient than just running the iPad off of a Wi-Fi connection to a fixed-line modem at home. The Australian obsession with mobility and 'wireless' is ghettoizing a good proportion of end users who are using struggling 3G networks to connect to the web – and they can't change easily, because they're locked into 2 year contracts and don't understand their options.

In a stat that could prove quite depressing for entrepreneurial Australians with an eye towards the digital sphere, only 4.1% of Australians regularly connect above 10Mbps. This means that, combined with the 38% over 4Mbps…that well over 50% of Australians come in under 4 Mbps, which isn't fast enough for decent video streaming, Skype Video Chat, teleconferencing, reliable VPN connections and everything else that makes the modern web so integral.

Urban/Rural Divide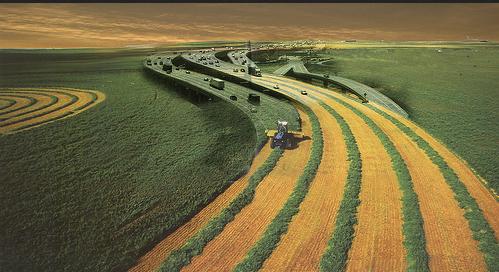 Australia is made further to look like a broadband backwater in light of the fact that Akamai now defines 'Broadband' as 4Mbps +, and 'High Broadband' as 10Mbps. As per above, that means that about 58% of Australians don't even qualify as 'broadband'. These users are most likely to be in regional or rural areas, exactly the areas that would most benefit from the ability to communicate easily from far away places.

On the ground, the situation is stark but not surprising – if you live in a regional area, then chances are that your ADSL and Mobile Broadband speeds will be affected by the lack of investment on infrastructure in those areas; if you live in a metro area, you will not only have higher DSL speeds and better (and cheaper) options for fast mobile connections; you'll also have access to Cable in many areas, which is still the fastest connection method even as Telstra and Optus' cable networks continue to reach capacity and swing wildly in peak and off peak speeds.

Demand

Perhaps not surprisingly, Australia saw a drop in actual broadband demand, which might be attributable to the fact that a huge portion of Australia is already connected in one way or another. Similarly, Singapore saw a decline in demand for new services, as everyone with a smartphone is by default connected to the internet at all times (and for many people, as much as they need to be).

How to fix this?

If you're reading this because you personally have an internet connection best measured in years rather than seconds, then there's a couple of things you need to consider:

1. Are you connected to the internet via radio?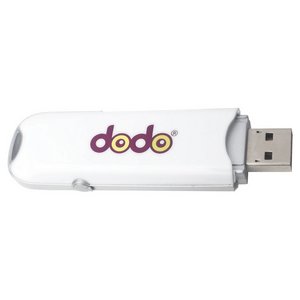 By that, we mean 'does your modem connect to your service provider over a mobile, wireless link'. Not everyone knows if they are. Here's some really basic things to consider:

- First identify what your modem actually is. Is it a little stick that plugs into the USB port? Is it a small 'Pocket Wi-Fi device' that sits beside your laptop? Well, you have to ask where that stick or device is getting "The Internet" from. Chances are it's over a 3G mobile network. That means, essentially, it's radio. Bad reception, too many people on the network – even the walls of your house are all going to affect the quality of your connection.

- Do you use Wi-Fi? If you have this symbol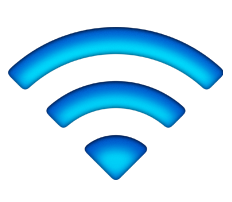 in your system tray or the top left hand corner of your device, ask yourself where that connection is coming from. If it comes from a modem sitting in a dusty corner of the living room, Have a look at that modem. Look at the back. It's plugged into a power socket. Anything else? Is there a flat telephone wire coming out of it and connecting to a telephone socket? Yes? Or to a screw-on bolt on a plate in the wall? Then you're not wireless. You're on ADSL or Cable. The connection between your computer/laptop/iPad and your modem is wireless, but the connection between your house and your ISP is very much wired. Congrats! Your connection is more likely to be consistently fast and reliable.


2. You have fixed-line service, and it's still too slow…


- When was the last time you changed plans? According to a survey from the Australian Communications Consumer Action Network (ACCAN) released just a few weeks ago, nearly 50% of Australians haven't changed their plan in 5 years. And 5 years ago, most ISPs were offering cheap plans with artificially capped data speeds, because most applications didn't require more than 1.5 Mbps. Most providers now have a full deployment of ADSL2+ with speeds up to 24 Mbps, and no artificial caps. The only limitation is the distance between your home and the telephone exchange. Even ADSL 1 is now uncapped at 8Mbps.

- If you're on a more recently released plan and your speed is slow because of distance to the exchange, there's really no option until the National Broadband Network comes along.

3. You're way out in the sticks and mobile broadband is all you can get

- No-one seems to want to get up on their roof, attach an omni-directional antenna, and drop a lead down to a full AC powered 3G modem in their home. But it's the most effective way to gain more signal, meaning better speeds. A good electrician should do it for $200.

4. You're on satellite broadband

- Wait for new NBN satellite service, in 2015-2016. And hope there are no delays.


Need advice on the best plan for you? Call us on 1300 106 571 – we're open Mon-Fri, 9am to 7 pm, and Saturdays 10am to 5 pm. We're based in Australia.