Great customer service
Amaysim best suited for light users only
BYO hardware
If you're often left shaking your head and wondering if every internet and mobile provider is trying to drive you crazy, spare a thought for Amaysim. This plucky Aussie company has been putting its mobile where its mouth is, offering stellar plans and not compromising on customer service and general ease of use.

Amaysim is a Mobile Virtual Network Operator, or MVNO. That means they don't have any towers themselves; instead they rent space on Optus' network. In fact, when you boot up your phone with an Amaysim SIM card, the network will say "Optus". That's not new – in fact, almost everyone is an MVNO through Optus, except of course for Vodafone and Telstra.
But unlike many other MVNOs, Amaysim beats Optus on value and customer service. Their website and mobile app (available for iOS and Android) are user friendly and not loaded with advertising to try and encourage you to buy or spend more. They use straightforward language and explain things well. Both their contact centre and email support team are eager to help.
But that's the mobile service. What about Amaysim broadband? There's less scope to make your experience special when it comes to mobile broadband. Either it works or it doesn't, and on the Optus network, that's a hit or miss proposition. But Amaysim have put the same thought into their mobile broadband plan as they have their mobile plans, and they might just be the best mobile broadband provider out there (provided you live in a metro area).
Price. This is always the first consideration. For lite users, The $29.90 4GB plan will probably suffice, but lasts 30 days only. For really low-data users, the $99.95 10GB plan lasts for a full year. $10 a month will buy you 1 GB, which is plenty for most tablet users. With Facebook, Twitter and other social networking sites unmetered, that 1Gb can last many people the whole month.
Compatibility. Right now, Amaysim is strictly a service provider – no hardware. But at the very least their SIM card are compatible with several form factors – they can be put into USB dongles, Pocket Wi-Fi modems, iPads, iPhones and pretty much any smartphone or tablet you can think of.
Fairness. If you're on Amaysim's Unlimited mobile plan, you're paying $39.90 a month for unlimited calls and text in Australia, with 4GB of mobile data. If you have an iPhone or other smartphone, Amaysim are perfectly happy to let you 'tether' your device. That's when you turn your phone into a little Wi-Fi hotspot, or share your connection with a USB cable. That means you could conceivably be paying as little as $40 a month to take care of all your telecommunication and data needs. So long as 4GB is enough for you. Most importantly – Amaysim will not bankrupt you if you exceed your data limit. Not only will they notify you at 75, 90 and 100% of your usage, they'll charge the lowest rates for overuse in the market- 5c/MB. That's still $50 per GB, which is steep, but most other providers hit you with 5 times that amount.
App. Other providers should be learning from Amaysim's website and app. Both are very simple to navigate, and update immediately with call and credit info. They've clearly put a lot of thought into this. Many mobile apps and websites are a confusing mess of special offers and hidden menu items; Amaysim put all the essentials front and centre.
No contract. Amaysim offer the same plan with the same value, whether it's post paid or prepaid. There's no catch to going postpaid – the only real distinction is that you top-up with a credit card instead of with a voucher or BPay, and your top-ups are monthly direct debits.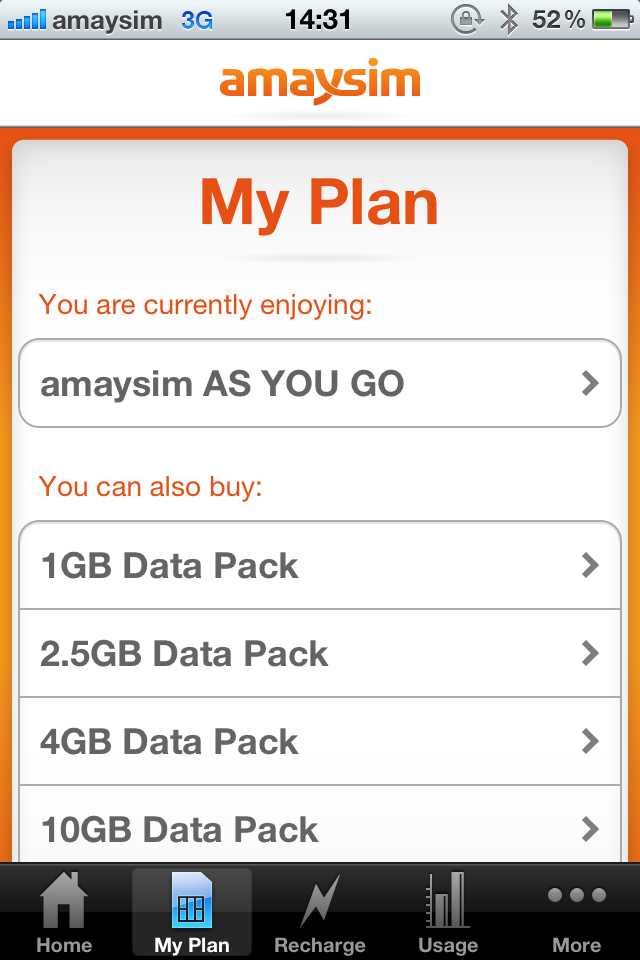 Downsides
Amaysim is still growing, and at this stage require you to have your own equipment. That may change down the line, but for now, you will have to BYO your own mobile modem or smartphone.
Amaysim offer good value for light users, but almost nothing for heavy users. That's not uncommon- mobile broadband is strictly a last resort when a fixed line broadband connection (ADSL or Cable) is unavailable, or for very light users who require the mobility of mobile.
As an alternative, it's worth calling Dodo on 1300 303 726. They use the same network as Amaysim, and offer better value for high end users. They also have plenty of hardware form factors to choose from.