Best NBN-Ready Modems
Netgear Nighthawk AX12 AX6000 Wi-Fi Router
Other Models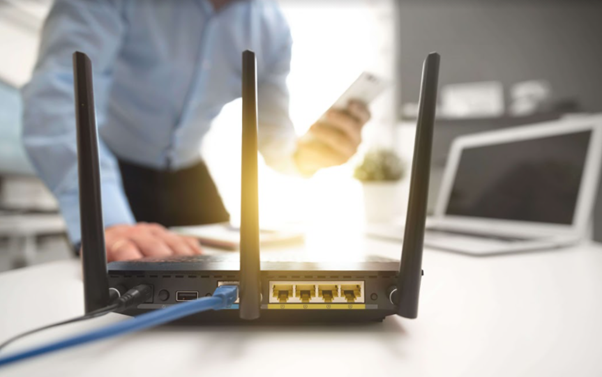 Modems play a significant role in enjoying fast and reliable internet connection in your homes. It is the most widely used data communication line in the whole world that helps convert digital signals to analog signals that are readable by your televisions and mobile gadgets at home.
NBN is currently the fastest home broadband available in Australia. To enjoy this technology, you will need to have an NBN ready modem that will connect you to the internet and distribute the connection to your different devices. If you are just about to enjoy what NBN offers, you can still use the current modem you have if it is a VDSL2 router. If not, an NBN ready modem is required to enjoy what the internet service offers.
In this guide, you will find:
Best NBN-Ready Modems
CompareBroadband compiled a list of the best NBN modems available in the market today.
Linksys Velop Dual Ban Mesh Wi-Fi System
Linksys is one of the most popular American data networking hardware brands available for homes and small businesses. It is popular for its wired and wireless routers, modem devices, VoIP equipment, audio visual products, wireless internet video cameras and network storage systems. It's Velop Dual Bank Mesh Wi-Fi Systems is one of the most affordable and powerful NBN ready modems available in the market today.
It features dual bands with automatic channel selection and a mesh networking coverage of 418sq.meters. A basic kit that costs $399 includes three modems that can be placed in different areas of your home to get a strong Wi-Fi signal. It is advisable to place one modem to the main living area and the rest inside rooms or areas in your homes that struggle to get coverage. It comes with an app management software. Although there are plenty of advanced modems available in the market, the Linksys Velop Dual Ban Mesh Wi-Fi System is one of the best in the market with such features. The maximum speed potential is only around 1300Mpbs but is already sufficient for basic entertainment, gaming and streaming at home.
Netgear Nighthawk AX12 AX6000 Wi-Fi Router
Another big name in the networking industry, Netgear is known for its routers and modems that are distributed around the globe. They are mostly popular for their speed and coverage. Available for both homes and businesses, it is a more ideal choice to enjoy faster internet access for small and medium-sized businesses. Netgear's Nighthawk AX12 AX6000 Wi-Fi Router is one of the fastest modems available in the market featuring a wireless Wi-Fi 6 technology that has a potential maximum speed capacity of 6000Mbps.
The modem falls under the premium category of NBN-ready modems. Available at $799, it features the "Smart Connect" automatic channel selection but does not include a mesh networking system. You will have to invest in a Wi-Fi extender if your internet coverage at home is quite varying. The modem features an app management system, 6 external LAN ports that is ideal if you prefer hardwiring your devices at home. 2 external antennae, beamforming and 2 USB 3.0 ports. It also comes with a 2-year warranty, a steal considering its price. Netgear Nighthawk AX12 AX6000 Wi-Fi Router's firmware is quite low-tech compared to the other NBN-ready modems available in the market. The price is also quite expensive even with the specification it offers.
ASUS ROG Rapture GT-AC5300
ASUS is one of the biggest names in the consumer electronics and computer hardware industry. Although it features several high-end laptop, computers and mobile devices, it is well-known for its motherboards and gaming technologies. Interestingly, the brand is also one of the top names to consider when looking for NMB-ready modems.
The modem features eight removable and adjustable antenna stalks, twice than that of Netgear's Nighthawk Pro Gaming XR500. It also comes with six tiny LED indicators, 5GHz activity, WAN and Lan connectivity and initiating WPS. Two of the LAN ports are capable of link aggregation with 2GBps speeds for NAS devices wired into the device. It can achieve a maximum speed of 1,000Mbps and supports the latest 802.11 ac technology. Simultaneous data streaming and beamforming is also possible with the inclusion of the MU-MIMO or the Multi-User Multiple Input Multiple Output included in the modem. The device is mainly produced with game-friendly features in a sleek management console. It will cost you around $320 to $400, a decent price with powerful hardware specifications.
Other Models
A few modems you might also want to consider when you avail NBN's internet service are the following.
ASUS RT-AC68U Dual Band AC1900 Router available at $239
Netgear Nighthawk R7000 Router available at $179
D-Link Cobra AC5300 DSL-5300 available at $650
ASUS RT-AC66U Dual-Band Wireless-AC1750 Gigabit Router available at $143 and;
DrayTek Vigor 2760n Delight with a tag price of around $310
Routers offer various purposes. It is mostly used for networking, both at home and in business establishments. Advanced features can get you a long way and offer more efficient day to day latency free, fast internet service, even with multiple devices, in different areas in your home. Getting the best NBN-ready modem for your internet related needs at home depends on various reasons -price, speed, networking requirements, coverage areas and more. Choose one that matches your needs, with the best price possible available in the market.
If you have more questions about modems and broadband internet plans, you can call Compare Broadband at 1300 106 571. We can recommend you with the best internet service and solutions available in the market.