Plans up to 20GB
Business and enterprise only for now, personal use to come
Optus still committed to improving 3G as well
Optus announced surprising progress on their 4G implementation this week, with their Newcastle test network demonstrating speeds equal to or surpassing speeds available on Telstra's 4G network. 4G services have been launched in parts of Sydney and Perth as well, servicing over 500 towers and open to businesses, enterprise and government customers, ahead of a wider consumer roll out slated for later in the year.
Already have a mobile broadband modem? Check out Amaysim's SIM-only mobile data plans using the Optus Network, or call 1300 302 942

Interested in the new iPad? Check out the best deals from Optus, or call 1300 137 897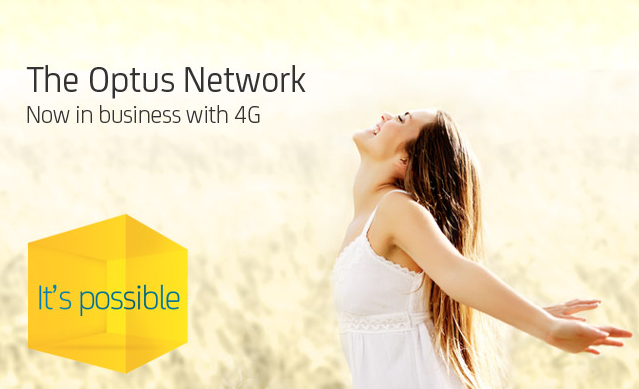 First, the numbers released at a press conference in Sydney:
- Optus has upgraded 1000 tower sites to dual band, incorporating their new 900MHz network. This will boost indoor 3G signal strength considerably
- Over the next twelve months, Optus will continue to roll out 3G coverage enhancements to the remainder of the network including Brisbane, Newcastle, Wollongong and Adelaide.
- Parts of Sydney and Perth will have access to Optus' 4G FDD-LTE service from this week, accessed with USB dongle modems and Mobile Wi-Fi hotspots (handsets to be released soon).
- All devices will be compatible with 3G, 3G Dual band and 4G, to maintain a steady quality of service across cells.
- Optus 4G to utilize the 1800MHz band for now, same as Telstra (Optus reserves a wide band of 2.3GHz spectrum for future implementation, from their acquisition of vividwireless)
- Trial speeds at Optus' Sydney Campus achieved 200Mbps throughput, with individual user speeds in a range between 25Mbps – 87Mbps
Despite the focus on 4G, Optus took pains to re-iterate their commitment to their 3G network, which is relied upon by most Australian mobile virtual network operators (MVNOs). Günther Ottendorfer, Managing Director, Optus Networks said in their official press release,
"Our intention to build the best mobile network in Australia relies on having a strong foundation in 3G, while transitioning into a 4G world".

In a speech earlier in the year to The Australian Information Industry Association, Optus CEO Paul O'Sullivan forecasted these releases, while also pledging to have Brisbane added to the 4G rollout schedule by early 2013. In the speech, O'Sullivan also forecasted the impact of the 'Digital Dividend' spectrum auction, now due for 2013 as well:
"In addition to rolling out 4G in metro areas, we are the first carrier to be trialling 4G services using the 700 megahertz spectrum band in regional Australia…We achieved peak download speeds of over 70 megabits per second and got very low latency. That wasn't in the lab. It was in a real town".

Catching up
The news was surprising for those worried that Telstra was pulling ahead in the mobile arms race, with several thousand 4G customers already connected and a network that is live in every major city. Optus' progress demonstrated that 4G will not be Telstra's exclusive domain, and that Optus intends to meet and surpass the reach and speeds of Telstra's network, thanks to a significant influx of investment capital from parent company Singtel.
Wholesale
Optus is currently Australia's largest wholesale mobile network provider, providing network services to TPG, Dodo, Amaysim, Primus, iiNet, Club Telco and many more, not to mention Virgin, which it owns outright.
Unlike Telstra, who have only recently begun offering tentative wholesale deals on its 3G network (while keeping 4G exclusive to Telstra customers), Optus intends to wholesale their 4G network sooner rather than later. In a statement to CompareBroadband, an Optus spokesperson said "(Optus is looking forward to offering 4G to its wholesale partners in the coming months".

Cost
Optus has announced three business plans from $34.95 for 10GB, from $54.95 for 15GB and from $74.95 for 20GB, though these prices are not listed on the website and may be open to change. As they are, they represent significantly better value than 4G plans from Telstra, which top out at $89.95 for 15GB of data.