Top Broadband Deals this Month
Best promotions and deals
October only!
Based on monthly cost and set up fees
Looking for a broadband plan but are unsure about where to start? Why not have a look at the best deals that are currently on offer on the market. These plans have been picked and recommended based on the data they provide, the price per month, and most importantly the initial set up costs. It can be all well good to have a cheap priced plan but it is a major setback when the extra fees involved exceed your budget. These plans all have reasonable setup fees as well a great deal per month. There's also something for everyone; from the heavy home phone talkers to plans for people who don't use the landline. Most of these deals are only for October so they won't be around forever!

SpinTel Zoom Four bundle $69.95 per month

Promotion: Unlimited Phone Calls, Free Set Up
Expiry: Till End of October
Best for: Heavy talkers and families

SpinTel's Zoom Four plan is an extremely competitive plan. This plan includes unlimited access to broadband as well as unlimited calls to local and national landlines, and unlimited calls to mobiles. This plan is great for anyone who is a heavy user of the internet as well as the home phone. It is also great because you do not need to worry about tracking your usage levels as the basics services are completely unlimited.

If you like the Zoom Four plan it is recommended that you sign up to it this month. Usually the plan only includes unlimited internet and unlimited calls to landlines. The unlimited calls to mobiles is only a special that SpinTel is running until the end of October.

Didn't think the plan could get any better? This month SpinTel is also offering free connection on a 12 month contract, and on a 24 month contract you can receive free connection and a free WiFi modem. For more info click here.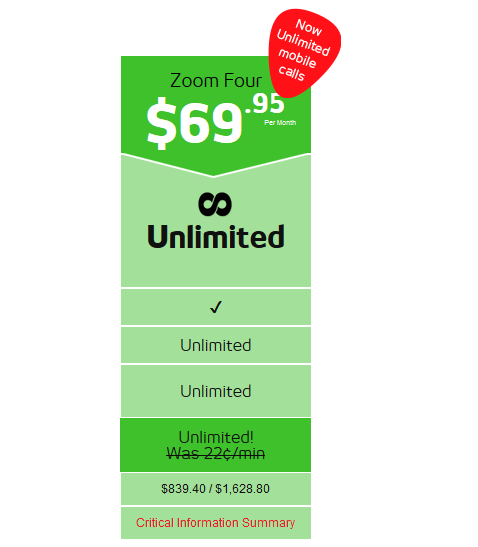 MyNetFone Economy naked broadband $49.95 per month

Promotion: Free Modem, Half price connection fee
Expiry: Not Specified
Best for: No landline required

MyNetFone's Economy plan is best suited for those who do not use a home phone. This plan is a Naked broadband plan, which means you do not need to pay line rental and you will not have the ability to make or receive telephone calls. It is a great way to save a bit of money each month.

The best part of the plan is that it includes 200GB of data access each month. This is perfect for heavy users who like to download and stream lots of content. Even if you do not need that much broadband the price per month is so cheap that it is often better value to choose this plan.

MyNetFone is currently running a promotion where you receive a free WiFi modem and half price set up fees on a 12 month contract. Usually the setup fee is $99 but currently MyNetFone is offering it for $49. Better still on a 24 month contract you can receive free setup plus a free modem. This promotion does not have a specified end date so it may be running for some time into the future. For more info click here.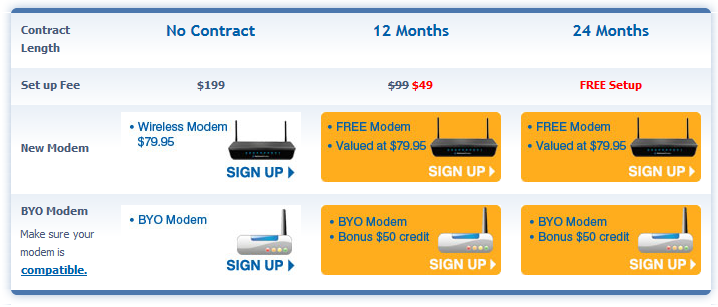 iiNet Home-1 bundle $59.90 per month

Promotion: $50 credit
Expiry: End of October
Best for: Award winning company

iiNet's Home-1 bundle is their entry level broadband bundle that comes with 100GB of broadband access. This plan would suit both people who like to make phone calls and people who do not need a telephone line. If you like to make telephone calls iiNet's call rates are quite competitive; calls to national numbers, mobiles and overseas all have specific caps that let you talk for a cheap price in certain time blocks.

If you don't need the telephone line then this plan would also suit as you can simply not plug a telephone into the wall and hence will not be charged for telephone calls.
For this month only iiNet is offering $50 credit for new customers who sign up to a 24 month contract. Usually the setup fee on a 24 month contract is $79.95 but with the $50 credit you would pay the difference of $29.95.

Although iiNet's price per month is not as cheap as some other companies it is still a plan worth considering. iiNet is Australia's second largest internet service provider and they have received many awards for their work in the telecommunications industry. They are good choice if you value quality customer service. For more info click here.