Compare Internet Plans and Providers in Gold Coast
Answer a few simple questions and we'll search hundreds of plans from some of Australia's leading internet providers including the NBN. Start by entering your postcode or suburb below.
Types of Internet connections in Gold Coast
Moved to a new location or just looking for an upgrade? We've listed down the best NBN plans and deals on Gold Coast! At Compare Broadband, we've reviewed and analysed hundreds of internet providers and their offers so you don't have to.
Enter your postcode in our tool and we'll help you compare NBN deals available in your area.
Types of NBN connections in Gold Coast
Most of the Gold Coast has already been upgraded to the NBN (National Broadband Network), with the remaining sections due for NBN completion by the end of 2020 (if not sooner). If your home is NBN-ready, you can start searching for the best NBN on the Gold Coast here.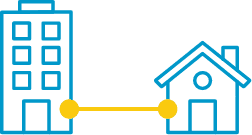 Fibre to the premises / home
When the NBN project initially commenced, the government at the time intended to roll out fibre optic cabling all the way up to your home or business property. This type of connection is call Fibre to the premises/home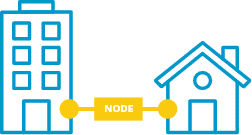 Fibre to the node
Mid-way through the NBN roll-out, a change in Government leadership saw some funding constraints which lead to a slightly different roll-out approach for the NBN. This approach involves an amalgamation of original copper systems and fibre optic systems. This is referred to as Fibre to the node (FTTN).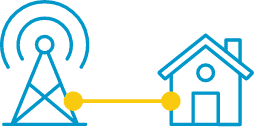 Fixed wireless connection
In some cases - particularly in remote locations - it would be impractical or too expensive to physically connect a property to the fibre-optic network. In such cases properties will be connected by a wireless network. This is referred to as a Fixed Wireless NBN connection.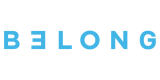 50 Mbps (Standard Plus Speed)








50 Mbps (Standard Plus Speed)
See Internet Plans in Gold Coast by provider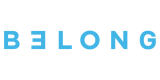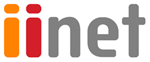 See internet plans offered in Gold Coast
NBN plans
Compare NBN broadband plans and providers with Compare Broadband. Find the right NBN plan for your needs.
Bundle plans
Compare Home phone broadband plans bundles. Find the right home phone and NBN broadband bundle that suits your needs.
No contract plans
Don't get locked into a contract! Search flexible no contact internet plans & find one that best suits you. Compare no contract broadband plans in Australia.
Unlimited plans
Unlimited broadband plans compared for you from our panel of leading internet service providers. Find the right unlimited broadband plan for your needs today!
Broadband Plans by Suburb in Queensland
FAQs
What are the top internet providers in the Gold Coast?
Aussie Broadband
is a 2020 Award Winner, which is why it is considered one of the top internet providers on the Gold Coast. Overall, it has a rating of 4.6 stars out of 5 based on thousands of reviews. When it comes to transparency, or the company's openness and honesty, it received 4.6 stars out of 5 as well.
Mate
is another top internet provider in the Gold Coast, rated with 4.4 stars out of 5. They are esteemed for their excellent customer service and adequate speeds. Another thing that their clients love about them is that their subscribers get the value of their money for each of the plans they offer.
What are the best NBN plans in the Gold Coast?
Basic II Speed: Kogan Bronze Unlimited
When it comes to the best NBN plans in the Gold Coast, you may find that
Kogan's
Bronze Unlimited offering a typical evening speed of 25Mbps for only $57.90 per month will prove to be one of the best. The reason behind this is that the plan comes with unlimited data, as well as no activation fees. The best part is that you will even have the chance to earn 1 Qantas Point per $2 with this plan.
Standard Speed: Internode NBN50 Unlimited
If you need a speed in the Standard Speed tier, then one of the best NBN plans that you can consider is the one offered by
Internode
. For only $59.99 per month, you will already get to enjoy a typical evening speed of 50Mbps, as well as unlimited data. The plan also comes with no setup fees as well as expert support that is available all the days of the week.
Who provides the best internet deals in the Gold Coast?
Some of the best deals on the Gold Coast are provided by Kogan, Internode, and Belong. Along with unlimited data, most of the plans they offer also come with zero setup or activation fees. Some are even bundled with extras or will allow you to earn points that you can redeem later on.
How to choose the right internet plan for your home in the Gold Coast?
To choose the right internet plan for your home on the Gold Coast, the first thing that you need to consider is the number of people who will be simultaneously connected to your internet plan. This will be your basis as to the viable internet speed that you need. You also have to consider your internet activities as this will determine the amount of data allocation that you should look for in a plan.
What are the cheapest NBN plans available in the Gold Coast?
The cheapest plans available in the Gold Coast are those that fall under the Basic Speed Tier, as well as the plans under the mobile broadband connection. Keep in mind that with a faster speed, the plan tends to be more expensive.