Compare Internet Plans & Providers in Cairns
Answer a few simple questions and we'll search hundreds of plans from some of Australia's leading providers. Start by entering your postcode or suburb below.
Types of Internet connections in Cairns
Searching for the best broadband internet plan and provider for your Cairns home? Cairns is home to many different internet connections, including ADSL2+, NBN, Cable, and Home Wireless. Cairns is also home to all the major Australian internet service providers (or ISPs for short), including Aussie Broadband, iiNet, iPrimus, Belong, Dodo, MyRepublic, TPG, and of course, Telstra and Optus. Each of these Cairns broadband providers offers a wide array of different internet deals, ranging in price, data and contract length. In fact, there's such a wide selection, it can sometimes be a little daunting! In a nutshell, different internet connections are optimal to different locations, so where your home is happens to be a very important factor when finding the best broadband plan for you. For example, your house might be equipped for an ADSL connection, which means that it is not yet NBN ready. Conversely, if your area has already received an NBN upgrade, it means you will no longer be able to receive ADSL connections in your home. Thankfully, at Compare Broadband, we've worked out the best way to streamline the process, and simplify the act of getting you connected to the best provider and plan for you. Enter your details into our search engine above to get cracking!
Types of NBN connections in Cairns
The NBN is a multi-technology mix, which means NBN home connections differ from region to region. Some of the several different types of NBN connection types found in Cairns include Fixed Wireless, Fibre to the Premises (FTTP), Hybrid Fibre-Coaxial (HFC), Fibre to the Basement (FTTB), and Fibre to the Curb (FTTP). Each connection works differently, (something you can read more about here), and honestly, some connections work a little better than others. Unfortunately, you do not get to choose what NBN connection type you are given, it depends on where you live. This unpopular policy (which has since been scornfully dubbed the NBN lottery) was set in place by the NBN Co, the government organization in charge of both the rollout and the maintenance of the NBN. As the NBN Co have a monopoly of the the NBN's operation, there's not much you can do about getting a different NBN connection, short of moving house - but you can still get a decent NBN performance out of lesser NBN connection by choosing an NBN package that has a good amount of data and a higher speed tier.
If your home does not currently have NBN service, you shouldn't have too long to wait. The NBN Co have cited that the much delayed NBN Australian rollout is finally set to be fully completed by the end of 2020. For a fast and free NBN check of your address, use our NBN rollout map below. Be sure to enter your full and accurate address for best results. The map will tell you roughly when you can expect to receive your upgrade, and will also tell you which NBN connection type the NBN Co has designated to your area. If your home is already connected to the NBN network, you can compare the best NBN plans in Cairns here.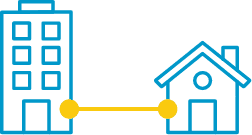 Fibre to the premises / home
When the NBN project initially commenced, the government at the time intended to roll out fibre optic cabling all the way up to your home or business property. This type of connection is call Fibre to the premises/home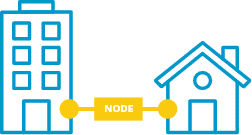 Fibre to the node
Mid-way through the NBN roll-out, a change in Government leadership saw some funding constraints which lead to a slightly different roll-out approach for the NBN. This approach involves an amalgamation of original copper systems and fibre optic systems. This is referred to as Fibre to the node (FTTN).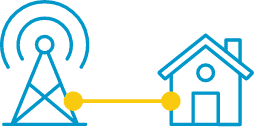 Fixed wireless connection
In some cases - particularly in remote locations - it would be impractical or too expensive to physically connect a property to the fibre-optic network. In such cases properties will be connected by a wireless network. This is referred to as a Fixed Wireless NBN connection.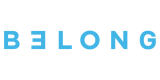 50 Mbps (Standard Plus Speed)






50 Mbps (Standard Plus Speed)
See Internet Plans in Cairns by provider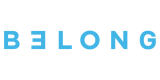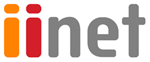 See internet plans offered in Cairns
NBN plans
Compare NBN broadband plans and providers with Compare Broadband. Find the right NBN plan for your needs.
Bundle plans
Compare Home phone broadband plans bundles. Find the right home phone and NBN broadband bundle that suits your needs.
No contract plans
Don't get locked into a contract! Search flexible no contact internet plans & find one that best suits you. Compare no contract broadband plans in Australia.
Unlimited plans
Unlimited broadband plans compared for you from our panel of leading internet service providers. Find the right unlimited broadband plan for your needs today!
Broadband Plans by Suburb in Queensland