Compare Internet Plans and Providers in Melbourne
Answer a few simple questions and we'll search hundreds of plans from some of Australia's leading internet providers including the NBN. Start by entering your postcode or suburb below.
Types of Internet connections in Melbourne
Melbourne offers various NBN and other internet plans for every need. At Compare Broadband, our broadband experts have analysed, reviewed and gathered information on the top NBN internet service providers to help you find the right plan for you. These are the connection types available in Melbourne.
Types of NBN connections in Melbourne
NBN rollout in Melbourne is complete, but the work is never done. Upgrades and further development are still ongoing. NBN connection types in Melbourne include Fibre to the Premises (FTTP), Fibre to the Curb (FTTC), Fibre to the Node (FTTN), Fixed Wireless, and FTTB (Fibre to the Building).
Here's a quick breakdown of how each connection type differs and how it can affect your current internet plan's speed. Unfortunately, you cannot choose the connection you can avail of as it depends on your area's available infrastructure.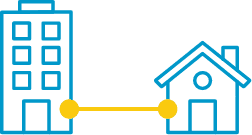 Fibre to the premises / home
When the NBN project initially commenced, the government at the time intended to roll out fibre optic cabling all the way up to your home or business property. This type of connection is call Fibre to the premises/home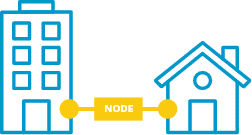 Fibre to the node
Mid-way through the NBN roll-out, a change in Government leadership saw some funding constraints which lead to a slightly different roll-out approach for the NBN. This approach involves an amalgamation of original copper systems and fibre optic systems. This is referred to as Fibre to the node (FTTN).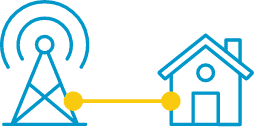 Fixed wireless connection
In some cases - particularly in remote locations - it would be impractical or too expensive to physically connect a property to the fibre-optic network. In such cases properties will be connected by a wireless network. This is referred to as a Fixed Wireless NBN connection.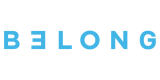 50 Mbps (Standard Plus Speed)





$15 off the first 6 months, then $65 on-going. Min total cost includes once-off $60 modem cost
Min total cost $50
View breakdown

$15 off the first 6 months, then $65 on-going. Min total cost includes once-off $60 modem cost
Min total cost $60
View breakdown


50 Mbps (Standard Plus Speed)
See Internet Plans in Melbourne by provider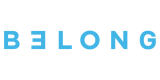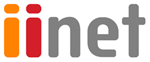 See internet plans offered in Melbourne
NBN plans
Compare NBN broadband plans and providers with Compare Broadband. Find the right NBN plan for your needs.
Bundle plans
Compare Home phone broadband plans bundles. Find the right home phone and NBN broadband bundle that suits your needs.
No contract plans
Don't get locked into a contract! Search flexible no contact internet plans & find one that best suits you. Compare no contract broadband plans in Australia.
Unlimited plans
Unlimited broadband plans compared for you from our panel of leading internet service providers. Find the right unlimited broadband plan for your needs today!
Broadband Plans by Suburb in Victoria
FAQs
Which Internet plan is best for home use?
The best internet plan that is suitable for home use is one that will be able to cater to the speed and data that you need. For this reason, you have to first determine the speed and data allocation that you need based on your internet activities. For instance, if you frequently perform intensive online activities such as streaming high-definition videos or playing online games, then make sure to go for a fast internet connection plan. In the same manner, you should also go for a fast internet connection speed if there are numerous users in your household connecting to the internet at the same time.
How Do I Check Which Internet Providers Are In My Area?
If you want to know the internet providers available in your area, you can explore online sources where you will come across the official sites of different providers. From there, you will be able to have a good idea of whether they offer internet plans in your area. There is also the option for you to simply enter your postcode and suburb in the text box above. From there, we will present you with a list of available internet providers in your area, including those that offer NBN plans in various speed tiers.
What Internet Speeds are Available in Melbourne?
In Melbourne, there are various NBN speed tiers ranging from the basic speed tier up to the ultra fast speed tier. This can be attributed to the fact that there are already various types of NBN connection technologies available in Melbourne, even those that directly support ultra fast speeds. For this reason, you will already have various speed tiers to choose from.
Do You Need A Landline For NBN?
With the connection technologies of the NBN, you no longer need a phone line or a landline to connect to the network. This is in contrast with an ADSL connection technology that entails the need for you to have a phone line. Nevertheless, some NBN plans in different speed tiers include a phone connection as part of a bundle offer. In case you don't go for this bundle, then you can always use Voice over Internet Protocol (VoIP) services to make calls because you are already connected to the internet in the first place.
Do I Need A Modem For NBN?
The answer for this is yes, a modem is needed for the NBN. Alongside this, you have to ensure that your modem is compatible with the NBN. In this case, simply check whether there is a phone jack labelled VDSL or ADSL2+/VDSL on the label or your modem with a serial number. Your modem is already ready and compatible with NBN if you see this information.