Compare Internet Plans & Providers in Melbourne
Answer a few simple questions and we'll search hundreds of plans from some of Australia's leading providers. Start by entering your postcode or suburb below.
Types of Internet connections in Melbourne
Whether you need internet to live stream a footy match or book tickets to sell-out shows at the Melbourne Comedy Festival, there's no shortage of great broadband plans at your disposal. There is an ever growing range of Melbourne internet choices available, including the NBN, ADSL2+, and the quickly expanding 5G network.
Types of NBN connections in Melbourne
While a lot of Melbourne has already been upgraded to the NBN, there are still vast swathes where construction is underway (in these regions, ADSL2+ is still the predominant choice of home broadband). However, by the end of 2020 the NBN rollout will be fully completed, at which point all ADSL connections will be phased out.
Some of NBN connections commonly found in Melbourne include;
FTTB, which stands for "Fibre to the Building", or sometimes "Fibre to the Basement". It is generally what's used in communal buildings such as apartment complexes, retirement homes, etcetera. The speed of Fibre to the Basement is often on par with that of Fibre to the Curb.
FTTP, which stands for "Fibre to the Premises". The name refers to the fibre-optic cabling that is connected directly to your home or office. It is sometimes also referred to as FTTH ("Fibre to the Home"). Fibre to the Premises is generally considered one of the better NBN connections, as the directness of its data delivery results in optimal NBN speeds.
FTTN, which stands for "Fibre to the Node". This name alludes to a local node that delivers the data; a fibre optic cable runs from your telephone exchange to the node using previously existing copper lines. As these copper wires are very old, they can impair the quality of your internet speed, which is why Fibre to the Node is often considered one of the less reliable NBN connections.
FTTC, which stands for "Fibre to the Curb". It is so named because its fibre connection is connected through a Distribution Point Unity (or DPU) that is typically situated in a street curb close to your premises, although it is often alternatively installed within a pit. Fibre to the Curb is one of the more ubiquitous NBN connections, and though it still uses the old inferior copper lines to transmit data (which can sometimes cause problems), the data only has to travel a short distance from the curb to your house, which means the data is less likely to get caught up in network traffic congestions.
HFC which stands for "Hybrid Fiber-Coaxial Cable". As the name suggests, it's a hybrid technology that combines coaxial cable and optical fibre. It's a comparatively new technology that's tacked on top of the old Pay TV infrastructure. While some customers have reported that their HFC connections have delivered lackluster internet speeds, other HFC customers have found it perfectly reliable (as with most things broadband related, it may depend on your area, your plan and you provider).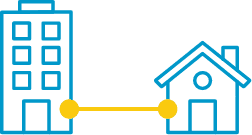 Fibre to the premises / home
When the NBN project initially commenced, the government at the time intended to roll out fibre optic cabling all the way up to your home or business property. This type of connection is call Fibre to the premises/home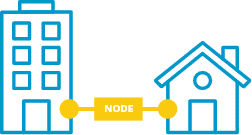 Fibre to the node
Mid-way through the NBN roll-out, a change in Government leadership saw some funding constraints which lead to a slightly different roll-out approach for the NBN. This approach involves an amalgamation of original copper systems and fibre optic systems. This is referred to as Fibre to the node (FTTN).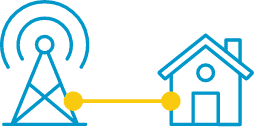 Fixed wireless connection
In some cases - particularly in remote locations - it would be impractical or too expensive to physically connect a property to the fibre-optic network. In such cases properties will be connected by a wireless network. This is referred to as a Fixed Wireless NBN connection.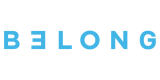 50 Mbps (Standard Plus Speed)






50 Mbps (Standard Plus Speed)
See Internet Plans in Melbourne by provider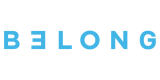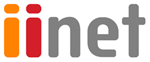 See internet plans offered in Melbourne
NBN plans
Compare NBN broadband plans and providers with Compare Broadband. Find the right NBN plan for your needs.
Bundle plans
Compare Home phone broadband plans bundles. Find the right home phone and NBN broadband bundle that suits your needs.
No contract plans
Don't get locked into a contract! Search flexible no contact internet plans & find one that best suits you. Compare no contract broadband plans in Australia.
Unlimited plans
Unlimited broadband plans compared for you from our panel of leading internet service providers. Find the right unlimited broadband plan for your needs today!
Broadband Plans by Suburb in Victoria