Best Apps and Sites for Keeping Track of the US Election
Australia surprisingly not the US
Right! Left! Right! Left!
Where to go when you need to feel exasperated
We can't be covering this, right? This is an Australian site, for Australian consumers, to report news, recommendations and articles pertaining to Australian broadband services. So why would we provide information on how to read the latest news on an election that has nothing to do with what's going on here?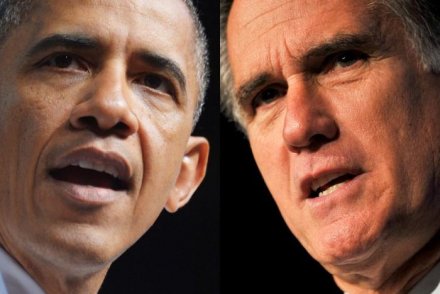 Probably because the US still sneezes, and everyone else catches a cold. The result of Tuesday's (Wednesday in Australia) election will certainly have ramifications in Australia. It could affect how we perceive the left/right political divide in Australia, which could affect the 2013 election. In relation to Broadband, the tenor of American politics has affected the debate over the NBN, which should be regarded as a repair of a muddled privatization scheme, and a strategic infrastructure upgrade – and is instead posed as a stark choice between an over-reaching government and freedom, or liberty, or something.

That aside, Australians are just plum interested in the freakshow that has become American campaign season. The candidates are household names here. And it's entertaining- fact and fiction have no place; instead it's about polling data, which can be 'corrected for oversampling' or 'unskewed' or otherwise just plain ignored. You can cite 'enthusiasm' and rally turnout as indicators of a victory, well before votes are cast. It's all just a bit of fun really, all sound and fury signifying nothing.

So in that spirit, here's a quick rundown of sites that will keep you misinformed, one way or the other, depending on your preference in this election you cannot vote in. Enjoy!
Planet America

The ABC's attempt to capture the Australian fascination with the election has been mostly successful at maintaining an even-handed look at the candidates, and at maintaining a foreigner's distance from the fury at the centre of US politics. John Barron and Chas Licciardello will be up all night Tuesday and Wednesday, on both the web and through ABC's iView app.
Site: http://www.abc.net.au/news/programs/planet-america/
App: https://itunes.apple.com/au/app/abc-iview/id401778175?mt=8
Left!



Five Thirty Eight – Nate Silver is a former baseball statistician who went into political forecasting in 2008, and basically called everything correctly. This time around, his 538 blog has been hosted by the New York Times. He has predicted a steady advantage for Obama throughout the election season, with current odds well above 80%.

Site: http://fivethirtyeight.blogs.nytimes.com/

App: https://itunes.apple.com/us/app/nytimes-election-2012/id478961508?mt=8
The app requires that you log in to NYT for polls, whereas the site offers them for free.

Right!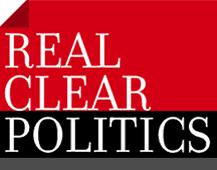 Real Clear Politics – RCP is the most cited journal on the election, with an average poll-of-polls that seeks to provide the absolute clearest indicator of who has the edge. Despite a self-admitted right-leaning slant, the site maintains a steady balance of right and left leaning editorial links on the home page- which is both fair and utterly maddening, as it puts into stark contrast the two worlds each 'side' is inhabiting. RCP has maintained an advantage for Obama, even as their poll average has occasionally put Romney ahead. They currently back Obama at around 66%.

Site: http://www.realclearpolitics.com/

App: https://itunes.apple.com/au/app/real-clear-politics-for-ipad/id485836226?mt=8

The app doesn't include the battleground state polls. The site also has links to the Real Clear network, covering history, religion, technology and other relevant stuff. It's a better site than this election would have it be, and people should keep an eye on it after the election as well.

Left!

The Princeton Election Consortium – PEC tries it's best to be impartial, but has demonstrated left-leaning tendencies in the past (no snarky comments about how facts have a left-leaning bias, apart from that one). The PEC is strictly for fans of dry mathematical models. And Obama, who they have pegged as a 98% favourite.

Site: http://election.princeton.edu/

App: None

Right!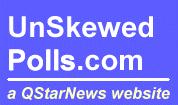 Unskewed Polls – Dean Chambers' site takes polls and suggests they're oversampling Democrats, just because. He bravely unskews them to look better, which coincidentally also gives Romney a huge lead. He backs Romney to win by 103%, the unskewed version of 100%.

Site: http://www.unskewedpolls.com/

App: None

Left!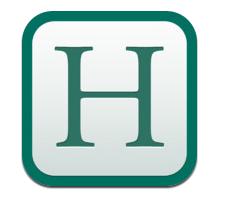 Huffington Post Election Dashboard - The Huffington Post election site differs from most others in that it offers both polling that backs Obama for the win, AND unashamedly promotes him.

Site: http://elections.huffingtonpost.com/2012/romney-vs-obama-electoral-map

App:https://itunes.apple.com/au/app/huffington-post-for-ipad/id376304186?mt=8

Right!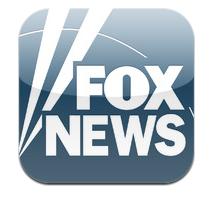 Fox News - To be fair and balanced, Fox News polls have been giving a very slight lead for Obama. But their editorials are unashamedly Romney, and their front page headlines scream about a liberal bias elsewhere in the media, without a hint of irony. Their 2012 Race Prediction applet is actually very handy for armchair pollsters.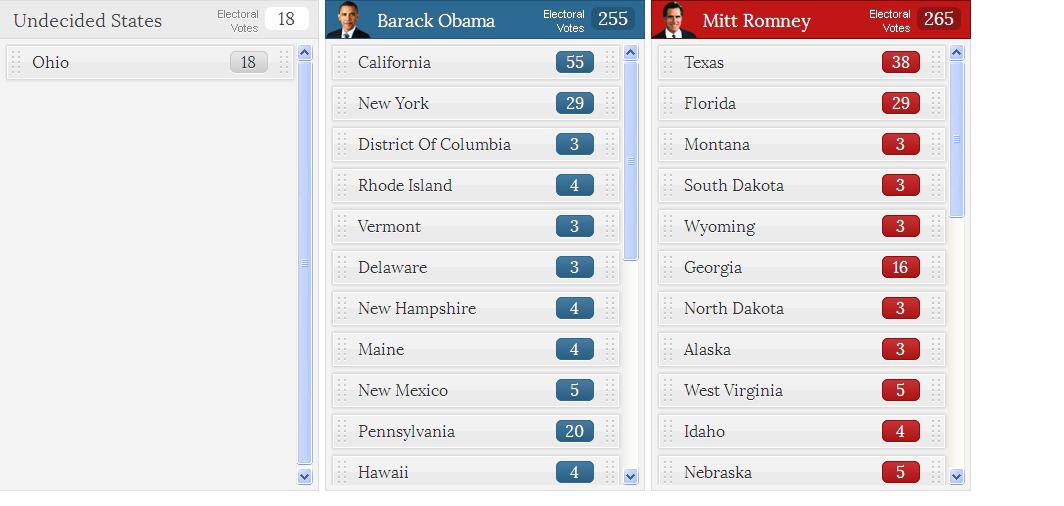 Site: http://www.foxnews.com/, http://www.foxnews.com/politics/elections/2012-race-predictions

App: https://itunes.apple.com/au/app/fox-news-for-ipad/id436484582?mt=8