WiFi Standards and Speeds
Best Modems for WiFi connection
Top 5 WiFi Plans 2021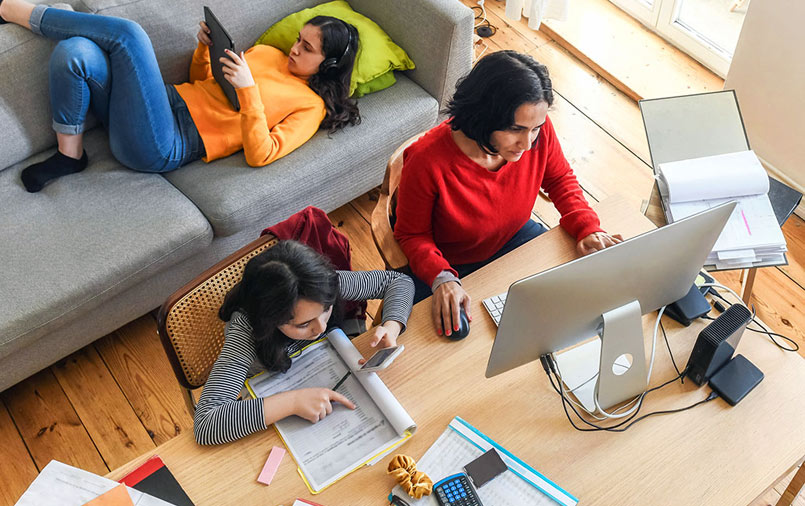 Do you need help to find the best home WiFi plans in your area? Then, you've come to the right place. We at Compare Broadband have analysed and reviewed hundreds of internet plans from different providers so that you don't have to.
Having a WiFi connection at home is an essential utility in a modern home, like electricity and water. Unlike in the old days wherein we could only connect to the internet through our desktop, we now have mobile devices such as laptops, smartphones and tablets that can seamlessly connect to the internet through WiFi.
Finding the right home WiFi plan that fits your budget can sound intimidating. But the great news is that our experts have rounded up the best value plans from different providers to help you make the right choice.
What's Inside
WiFi Basics
WiFi in Brief
WiFi is a wireless networking technology that allows various types of devices to be connected to the internet. The connectivity is made possible through a wireless router, which means that no physical wired connection is required. WiFi is based on the IEEE 802.11 family of standards that define the communication for wireless local area networks.
WiFi Standards and Speeds
Over the last two decades, there have been around nine WiFi standards that have been released. The first WiFi standard released in 1997 was IEEE 802.11. It operates in the 2.4GHz frequency band with a maximum speed of 2Mbps, which was considered to be too slow for most applications. It has an indoor range of 20m and an outdoor range of 100m.
Two years later, the Wi-Fi 1/IEEE 802.11a and Wi-Fi 2/IEEE 802.11b standards were released. The former operates in the 5GHz and 3.7GHz frequency band while the latter operates in the 2.4GHz band much like the previous version. Because the A version operated in a different frequency band, it was able to offer a maximum speed of 54Mbps while the B version only reached a maximum speed of 11Mbps. Both these standards have an indoor range of 35m and an outdoor range of 120m, but the latter can span up to 5kms.
In 2003, the Wi-Fi 3/IEEE 802.11g standard was released, operating in the 2.4GHz frequency band, being able to offer a maximum speed of 54Mbps. It has an indoor range of 38m and an outdoor range of 140m. Because it operates in the same frequency band as the B version of the previous standard, it was backward compatible with it.
It was only after six years when the next standard was released. This was the Wi-Fi 4/IEEE 802.11n standard operating at the 2.4GHz and 5GHz frequency bands. The maximum speed it was able to offer leaped to 600Mbps, with an indoor range of 70m and an outdoor range of 250m. WiFi 4 is the first standard to use the multiple in, multiple out (MIMO) technology which is why it was able to offer a better speed.
Back in 2013, WiFi 5, or the Wi-Fi 5/IEEE 802.11ac was released. It operated under the same frequency band as WiFi 4, only that it was able to offer a maximum speed of 1300Mbps in the 5GHz frequency band.
Late in 2019, WiFi 6, or the Wi-Fi 6/IEEE 802.11ax was already released. It also operates in the 2.4GHZ and 5GHz frequency bands, but it can deliver gigabit speeds because of the orthogonal frequency-division multiple access (OFDMA) technology.
WiFi Setup
To leverage the Wifi technology, you need to purchase a wireless router that will broadcast the WiFi signal from your modem to your entire home. For this reason, you need to connect your router to your existing modem using an Ethernet cable. From there, you only need to plug the power cable for your router to power it on.
You also need to configure your router using your computer. In this stage, you will set a unique name and password for your wireless network. As soon as you have saved the settings, you are ready to connect to the internet.
When it comes to your WiFi coverage, you need to ensure that you have a proper cabling plan to cover all the required network equipment, particularly if you are setting up WiFi for a large area such as a business establishment. You also need to choose the right equipment for this large installation project. It is also a good idea to use a unified management system in the form of physical or cloud controllers. Make sure to position your equipment properly in the ideal locations to distribute the wireless signal accordingly. As much as possible, use point-to-point bridges to share an internet connection between two or more areas. In this way, you will have better coverage.
Factors Affecting WiFi Performance
One of the primary factors that can affect the performance of your WiFi is physical obstructions. For instance, metal, mirrors, and even concrete can have a considerable impact on signal interference which can reduce the efficiency of your connection. Even your router's proximity to walls needs to be considered when deploying your WiFi access points.
If you have a neighbouring business or local hotspot, then this can also interfere and affect the performance of your WiFi. This can be attributed to the fact that all WiFi devices operate in the 2.4GHz and 5GHz frequency bands but not all interference is due to this. There are other wireless protocols such as Bluetooth that operate in the same frequency band as the WiFi technology. For this reason, make sure that your wireless access points are situated close to the device you are using to connect to the internet but still far apart enough so as not to cause interference.
The electronic devices that you use can also affect the performance of your WiFi network. Some of these devices can also be WiFi-based such as your cordless phones and microwaves, as well as your satellite dishes and alarm systems. Even the number of the devices connected to your network can affect its performance, such that with more devices connected, the slower the network tends to get.
Ideally, the nearer you are to your router, the better is its performance when it comes to connecting you to the internet. Conversely, the farther you are away, then the slower your connection will most likely be. Thus, make sure that your router is strategically placed to ensure that you get to maximise the use of your WiFi network.
Finally, even the technical settings of your WiFi hardware and software can affect the performance of your network. In older systems, its security setting can impede its performance, but it is not a good idea to turn it off. When it comes to the hardware that you are using, the equipment quality and build can also affect the performance of your network.
Common WiFi Issues (and How to Fix Them)
Slow or No Internet Access
Your router broadcasts in all directions from its access point, which means that if you position it in the corner of your home, then you may be broadcasting a signal outdoors rather than indoors. Thus, when you encounter slow or even no internet access in certain parts of your home, then it will be best to move your router to a centralised location. You also have the option of adjusting your external antennas to help reach multiple directions.
In case you are encountering a slow internet connection everywhere in your home, then you may need to plug your computer directly into your modem to test your internet speed. In this way, you will be able to determine whether the problem is with your internet connection and not with your router. If indeed it is, then get in touch with your internet service provider.
On the other hand, if there is no problem with your internet connection, then try to perform a factory reset in your router because setting it up again may help improve the performance of your network. If it still doesn't work, then you may want to consider buying a new router because your old one may already be reaching the end of its lifespan.
Devices Fail to Connect to the WiFi Network
When you cannot connect a certain device to your WiFi, then you may want to reset the WiFi on your device to see if it helps. Otherwise, you can also choose to turn off your router and power it on again after about a minute. You can also delete your current network from the list of saved networks in your device before you attempt to reconnect again or even try to reboot your device.
In case none of your devices can connect to the WiFi network, try to isolate the problem by plugging your computer directly into the router using an Ethernet cable. If this works, then you need to focus on your WiFi because it is the problem. In this case, you can try to reset your router because this alone can already resolve a myriad of issues. Otherwise, you may need to get in touch with your ISP because your internet may be down.
One of the main reasons why you may be experiencing intermittent connections is the interference brought about by various other devices. Try to observe whether your connection drops whenever you use the microwave. In this case, changing the channel of your router into a less congested channel may help.
WiFi Plans
Wireless Broadband vs WiFi
You may think that WiFi is the same as wireless broadband because either way, you can get connected to the internet. However, this is not the case as there are significant differences between the two.
Broadband can be considered as the pathway to which internet data is moving as it is transmitted between two devices. Wireless broadband is only one of the roads that the data can travel upon. Other types of paths include a digital subscriber line (DSL), satellite broadband, as well as fibre optic cables. Most internet connections are broadband connections, using more than one band to transfer data at a faster speed.
When most people refer to WiFi, they are usually referring to a wireless internet connection using radio waves to send and receive information, without the need for any physical connection. For this reason, it can be denoted that WiFi is one of the means that you can use to access broadband, much like how a local area network (LAN) cable can do the same to connect to your router and device, only without a physical connection between the two.
Types of WiFi Plans
To get you connected to the internet, you can choose from various WiFi plans that are based on different technologies. Some may prove to be more beneficial than others but they may not necessarily suit your needs. For this reason, it is a good idea to familiarise yourself with the different types of WiFi plans that you can choose from and the technology behind each.
One of the most widely available internet connections in the regions of Australia is ADSL2+. However, this technology will soon be completely phased out when the NBN rollout reaches its completion. Until then, you can continue to enjoy speeds of up to 24Mbps with some of the best ADSL2+ plans available on the market. All you need is a WiFi-enabled router to have wireless internet access at home. The great part is that there are ADSL2+ with no or short-term contracts and some of the cheapest plans even offer unlimited data.
When you prefer to have your phone line disconnected, you can opt for a naked DSL connection, which is basically also an ADSL2 internet connection without the phone line. In this way, you won't need to pay any additional fees for having a home phone that you don't get to use. This typically involves a three-step process wherein you still need to activate a phone line, putting ADSL2+ on the line. From there, the phone element is deactivated, leaving only the internet running. Like with the ADSL2+, you only need a WiFI enabled modem to allow multiple devices to connect wirelessly.
Cable internet plans are available in most cities in Australia, supporting large data plans and offering reliable internet broadband access. This option is best for people who want a fast internet connection with a speed of up to 30Mbps in certain areas, particularly in the major cities such as Sydney, Melbourne, and Brisbane. You even have the option to get an extra boost reaching up to 100Mbps for a certain fee. The distinguishing factor of this internet technology is that your data is transmitted through a coaxial cable that is similar to what is used for cable television.
NBN stands for National Broadband Network, which is an Australian open-access data network project aiming to provide faster and more reliable internet services to consumers across the country. Depending on your location, you can either enjoy a fibre NBN or a fixed wireless NBN connection. The former leverages fibre optic cable technology while the latter transmits data using radio signals instead of cables.
There are various types of NBN WiFi plans for you to choose from, but these are mostly categorised according to the speed that they offer. For instance, the NBN 50 speed tier can offer a maximum speed of 50Mbps, although you need to allow for tolerance during the evening when most users tend to be online, for which the speed can only reach up to 30Mbps. In the same manner, the NBN 100 speed tier can offer a maximum speed of 100Mbps, with a typical evening speed of 60Mbps while the NBN 250 offers a maximum speed of 250Mbps with an evening speed of 150Mbps. Currently, you can even go for the NBN 1000 speed tier offering a maximum speed of 1000Mbps with a typical evening speed of only 250Mbps because of network congestion.
Regardless of the type of WiFi plan, you end up with, some internet service providers will most likely charge an extra fee for WiFi-enabled modems. Nevertheless, if you already have a router, then you will no longer need this feature, saving you a couple of extra bucks on your monthly costs. In case you don't have a router, you may want to consider getting one. This is essential as the router is responsible for distributing your WiFi signal throughout your home. Fancy routers may cost up to a hundred bucks but the standard ones will only cost you less than half.
Best Modems for WiFi Connection
Best Overall: Motorola MG7700
The Motorola MG7700 modem-router combo can support internet speeds of up to 600Mbps. It has four Ethernet ports that allow you to plug your devices directly for a faster connection. It also features dual-band WiFi support and beamforming to direct your WiFi signal in a single direction.
Best for Speed: ARRIS SURFboard SBG7600AC2
This modem-router combo has a maximum throughput of 600Mbps while handling heavy internet traffic. Apart from excellent WiFi speeds, this modem is also compatible with the most common internet service providers. Perhaps the only drawback of this modem is that it tends to be more expensive than the other modem types.
Best for Gaming: NETGEAR Nighthawk C7000
NETGEAR is popular for providing powerful routers that combine gigabit speeds with other useful features for active gamers. For instance, its 1.6GHz processor tends to deliver a stronger signal for maximum speed. This proves to be beneficial for gaming where there is no room for lags and delays.
Choosing a WiFi Plan
Having an internet connection is already a necessity in most households, especially since more and more information tends to be readily available and accessible online. For this reason, you need to choose the best WiFi plan for your home. Rest assured that whichever you eventually end up with, the entire plan will most likely be easy to set up and configure, ready for home use in no time.
How to Choose the Best WiFi Plans
To choose the right WiFi plan that will suit your needs, you have to consider various factors such as the reputation of the provider, as well as the customer satisfaction ratings that they garner. Apart from this, below are some other factors that you need to look into.
One of the primary things that you need to consider if you want to get the best WiFi plan available is if it bears a reasonable price. Some providers can provide ultra-fast speeds but you may need to shell out a hefty sum for it. On the other hand, some providers may offer more straightforward plans that are more cost-effective, but the speed may not be as fast as other plans.
Generally, you tend to pay more for a faster speed, as well as more data. In terms of the latter, some providers impose a data cap on their plans, imposing how much internet you can use in a month. Others waive this by providing unlimited data but then again, this may entail the need for you to pay a bit more extra.
Apart from the pricing of the plan, you should also consider the speed that you need. Keep in mind that you don't always have to go for the fastest speed available, particularly if you won't be able to maximise its usage. For instance, if you are living alone, then a speed of 25Mbps may prove to be sufficient for you. On the other hand, if you are a member of a large household, then you may need to go for a WiFi plan that boasts a 100Mbps speed.
Finally, you should also consider the modem availability of the WiFi plan offered by a certain ISP. Some WiFi plans already come with an upgraded modem that you can avail of for a minimal fee. However, this option may not be available to other plans. The key is in evaluating whether you need a new modem-router combination or otherwise. When your router is already nearing its lifespan, then you should go for a plan that offers this feature.
Basic Speed: TPG SL Bundle
You don't need to pay more for data you do not need. If you are living alone or a couple who stream and browse on a single device most of the time, then the TPG SL Bundle could be the best fit for you. Available in a month to month or 6-month contract, this WiFi plan offers unlimited data and 12Mbps typical evening speed. A WiFi modem is already included, as well as a home phone landline with PAYG calls. All these for only $59.99 a month!
Standard Speed: Tangerine Broadband Plan
With Tangerine's broadband plan under the standard speed tier, you get to enjoy unlimited data for only $44.90 a month. You will also benefit from a maximum speed of 25Mbps. The best part is that you don't have to keep a year-long contract because you can renew on a month-to-month basis with their plan.
Standard Speed: Dodo Broadband Plan
Dodo is another provider that offers unlimited data on their standard speed-tier broadband plan. For only $65 a month, you can enjoy unlimited data with a typical evening speed of 25Mbps. It also features an NBN-ready modem and a home phone landline with PAYG calls. If you want to save an extra $10 per month, you can bundle electricity and gas with this plan.
Standard Plus Speed: Belong Broadband Plan
Belong offers unlimited data on its standard plus speed broadband plan. With this plan, you get to enjoy up to 50Mbps maximum speed for only $70 a month. Like with the two plans above, you also get to enjoy a month-to-month deal, which means that you don't have to be tied down to a long contract term.
Standard Speed: Uniti Wireless NBN Broadband Plan
Known for offering the right speed for the right price, Uniti Wireless should definitely be one of your choices when it comes to WiFi plans and deals. To enjoy unlimited browsing and streaming on multiple devices at home, subscribe to Uniti Wireless NBN Broadband Plan. Priced at $59.95 per month, it features up to 25Mbps download speed and a typical evening speed of 24.2Mbps—not bad for an NBN 25 speed tier plan! If you don't have a modem yet, you could purchase a new one from the Uniti Wireless or opt for a modem and WiFi extender package for an additional charge.The plan is available under a 12-month or 24-month contract and you can even get your first month for FREE when you sign up with us today!
To get the available plans in your location, compare WiFi plans using our broadband comparison tool.
Plan Costs and Data Usage
The cost of a WiFi plan may differ from one region to another. Even the speed and the data cap of the plan affect its cost. For this reason, it is a good idea to get in touch with the internet service provider to confirm which plans are available in your area and in what speed tier. Rest assured that the top providers tend to offer the best deals that will help you save some bucks on your WiFi costs.
When it comes to saving on your data usage, you need to familiarise yourself first with what consumes the most data. Just keep in mind that different content tends to use up varying amounts of data. For instance, when you stream videos on digital platforms, then you use up more data compared to basic internet browsing or social media platform use.
While streaming music may not use up as much data as streaming videos would, it can still consume your data if you frequently do so. In case you are concerned about your data usage, then it is better to go for an unlimited data plan, which will eliminate your worries about data limits. The key is in working out what you need your internet for or what you want to do with it frequently for you to be able to go for the best WiFi plan perfect for your household.
Best WiFi Deals
Cheapest WiFi Plans
For most people, the best WiFi deals are the cheapest ones that you can find in the market. Although the price that you have to pay still depends on the speed tier that you choose, as well as the data that you need, you will most likely find that the cheapest deals are below $60 a month.
In the basic speed tier, you can even get a plan for as low as $39 a month and get to enjoy an evening speed of 10Mbps. When it comes to the basic 2 speed tier, you can experience up to 21Mbps typical evening speed for only $44.90 a month. Under the standard speed tier, you already have the chance to use up to 42Mbps evening speed for a meagre price of $54.90 a month.
Unlimited WiFi Plans
In terms of unlimited WiFi plans, various providers are offering this excellent option as well. However, it is worthwhile to scrutinise whether unlimited WiFi plans are really unlimited when it comes to data usage. Technically, there are certain limits on unlimited plans but general users, even the heavy users, will find it difficult to push their data beyond this limit. This is what makes an unlimited plan rather limited.
The limit of unlimited data plans is encompassed in the fair use policy of the provider, which is put in place to ensure their service quality. While broadband is a flexible technology with a large capacity, it can still be negatively impacted by heavy usage. Thus, heavy users who tend to download or stream constantly tend to offset the speeds of other general users. To ensure that everybody is sharing the connection with a reliable speed equally, these data limits are still imposed even on unlimited broadband plans.
When it comes to the cost of unlimited WiFi plans, it may still vary depending on the speed tier that you go for, as well as your region. Generally, you can expect to have an unlimited data plan for as low as about $70 a month in the standard speed tier. However, you may find that the average price range for unlimited data plans in this speed tier is $90 monthly. Most of these plans only involve straight broadband. Bundled plans may even cost you more.
WiFi Broadband Prepaid
If you want to access the internet wherever you are, then you can leverage internet USB sticks which are considered an affordable and flexible means of connecting to the internet. These sticks require a Sim card to work properly, which can either be under a postpaid or a prepaid plan. The latter proves to be more advantageous for those with infrequent or varying usage. Some of the greatest providers of the cheapest internet sticks include Belong and TPG, as well as Tangerine, offering plans in the standard plus speed, basic speed, as well as standard speed respectively.
WiFi Plans without Contract
WiFi plans without contract prove to be beneficial for users who prefer not to be locked down because they tend to move around. These plans are usually renewed every month, giving you the freedom to change providers without any exit fees. Some of the best WiFi plans without a contract are offered by Aussie Broadband under the standard speed tier where you get to enjoy up to 500GB of data per month. Tangerine also offers a month-to-month contract but in the standard plus speed tier. For only a $54.90 internet fee a month, you already get to enjoy unlimited data with this plan.
WiFi Plans with Modem (Bundled)
Sometimes, bundled plans prove to be more advantageous and cost-effective than internet-only plans. Apart from a phone and internet connection bundle, most providers now offer WiFi plans bundled with a modem. For instance, iiNet's bundle provides you with unlimited data a month, which means that you will not experience excess quota charges. For a minimal fee up front, you can also get this bundle with a new modem. Under the standard plus speed tier, you will already get to enjoy a typical evening speed of 43.5Mbps.
Pocket WiFi Plans
With a pocket WiFi device, you will be able to set up your own portable WiFi zone, connecting multiple other devices to your mobile broadband connection. This proves to be a handy solution if you can't install an ADSL connection in your home. The key is in finding the best place in your home to connect to mobile broadband. You have the option of buying a pocket WiFi device outright or just get it on a data plan from your chosen provider.
Choosing a WiFi Plan According to Your Needs
How to Choose the Best WiFi Plans
One of the first things that you need to think about for you to choose a WiFi plan that will suit your needs is your speed, more specifically, your bandwidth preference. Technically, this is the maximum rate at which you can download data from the internet. Typically, more data-intensive activities performed over the internet require more bandwidth. In the same manner, more bandwidth is necessary when more devices are using your connection.
For instance, if you only intend to perform general web surfing or frequent access to your email, then you'll need only about 1Mbps of bandwidth. On the other hand, when you want to indulge in online video games, or you need to use the internet for video conferencing, then you need about 4Mbps of bandwidth. High-definition video streaming will require around 8Mbps of data.
To choose the right WiFi plan that will suit your needs, you also need to consider the available options in your area. In this case, you need to exert extra effort to research which providers serve your locality. From there, you can get to compare the different plans they offer which may likely differ based on the available data, speed, and cost.
Apart from the data, speed, and cost considerations, you also need to look into the bundles that most providers offer. This may prove to be a more cost-effective option for you should you need to have a home phone together with your internet connection or should you prefer to have a pay-TV installed. You can also check their current promotions because most providers offer certain discounts for the first few months of your subscription.
Make sure that you also carefully consider the customer service of the providers you are interested in. This will prove to be beneficial in the long run, particularly when you encounter certain mishaps with your plan. In this case, it will help if you explore online review sites to get a good idea of what the previous and current customers of the provider have to say.
Finally, you should also think about the contract that the provider offers with the plan. More often than not, a 12-month contract or one that is longer tends to be cheaper than a month-to-month contract plan, which is also known as a no-contract plan. While the former is less expensive, the latter will give you the flexibility to switch providers whenever you feel like you need to.
What is a Public WiFi?
Public WiFi that is commonly found in popular places such as airports, coffee shops, malls, and restaurants allows you to access the internet without a fee. Usually, these are referred to as hotspots and they have become so widespread that many users connect to them without thinking twice. While this can prove to be quite convenient, there are certain risks associated with the use of public WiFi.
Thereby, to ensure your safety and security while using a public WiFi network, you should never assume that the hotspot is secure. This is especially true when the network doesn't even require a WPA or a WPA2 password to begin with. In this case, other users of the network can easily see the information that you send through. Thus, you should exert an additional effort to protect your information when using public WiFi.
One of the ways to protect your information is by logging in or sending your information only to fully encrypted websites. Also, make it a habit not to stay permanently signed into your accounts no matter how convenient. It is also a good idea never to use the same password on different websites.
The Bottom Line
WiFi is a technology that is already considered a basic necessity as more and more people find it essential to be connected online wherever they go, whenever they need to. Just keep in mind that before you can choose the best WiFi plan that suits your needs and preferences, you need to familiarise yourself with WiFi basics. From there, you will be able to land the best WiFi deal from the most reputable providers in the market today.
Contact Compare Broadband on 1300 106 571 for expert advice and to find the best internet plans in your area.