ACCC conducts test to determine fastest NBN speed.
TPG was declared to be the quickest.
However, the quickest for others may not be the quickest for you...
TPG came out on top in an assessment that has determined Australia's quickest NBN internet broadband speeds. The recent assessment, commissioned and released by the ACCC (Australian Competition & Consumer Commission), was issued as the sixth report of the MBA (Measuring Broadband Australia). The Measuring Broadband Australia report ultimately found that while TPG is kicking goals, and there appears to be a vast improvement in NBN speed across the board, a more thorough advancement in NBN performance is still greatly needed.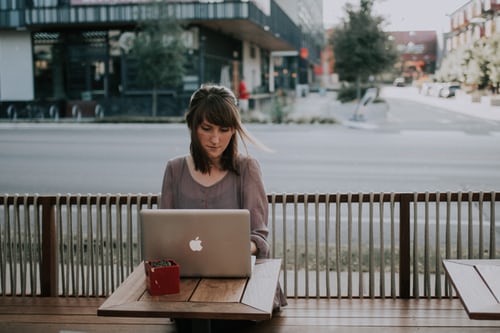 THE NBN'S PERFORMANCE HISTORY

Australia has had a long and winding road on the journey to reliable broadband. The NBN (short for National Broadband Network) is an Australian Government owned wholesale open-access data network that has long been a fairly divisive project, both politically and in the eyes of the public. Its rollout delays compounded with a history of underperformance that has left the NBN with a less than desirable reputation. Regardless, once it's completely rolling out, the NBN will be Australia's only choice of broadband (barring a 5G revolution), so any uptick in its performance speed is indeed good news.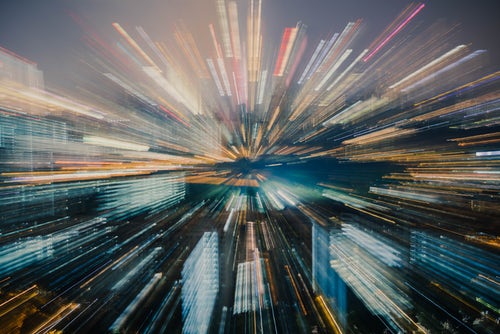 THE OVERALL RESULTS

The Measuring Board report showed that our NBN speeds were slowing down more during the busy evening hours (7pm-11pm). The ACCC media release reported that 12.4 per cent of consumers continue to experience an internet service that routinely fails to reach its intended maximum plan speed...

"These are services that achieve less than 75 per cent of their advertised speeds in almost all speed tests. Most of the affected consumers paid for NBN50 or NBN100 plans over Fibre to the Node (FTTN) connections.
These slower download and upload speeds are likely to be impacting consumers' use of streaming, telecommuting, online gaming and using cloud services, for example to store or share photos and videos."
ACCC Chair Rod Sim stated that the ACCC wanted to see more action from both the RSPs as well as the NBN Co when it came to the NBN connections that weren't hitting their intended plan speeds, citing that in many cases, the limited speeds were caused by in-home wiring issues that could easily be fixed with a visit from a technician.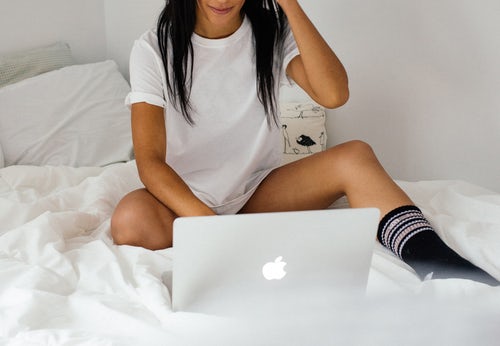 SO WHICH INTERNET SERVICE PROVIDERS ARE DELIVERING THE GOODS?
Using a sample group of 1,095 Australian volunteers, the MBA report tracked the performance of the major Australian internet service providers: Aussie Broadband, Dodo & iPrimus, Exetel, iiNet, MyRepublic, Optus, Telstra, and TPG.

This following figure represents NBN plan speeds delivered during busy hours and the busiest hour. As evidenced here, TPG was performing the most consistently, followed closely by Optus and Aussie Broadband...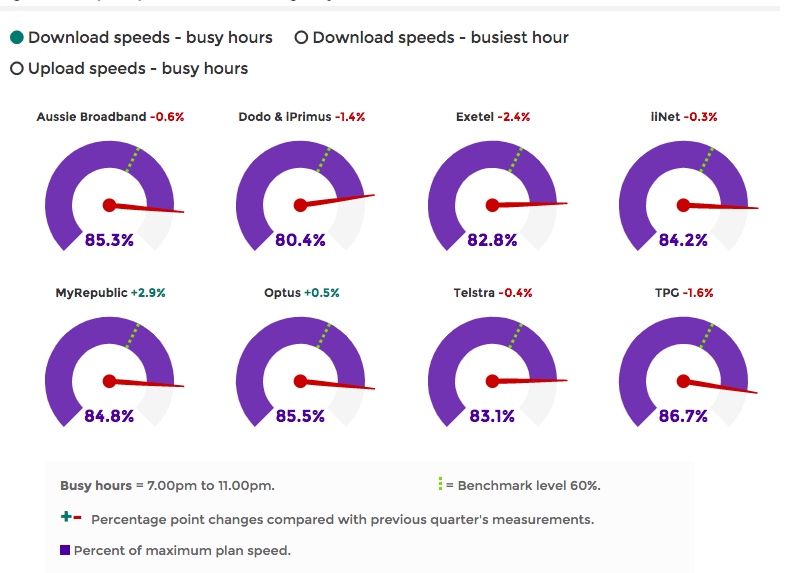 This next figure shows potential speed excluding results that are unable to achieve maximum plan speeds during busy hours...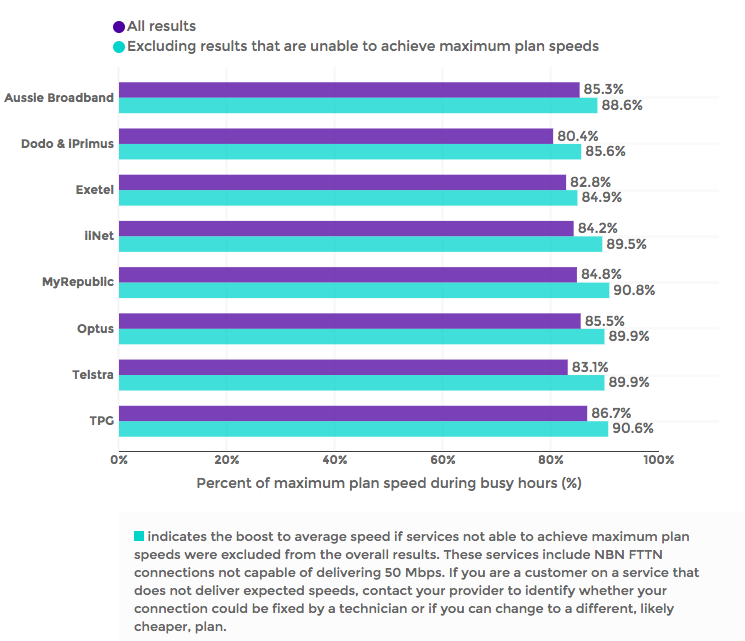 So it looks like once again, TPG is (at the time of writing) the best performing NBN provider in Australia. However, it's well worth remembering...
THE QUICKEST NBN SPEED MAY NOT BE THE QUICKEST FOR YOU

As with any other study, survey, experiment or test of any kind, these results should be taken with a grain of salt when it comes to the sample group. In this case, the sample group was comprised of the 1,095 Australians who volunteered to be a part of it. While those 1,095 test subjects might make for both a sizeable and telling number in a case study, the experience of these people may not necessarily reflect the experience of most Australian NBN users (after all, the approximate number of Australian homes and businesses with the NBN was, at last count, around 8.8 million). Numbers aside, the people in the sample group may have different internet habits than most other Australians; when people in a sample group possess a tendency that may skew the results, this is known as "participation bias".

A more pertinent factor when it comes to Australian broadband is location; when it comes to the NBN, we're faced with the rather prickly fact that quality of NBN performance very much depends on where you live. Known as the "NBN Lottery", it means some NBN technologies work better than the others, and unfortunately, we don't get to choose which NBN technology we get; if you reside in a suburb that's getting FTTN, you're getting FTTN.

Interestingly, though this is the sixth MBA report, it's the first one to include the download speeds of the fairly prevalent FTTC connections...
"The report contains, for the first time, download speed results for Fibre to the Curb (FTTC) connections, showing they achieved 88.9 per cent of maximum plan download speeds, or 91.5 per cent when underperforming services were excluded.
These results were broadly in line with results for Fibre to the Premises (FTTP) connections and HFC, and significantly above results for FTTN."
This third figure shows NBN and ADSL plan speeds delivered during busy hours by technology, ie. FTTP (Fibre to the Premises), FTTN (Fibre to the Node), HFC (Hybrid Fibre-Coaxial Cable) and FTTC (Fibre to the Curb), compared to ADSL (Asymmetric Digital Subscriber Line, the old broadband technology that the NBN is replacing).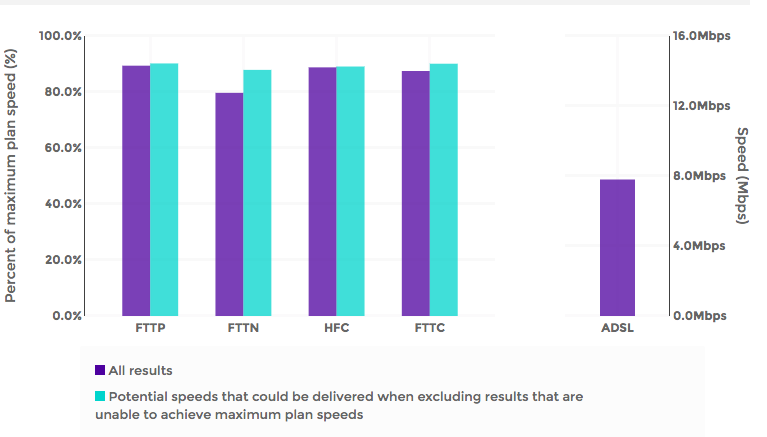 As you can see, on average, the NBN appears to work best when the fibre is connected directly to the premises. So again, TPG might be the best NBN provider... but not necessarily in your area.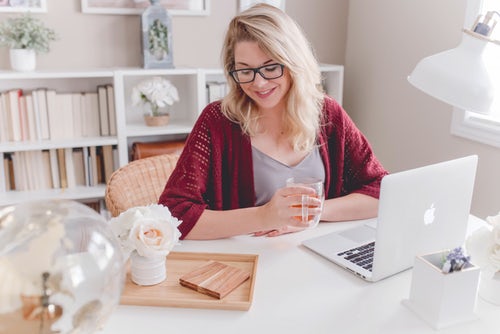 It can be a tricky thing to work out, and why it helps to talk to an expert. If you want our help on that (free service!), you can call us directly on 1300 763 813. And if you want to stay in the loop on all other broadband news, why not follow us on Facebook?