Can Optus catch up to Telstra?
Vodafone fading, or changing tactic
Telstra surging ahead with 4G
How will the NBN alter the landscape?
Vodafone has recently demonstrated that they may change track in the future, abandoning their mobile-only profile to become a provider of fixed-line broadband on the NBN. Certainly their decision to opt out of upcoming mobile spectrum auctions demonstrates that they're going to try to subvert the next stage of mobile communications, or abandon it altogether.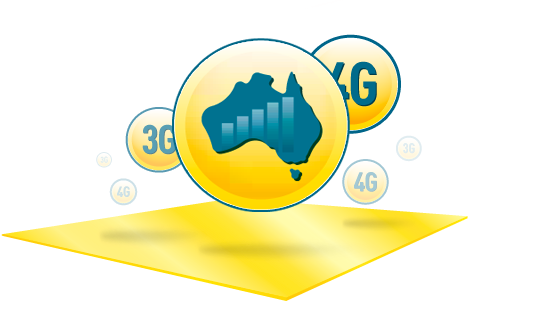 But what of Optus? The original fly in Telstra's ointment has focused on mobile since 2009, often at the expense of fixed-telecommunication expansion (Optus still maintains one of the "Big 4" ADSL networks, but is quickly reaching capacity).

Optus has invested nearly $2bn in mobile broadband, expanding the range of its 3G network while quietly building a 4G network – with another $2bn slated for expansion. Despite Telstra's 12 month lead in the deployment of 4G to a thousand towers, Optus surprised everyone when they revealed their own 600 tower-strong 4G rollout, ready for deployment, just last month. The timing was clearly linked to the release of the iPhone 5. In the same way that the iPhone 3G brough 3G data speeds to the fore, it is expected that it will take Apple's latest juggernaut to truly bring the light of faster mobile data to the masses.

Has it worked? It's far too early to tell. Vodafone restricted sales of the iPhone 5 to existing, upgrading customers. Virgin was the sole other provider offering the handset at launch, and they're owned by Optus. Telstra already had 500,000 customers on 4G when the new iPhone went on sale. We'll have to wait until quarterly sales results come in to see if the iPhone, and the 4G version of Samsung's Galaxy S3, have successfully brought Optus into the same orbit as Telstra on this front.

Other battlegrounds

Telstra Mobile currently boasts over 10 million connections, with 1.6 million signing on just in the last 2 years – the same period in which Optus has held steady and Vodafone has lost 600,000 customers.

Optus has been repositioning, it seems, rather than focusing on growth. They have acquired several brands that they use as 'budget' alternatives (Boost, Virgin) while wrapping up the bulk of the Mobile Virtual Network Operator (MVNO) market; wholesaling network access to providers that have no towers of their own.
Thanks to the good press enjoyed by, and blockbuster deals offered by firms like Amaysim and TPG, Optus is still making money from customers disenchanted by the comparatively rigid 24 month contract models directly employed by network owners. They have become the backbone network for a wider range of market segments, while Telstra seems to be morphing into a network aimed exclusively at rural Australia, frequent travelers and people who live and die by their mobile.

That said, Telstra's position is a strong one. At a certain point, all it takes is for an Optus (or Optus Network) customer to experience an out-of-metro bad connection to make the logical conclusion that Telstra is the better option. But it also means that all Optus needs to do is maintain their current price position (still cheaper than Telstra, and much cheaper through their wholesale business) and expand their network, to stay competitive. That's arguably an easy hurdle for a company backed by Singtel, a telco with 400 million customers across Asia, to overcome.

Meanwhile, Telstra has demonstrated in their Annual General Meeting debrief from this week, a fear of being forced to wholesale their network. How Telstra have reached this conclusion is a mystery; the decision to force Telstra to wholesale its copper network for broadband and landline communications was based on the fact that they owned a piece of critical infrastructure that was hard to duplicate. Their mobile network was built privately, with adequate competition. To suggest that they would be forced to wholesale it seems like paranoia- though there may be circumstances where it would prove necessary.

In the Year 2025

In a decade or so, we might expect to see a mobile market looking something like this:

Telstra boasts a nationwide LTE market, offering mobile phone and mobile data services with plans topping out at about 50GB. They have their own fibre-optic network, running lines to each of their 25,000+ towers. They maintain several towers in truly remote areas, which are served by Microwave Relay (the way many sections of the current mobile network are connected). This remote part of their network was built with government subsidies, and is thus subject to mandatory declared wholesale pricing.

Optus boasts a slightly smaller network, but with a greater concentration of fibre backhaul in metro areas. This breaks their networks into three pieces: Metro (high data plans, up to 100GB) Regional (smaller data plans, around 50GB) and Remote (Wholesaled from Telstra or the NBN). The Optus network is also partly government subsidized, as they provide the backbone for several MVNOs.

Vodafone Australia is partly owned by iiNet and TPG, who jointly operate the network to offer mobile broadband and mobile phone in a metro footprint, with a roaming agreement to use the Optus network elsewhere.

Conclusion

There is no reason Optus can't 'catch up' to Telstra. Even if Telstra had an insurmountable market lead over Optus (which they don't), Optus could somehow wrangle a whole bunch of money from their parent, Singtel, to overcome an advantage.

But it's more likely that if Optus were to become the top telco in Australia, they'd have to do something like what Apple did to get around Microsoft. When it was clear that Microsoft dominated 95% of the PC market, Apple changed course to focus on mobile gadgets – and within ten years, they surpassed their insurmountable rival en route to becoming the world's largest firm.

For Optus to do the same, they would have to make a big bet on where the market is actually heading, rather than trying to dictate where the market is heading. Telstra seems determined to convince people that mobile broadband is the future, despite high prices and low data. Optus might zig to Telstra's zag, focusing again on fixed-line broadband and leaving the mobile networks as the 'backup', which marries up with how the technology actually works.
If Optus is going to pull ahead or in line with Telstra, they'll need to side with science over marketing - and that shouldn't be a hard thing to pull off.