TPG releases strong results for first half 2012, NBN plans
$90mn profit on $663mn revenue
TPG network well placed for NBN
Leaked NBN plan similar to current ADSL2+ offer
TPG, one of Australia's largest ADSL providers, has released strong financial results for the first half of 2012 and a sneak peek at their plans for the NBN. Until now TPG have remained the largest ISP yet to announce their plans for the growing national network.
First, the financial figures (rounded up):
Revenue – $663 million (up from $574 million in 2011)
Total profit after expenses and taxes - $100 million (up from $7 million in 2011)

Of those expenses, over $300 million went into their network, which now extends to nearly 400 exchanges around the country. The underlying fibre optic network linking up TPG's network was extended by 417km in the last 12 months, to 2264 km in total.
TPG has added 49,000 customers to its' popular Home Phone + Internet bundles, but lost some customers for Standalone Broadband (where the home phone is through another company). Overall growth was 19,000 customers, bringing the total number of broadband subscribers near 600,000.
TPG has also added 21,000 new mobile customers to bring them up to 222,000 in total, thanks to their award winning mobile caps, starting from $9.99.
Included in this morning's announcement to investors were plans to ramp up internet based TV through TPG, which was briefly available earlier this year but which has since undergone some retooling.
NBN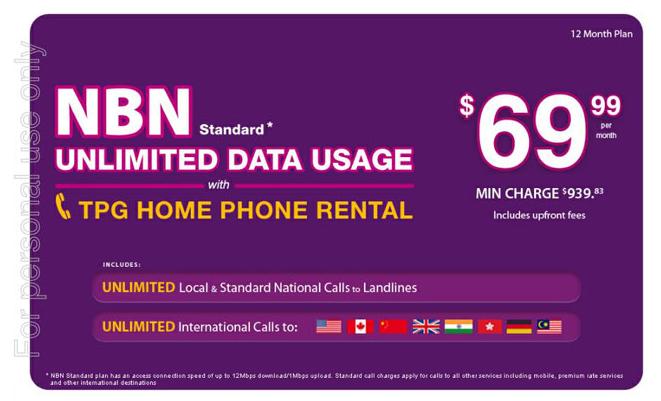 TPG broke their silence on the National Broadband Network (NBN), covering their advantages over other ISPs. The PIPE network will be used for backhaul under the NBN. Not to mention PPC-1, TPG's own submarine cable, for international transmission.
Though not included in the investor pack, news of a $69.99 Unlimited NBN plan leaked to the press, with free phone calls and 12Mbps speed. This is almost 1-for-1 with the current $69.99 Super Chat Bundle, which includes unlimited data, unlimited landline calls (local, STD and 1300 numbers included) and 100 international minutes.
The leaked NBN plan for the same price will have unlimited data, unlimited landline calls and unlimited international calls to the USA, Canada, China, India, Taiwan, UK, Germany and Singapore.
Whereas ADSL2+ can reach speeds of 24 Mbps, less than half of customers connect at over 10 Mbps. By comparison, this NBN plan would be 12 Mbps to all customers, and would be available everywhere- the current TPG network extends to about 60% of the population only.
No word has been released about an Unlimited plan on higher speed tiers, but TPG has room to maneuver.
TPG's current backhaul network is run at about 33% capacity. On the current plan, a customer on the highest speed ADSL2+ (24Mbps) could download about 6.1 terabytes in a month, if they kept it running at top speed all the time.
By comparison, the 12Mbps NBN connection would have to make room for 100% of those customers downloading a max of 3 terabytes in a month. That would mean very little movement in their current network build.
The next plan up, 25Mbps, would be very different. If 100% of customers could download a maximum 6.7 TB a month, that would mean more than doubling their current capacity. Even if a conservative estimate said that they'd have to reach 80% of their current network capacity, that's still doable – and that's without the inevitable improvements and upgrades they'll be making over the next few years. AND that's assuming every user will be trying to download the entire internet, every hour of every day of every month!
So TPG has plenty of scope to offer similar plans on 25, 50 and 100 Mbps speed tiers as the NBN gets lit up in more and more places. We'll keep you posted on developments as soon as they come in.